Qantas has unveiled sweeping changes to its frequent flyer program in a move it claims will make it easier for members to book reward seats when they want to travel, while often paying less to do so – though unfortunately not at the pointy end.
Central to the change is the promise of a million extra reward seats each year, most of which will cost fewer points in economy but more in other cabins – and upgrades will cost more too.
On the plus side, the cash surcharges on Qantas reward bookings will be reduced for all cabins.
The airline has also announced:
a new Points Club that rewards members who mostly engage with the program through 'on the ground' transactions rather than flying
a new tier of Lifetime Platinum Status – requiring a whopping 75,000 lifetime status credits
new airline partners including Air France, KLM, Air New Zealand and Bangkok Airways
new functionalities on the Qantas website to make it easier to find and book reward seats.
Let's dig into the details.
More reward seats 
One of the biggest complaints from Qantas Frequent Flyer members is difficulty finding reward seats on popular routes and during peak travel periods, like school holidays.
Qantas promises that members will have access to more than a million extra reward seats annually on Qantas and partner airline flights including to the most popular destinations such as London, Los Angeles, Tokyo and Singapore.
Compared to now, up to 30% more reward seats will be available in the sought-after premium economy, business class and first class cabins.
Qantas has also added new airline partners for Qantas Points bookings, though only for selected routes:
Air New Zealand domestically within NZ (available now)
Air France between Singapore / Hong Kong and Paris (coming soon)
KLM between Singapore and Amsterdam (coming soon)
Bangkok Airways within South East Asia (coming soon)
China Airlines between Australia and Taiwan (active since last month).
Revised points costs for reward seats, upgrades
From today, the number of Qantas Points required to book an international economy class seat drops by up to 10%. For example, the cost of a return economy trip with Qantas from Sydney to London or New York falls from 120,000 to 110,400 points.
As of 18 September 2019, the points cost of premium reward seats and upgrades will rise by up to 15%. For example, a return Qantas business class reward from Sydney to London or New York will go from 256,000 to 289,200 points.
The updated points tables for reward seats can be viewed here while for upgrades they are here.
In some good news for travellers at the pointy end, the oneworld award commonly used for round-the-world trips will remain. Business class will cost 318,000 points and first class 455,000 points as of 18 September.
Reduced 'carrier charges'
Qantas will slash the carrier charges – the fees it levies on top of government taxes – by up to 50%.
The reduced fees kick in today for economy bookings, and from 18 September for premium economy, business and first class bookings (when the higher points costs also start).
For example, a return flight from Sydney to London will see the total cash surcharge reduced from $1,284 to $904 in business class, which is pretty good – but in economy the reduction is much more modest: from $564 to $484.
Points Club
Qantas Frequent Flyer will specifically recognise its high-buyers: members who earn lots of points through non-flying related transactions.
Called 'Points Club', the initiative will include two tiers, with entry gained based on a member passing an annual points-earned criteria. The club will unlock, for the first time, flight and travel benefits including lounge access and bonus status credits – as well as member-exclusive offers and discounts.
The entry-level Points Club tier will be accessed through earning 150,000 points on the ground while the exclusive 'Points Club Plus' tier, with richer member benefits, will have a higher annual threshold that hasn't been disclosed yet.
Points Club will be launched in late 2019.
Status recognition
Qantas will reward ultra-high-flying customers with a new Lifetime Platinum Status tier, which requires a staggering 75,000 lifetime status credits to be earned.
This will be launched in September, and it appears new benefits over-and-above regular Platinum benefits will be introduced.
There are no changes to the Lifetime Gold (14,000 status credits) and Lifetime Silver (7,000 status credits) tiers.
There are also no changes to the requirements for qualifying for Silver, Gold, Platinum or Platinum One status on an annual basis.
New website tools 
Qantas has streamlined the My Account homepage that users see when logging into their accounts to make it easier to find reward seats.
One feature I played around with today is called "Where can I go?", and it allows you to explore a map of available seats along with prices. You can refine this by travel class, trip length and time of year – though annoyingly not by the number of seats you want. You can then click through to a histogram to see how the prices fluctuate on different days.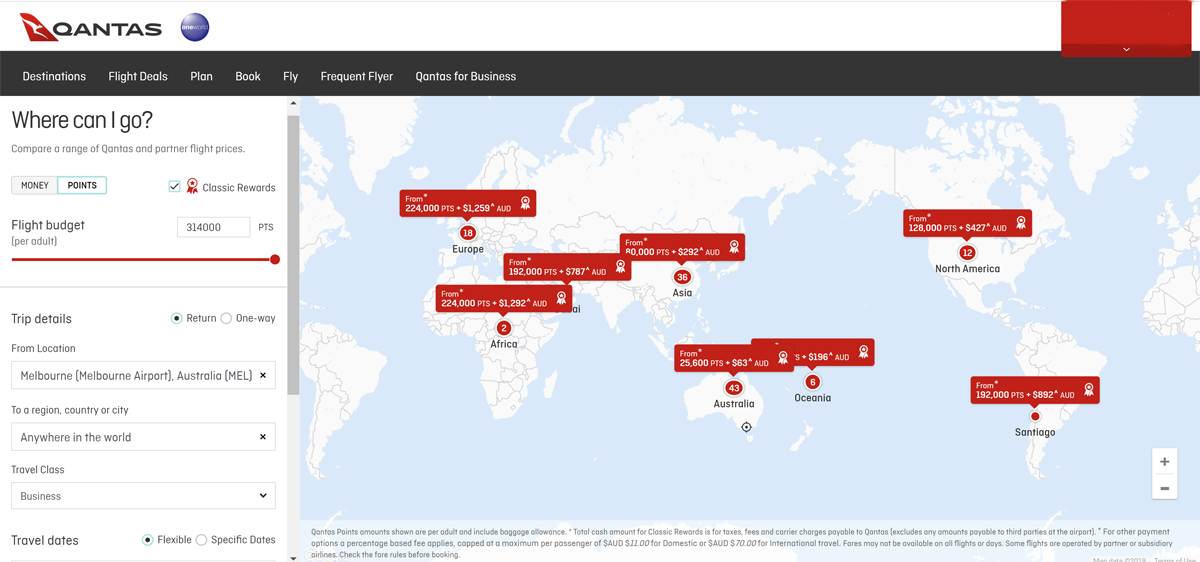 The handy "Where can I go?" feature
More website functionalities will be added over the next 12 months.
Summing Up 
Qantas Group CEO Alan Joyce said today that the changes are about strengthening Qantas Frequent Flyer to keep delivering for its almost 13 million members.
"The Qantas Frequent Flyer program has always been about rewarding customers for their loyalty. These changes are about making it easier for members to access those rewards and help to keep them highly engaged, which in turn is good news for our business as a whole."
It was inevitable that with such sweeping changes, there would be both good and bad news for members, and I'm pleased to see it's largely skewed towards the good.
Personally, I'll be happy to pay a bit more for premium reward seats if there are more of them available – and I'll be keeping a close eye on inventory to see if Qantas actually delivers this.
The reduction in carrier charges is welcome – though Qantas could have been more generous here – and the Points Club is an innovative way to reward the vast majority of members who engage with the program on the ground rather than in the air.
To get news like this delivered straight to your inbox, subscribe to our newsletter: