Customer notice: we may receive a commission from Amex if you apply for a card via a link in this article (read more in our Credit Cards Disclosure). This income helps keep the site running, and we thank you for your support.
The American Express Platinum Card  offers travellers more benefits than any other card on the market today. This includes worldwide airport lounge access, elite status with major hotel chains, luxury accommodation perks, complimentary travel insurance cover, and much more.
While these perks do come at a cost – the card annual fee is $1,450 – as you'll see, more than half of that can be offset by travel credits worth a total of $850 per year, plus you can extract so much more value when travelling. Amex says the total value of the card benefits is more than triple the fee.
The minimum income to qualify is also high, at $100,000. So this card isn't for everyone – and it's not meant to be.
Right now, Amex is offering new card members 80,000 bonus points with this card (more on that below).
Here's an overview of the main card features, with more details and a mobile-friendly application form available here.
1. Enjoy worldwide airport lounge access
Start your trips in style with access to over 1,200 airport lounges in more than 130 countries. This includes unlimited access to:
Virgin Australia lounges when flying Virgin Australia (one guest permitted)
The Centurion Lounge – Amex's luxurious flagship lounges in key US cities and Hong Kong (two guests permitted)
International American Express Lounges – located in Sydney, Melbourne and a small group of overseas locations (guest access policies vary)
Priority Pass Lounges – the world's biggest lounge network, with a presence in more than 500 cities. Membership is complimentary for you and one nominated additional card member (you may bring in one guest each at no charge)
Plaza Premium Lounges – an independent lounge operator with a strong presence in Asia. Access is complimentary for you and an additional card member (the primary card member may bring up to 2 guests in at no charge)
Delta Sky Club Lounges when flying Delta (guest access rules vary).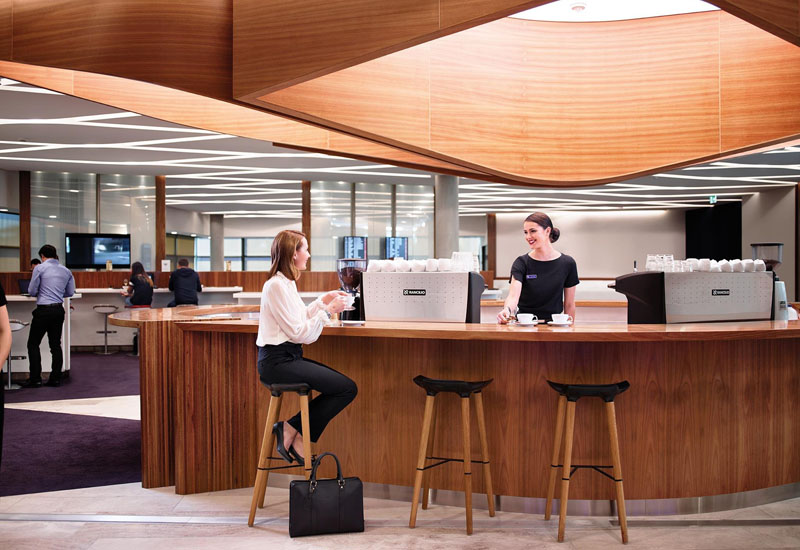 Enjoy Virgin Australia lounges in Australia plus over 1,100 lounges worldwide
2. Get up to $850 worth of travel credits each year
Card members receive a $450 travel credit each year. The travel credit is easy to redeem for flights, hotels, car hire or experiences through Amex Travel online or over the phone, and you can use it for anyone you wish.
You can also get a further $400 travel credit each year by applying and being approved for the complimentary Platinum Reserve Credit Card as a companion credit card to your Platinum charge card. The $395 annual fee is waived, giving you easy access to a credit card in case you want to pay off purchases over multiple months (the charge card must be paid in full each month). You get to keep the $400 travel credit even though the card fee is waived.
These two travel credits combined offset more than half of the Platinum Card's annual fee.
3. Be fast-tracked to elite status with major hotel chains
Platinum Card members gain instant elite status with major hotel loyalty programs, including:
Accor Hotels (over 5,000 hotels worldwide): Le Club AccorHotels Silver Status
Hilton (570 hotels worldwide): Hilton Honors Gold Status
Marriott (6,500 hotels worldwide): Marriott Bonvoy Gold Elite Status
Radisson Hotel Group (1,440 hotels worldwide): Radisson Rewards Gold
Shangri-La (over 95 hotels worldwide): Golden Circle Jade membership. You can match this to your Singapore Airlines KrisFlyer account to get instant KrisFlyer Silver status.
Elite benefits vary from program to program, but can include complimentary room upgrades at check-in, early and/or late checkout, complimentary internet access, and (only with Hilton) free breakfast for two people. You can read my experience of checking into a Hilton hotel with gold status – and scoring $1000 of complimentary benefits – here.
As a bonus, additional card members can also get elite hotel status in their own right.
4. Enjoy other

accommodation

 perks
Card members receive complimentary Accor Plus membership valued at $395 p.a., which grants access to the most expansive hotel, dining and lifestyle membership program in Asia Pacific. Benefits include a complimentary night's accommodation each year at participating Accor Hotels, up to 50% off your dining bill at over 1,100 restaurants, and more.
You also get access to Amex's Fine Hotels and Resorts program, which provides benefits at over 1,000 five-star properties worldwide, including daily breakfast for two people, guaranteed 4pm late checkout, complimentary room upgrades when available, a special amenity at each property, and more. These benefits offer an average value of over $700 for a two-night stay. When I put this to the test recently, I scored over 600 Euros of benefits.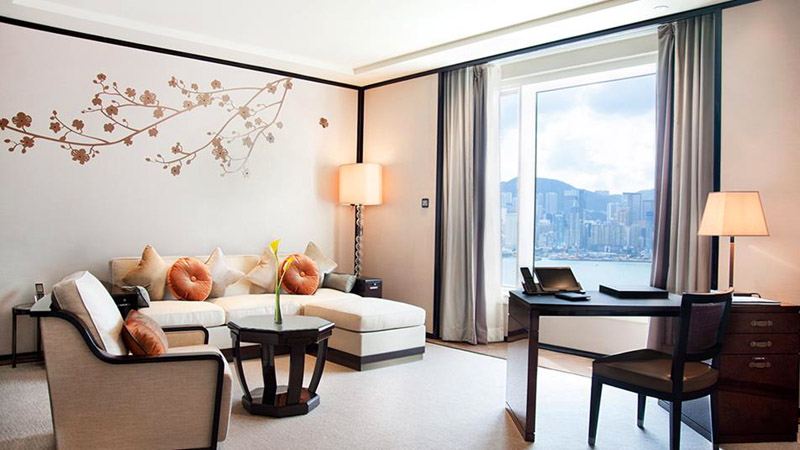 Enjoy complimentary room upgrades and more at stylish hotels around the world 
The separate Amex Hotel Collection includes more than 500 properties in over 30 countries. Every time you book a two-night stay you'll receive a US$100 hotel credit to spend on dining, spa and resort activities, as well as a complimentary room upgrade at check-in when available.
Golf lovers will also enjoy complimentary membership to the Preferred Golf program and receive perks at over 60 world-renowned golf resorts.
5. Earn piles of points on spend and transfer them to 10 airlines
You'll be enrolled in the highest tier of Amex's Membership Rewards program, Ascent Premium.
You'll earn 2.25 points per $1 spent everywhere except with government bodies in Australia, where the earn rate is 1 point per $1 spent.
There is no cap on the number of points you can earn.
The Platinum Card has 10 airline transfer partners, including both Qantas and Virgin Australia – a rare feature among Australian credit cards. Here's the full list of transfer partners:
Qantas Frequent Flyer
Virgin Australia Velocity Frequent Flyer
Emirates Skywards
Etihad Guest
Singapore Airlines KrisFlyer
Cathay Pacific Asia Miles
Malaysia Airlines Enrich
Thai Airways Royal Orchid Plus
Air New Zealand Airpoints
Virgin Atlantic Flying Club.
Having so many airlines to choose from means it can be much easier to find award seats when the time comes to book.
You can also transfer points to hotel loyalty programs or redeem them in many other ways.
6. Receive domestic and overseas travel insurance cover
You'll get complimentary domestic and overseas travel insurance for you, your partner and dependent children up to the age of 24 when you pay for your return trip with your card or use Membership Rewards points or frequent flyer points to book.
The full policy is available here but some of the highlights include:
medical emergency expenses cover (unlimited cost of treatment)
transport accident cover up to $400,000
travel cancellation cover up to $30,000
travel inconvenience cover (for time delay, missed connections and luggage setbacks) – up to $700 for additional hotel accommodation and restaurant meals or refreshments, and up to $700 for emergency purchase of essential clothing and items
loss damage waiver cover for car rental of $125,000
up to $30,000 cover for damaged, destroyed, lost or stolen personal baggage, money and documents
personal liability cover up to $3,000,000.
The travel insurance cover extends to up to four additional card members and dependent children up to the age of 24 when they pay for return travel with their card or Membership Rewards points.
7. Enjoy many other travel and lifestyle benefits
There are loads of other perks to enjoy – too many to list in full here – but the ones that stand out to me are:
The Australian Financial Review Premium Digital subscription valued at $628 p.a.
benefits at over 800 restaurants worldwide, such as priority access to reservations
access to special events like the Grange Wine Dinner Series, Melbourne Cup American Express marquee and the Rolex Sydney to Hobart Yacht Race
24/7 access to Platinum Concierge, which can arrange exclusive travel and dining experiences for you
Platinum International Airline Program: save up to 20% on first and business class fares with leading airlines
get up to US$300 in onboard credit when you book a cruise with one of Amex's cruise partners
Hertz Gold Plus Rewards and Avis Preferred memberships: enjoy savings on car rentals worldwide and complimentary upgrades when available
smartphone screen insurance, with up to $500 available twice a year for screen repairs (with a 10% excess) when your pay for you smartphone with your card, either outright or on a monthly contract
up to 4 additional cards for family members at no extra fee, which can help you earn points more quickly.
Plus 80,000 bonus points
Receive 80,000 Membership Rewards Bonus Points when you apply online , are approved and spend $3,000 in the first 3 months.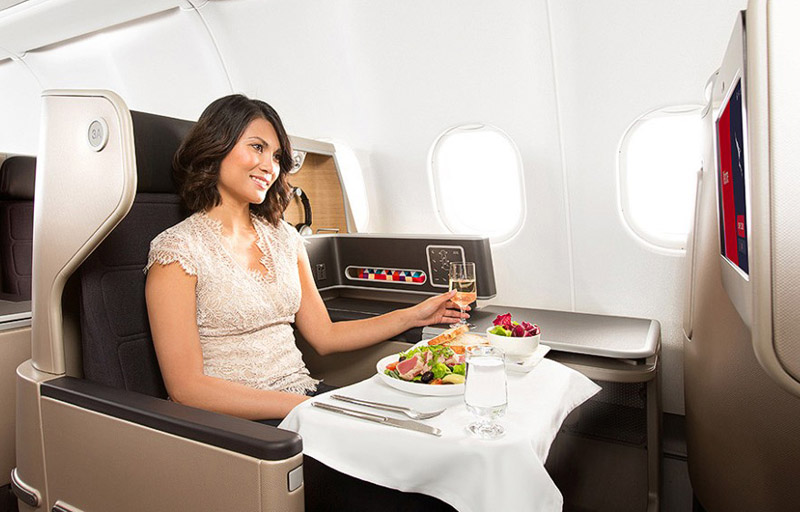 Use your points to fly Qantas business class
To be eligible for the bonus points, you must not have held a credit card issued directly by Amex Australia in the last 18 months. Note that you are eligible if:
you've held an Amex card issued by a bank (i.e. Westpac, ANZ, CBA or NAB), or
you're an additional card member on someone else's primary card account (including a corporate account).
The minimum income to qualify for the card is $100,000.


Important: This article is not intended to suggest that you should apply for a credit product. You should seek independent, professional advice and consider your personal circumstances before deciding to apply for a credit product.
If you apply for a card via a link in this article, we may receive a commission from Amex. This income helps keep our site running, and we thank you for your support.
Read more in our Credit Cards Disclosure.