Many people dream about flying round-the-world in business class. It's one of those 'bucket list' type of experiences, and if you're one of the 11 million Australians who earns Qantas Points, it's probably more attainable than you think.
One of the best uses of Qantas Points is booking the 'oneworld award', which allows you to fly up to 35,000 miles with five stopovers, including round-the-world if you wish.
For the oneworld award you need 140,000 points in economy, 280,000 points in business class and 420,000 points in first class. Business class is the sweet spot because first class itineraries are very hard to book (due to a lack of flight options) while economy doesn't represent a high value use of points.
You may think that 280,000 Qantas Points is a daunting amount to earn, but given the huge credit card sign-up bonuses we've been seeing recently, and the many everyday opportunities to earn points, it's a realistic medium-term goal.
(You can check out our favourite credit card sign-up offers here.)
Since you can spend almost 280,000 points on a return business class fare to Europe or the USA, flying round-the-world with 5 stopovers for a similar price represents great value.
Here's what you need to know about booking the oneworld award.
The rules
These are the rules you must follow:
a maximum total distance of 35,000 miles
a maximum of 5 stopovers
a maximum of 16 individual segments (i.e. individual flights and any land segments you make on your own, which are counted towards the 35,000 mile maximum)
no more than one stopover and two transits through a single airport
you must fly with at least two oneworld airlines that are not Qantas (in fact, you don't have to fly Qantas at all – just two or more other oneworld airlines – see below for the list)
you have 12 months to complete the travel
you can't return to the country of origin until the end
you must finish booking all flights in the itinerary before the first flight takes off.
Possible itineraries
You can fly anywhere and in any direction you want, so long as you comply with the above rules. There are no restrictions on how many continents you can visit or whether you can backtrack, which are limitations in most paid round-the-world fares.
Here's an example of a simple round-the-world itinerary, which is a trip some of my family members enjoyed recently. It includes stops in Tokyo, London, New York, San Francisco and Las Vegas.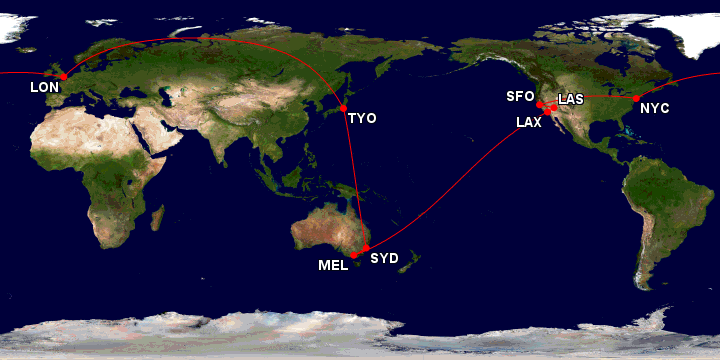 You can actually use the 35,000 mile allowance to go a lot further. For example, here's a valid itinerary encompassing all the continents (bar Antarctica!).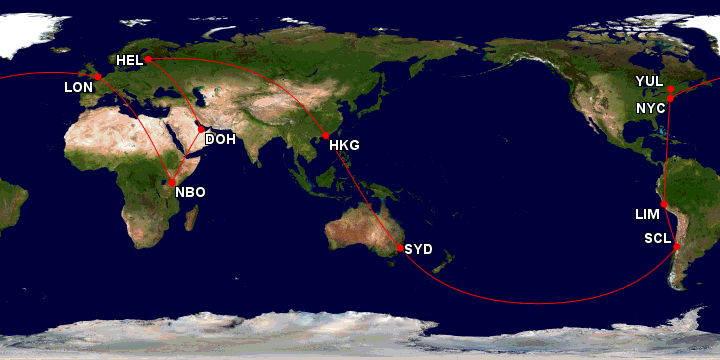 If you make some land segments on your own, you can actually visit more than five destinations. That's because when you land in one city and take off on your next flight from another city, it doesn't count as two stopovers – just one (though you do have to count the land segment as one of your 16 permitted segments).
Here's an example where you fly to Tokyo (first stop), make your own way to Hong Kong, fly to Helsinki (second stop), make your own way to Paris, fly to Marrakesh (third stop), make your own way to Casablanca, fly to New York City (fourth stop), make your own way to Montreal, fly to Lima (fifth stop) make your own way to Santiago, and fly home.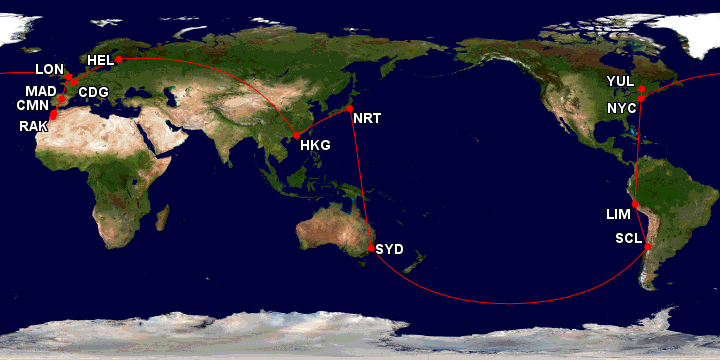 One factor to note is that there's no requirement to fly round-the-world at all, though that's how most people use this award. You can do a loop around a specific region or criss-cross between continents – it's totally up to you.
For example, here's one of my recent itineraries, which started in Singapore and took me to the USA, followed by Australia, Japan and back to Australia.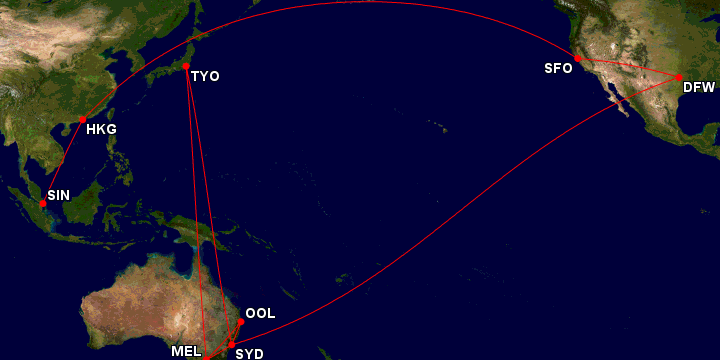 I think 280,000 Qantas Points (plus fees and taxes) is great value for trips like these.
How to book
Now, here's the catch: it can be very time consuming to book this award because finding business class seats on popular routes is often tricky and the booking process usually requires several phone calls to Qantas.
To make the job easier, you should start planning 12 months' out and add seats to your itinerary as soon as they're released.
It also helps if you are flexible about dates and departure/arrival airports, especially in Australia.
Here are some other tips for booking:
use Qantas' website to search for seats. Make sure to click on "Use points – Classic Flight Rewards only" and then search for each leg of the journey separately, writing down the flight details when you find available seats.
once you finish searching, book whatever you can on the Qantas site. If this includes multiple flights, use the multi-city tool to book.
it's very unlikely you'll be able to book all the flights in one go, since Qantas' website isn't capable of handling complicated itineraries, and you'll probably need to add more flights later. You can't add flights to an existing itinerary online – you'll have to call Qantas to do that.
you'll be charged 5000 points per person each time you call Qantas to add flight(s), but if you explain that it's not possible to complete the booking online yourself, the customer service agent may waive the fee (it doesn't hurt to ask)
you can explore the oneworld alliance route map here
to calculate the total miles flown, use the Great Circle Mapper tool. Just type in the airport codes separated by hyphens (for example, MEL-LAX-JFK-LHR-HKG-MEL). You can search for the codes on the site.
you don't have to finish in the city you started, but the booking system will calculate the distance back to the origin in determining whether you're within the 35,000 mile limit
airlines release award seats at different times. Here's how many days in advance you can start looking:

Qantas – 353 days, restricted to gold members and higher on some long-haul routes (in which case, everyone else gets access 308 days out)
Cathay Pacific – 360 days
British Airways – 354 days
Qatar Airways – 361 days
American Airlines – 330 days
Japan Airlines – 330 days
Malaysia Airlines – 354 days
Royal Jordanian – 362 days
Finnair – 361 days
LATAM – 331 days
Sri Lankan – 361 days
Iberia – 361 days
S7 Airlines – 330 days

as you can see from the above list, the oneworld alliance doesn't include some Qantas partners, like Emirates, so pay attention to which airlines come up in search results on the Qantas website. You can only use oneworld airlines.
if you mix different classes, the highest class will be used to calculate the cost – i.e. just one first class flight in a business class itinerary will make the cost jump to 420,000 points, so don't do it. But you can include lower classes if you wish (i.e. you can include economy segments in your business class itinerary if that's all that's available)
if you want to minimise taxes and fees, avoid Qantas and British Airways as they have relatively high surcharges, and avoid flying long-haul out of any airport in the UK. Read more about this here.
as business class seats on popular routes can be hard to find, check nearby cities to increase your chances of scoring a seat.
Summing up
Booking the oneworld award is quite complex, but definitely worth the effort given what you get to enjoy: flying in style, visiting a range of destinations and having bragging rights for years!
If you find that booking this is award is too time consuming or difficult for you, there are some companies that offer award booking assistance for a fee, like iFLYflat and Award Flight Assist.
To get tips like this delivered straight to your inbox, subscribe to our newsletter: