Customer notice: we may receive a commission from Amex if you apply for a card via a link in this article (read more in our Cards Disclosure). This income helps keep the site running, and we thank you for your support.
The American Express Velocity Platinum Card is our top pick of Velocity cards in Australia, serving up great perks like a high points earn rate on spend, a complimentary domestic return flight each year, travel insurance, lounge passes and more.
Until 8 December 2020, new Card Members can also receive a handy 100,000 bonus Velocity Points, as well as 75 Status Credits and $100 back on their card account (more on that later).
Virgin Australia and Velocity have successfully completed the administration process and the airline continues to operate a domestic network. Velocity Points can be used for flights around Australia as well as a range of other rewards – and we hope to see international flight redemptions become available when the time is right.
Velocity Points don't expire so long as you keep your account active by earning or redeeming at least one point every 24 months.
Here's an overview of the card benefits you can enjoy, with more details and a mobile-friendly application form available here.
1. Earn piles of points on spend
You'll turbocharge your Velocity Points balance by earning 1.25 points per $1 spent on purchases: one of the highest Velocity Points earn rates in Australia.
You'll earn 2.25 Velocity Points per $1 spent with Virgin Australia and 0.5 points per $1 spent with government bodies.
Hundreds of thousands of merchants accept Amex in Australia, and that number is growing, so there's no shortage of places where you can rake in the points with this card.
There's also no cap on how many points you can earn.
2. Take off with a complimentary domestic return flight each year
You can book a complimentary Virgin Australia domestic economy return flight when you first receive the card and make a purchase with it, and then again on each anniversary of your card membership.
This gives you an opportunity every year to enjoy a holiday, explore somewhere new, or visit family and friends. Best of all, this perk can offset most or even all of the $375 annual card fee.
You can book the flight for yourself or any person you choose.
Your complimentary flight is accessible through https://compflight.virginaustralia.com/, noting that with Virgin Australia's reduced travel schedule as a result of COVID-19 related restrictions, complimentary flight availability may be limited.
3. Enjoy four airport lounge entries each year
Each year you'll receive two passes to a Virgin Australia Lounge, which gives you access to stylish spaces around the country to relax in before your flight. These passes will be automatically loaded onto your Velocity membership card, and you can use one of the passes to bring in a guest with you.
You'll also receive two entries each year to the exclusive American Express Lounge at Sydney Airport international or Melbourne Airport international, which are the two airports in Australia that have Amex lounges so far. Simply present your Amex card at the door to get in, and you may use one of the passes for a guest.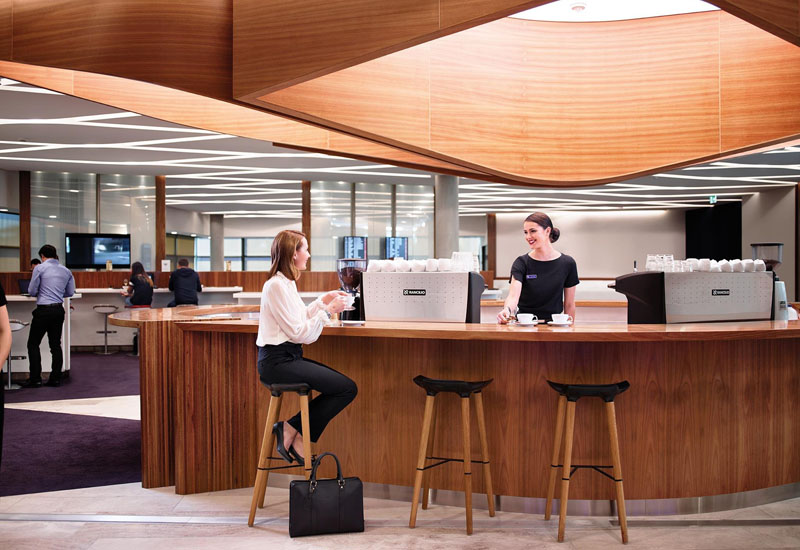 Relax in a lounge before you fly
Virgin Australia lounges are slowly reopening as domestic travel restrictions ease, while the American Express lounges remain temporarily closed.
We'd value these lounge entries at more than $50 each, so there's over $200 of value here each year.
4. Earn 100 Velocity Status Credits when you spend $50,000 in a year
Attain elite Velocity status faster by receiving 100 Status Credits when you spend $50,000 on eligible purchases within a membership year.
Eligible purchases are all spend made by you and additional card members, except cash type purchases like travellers' cheques and foreign currencies, and interest, fees and charges on the account.
This is a very handy perk for frequent flyers chasing status, as you only need 250 Status Credits to attain Silver (200 to keep it in subsequent years) or 500 Status Credits to attain Gold (400 to keep it in later years).
The higher your status, the more perks you enjoy – like additional Virgin Australia lounge passes when you hit Silver and unlimited lounge access when you reach Gold.
5. Travel securely with domestic and overseas travel insurance
You'll receive comprehensive travel insurance cover when you pay for a return trip with your card or use Velocity Points to book.
This cover extends to your domestic partner and dependent children up to the age of 22 when they are travelling with you (for more info, see page 11 of the T&Cs).
You'll be covered for:
inconvenience (flight delays, cancellations or missed connections, and delayed luggage)
medical emergency expenses up to $2,500,000
damaged, destroyed, lost or stolen baggage, money or documents
travel cancellation costs
personal liability.
If you're currently paying for travel insurance and this cover meets your needs, you can save money by relying on it.
6. Earn more points, save money and enjoy other lifestyle benefits
There are many other perks to enjoy with this card, including:
up to 4 complimentary additional cards for family members or friends over 16 years of age – an easy way to earn points faster
up to 55 days interest-free on purchases (the interest rate thereafter is 20.74%)
'buy now, pay later' with American Express Plan It™ Instalments: pay off your card balance in equal monthly instalments with 0% interest (fees apply)
a complimentary year of Calm Premium membership – the award-winning sleep, meditation and relaxation app, valued at $79.99. Plus, get 50% off the following year if you choose to continue. Ends 31 December 2020
use your card with Apple Pay, Google Pay or Samsung Pay
Amex Offers: save money with regular discount offers with top brands
American Express Experiences: access sought-after events like music, theatre and film, including via pre-sale tickets, and enjoy exclusive lounges at selected events.
Plus 100,000 bonus Velocity Points, 75 Status Credits and $100 back  
Receive 100,000 bonus Velocity Points, plus 75 Status Credits and get $100 back when you apply online by 8 December 2020, are approved and spend $3,000 on your new card within the first 3 months (new Card Members only).
Velocity offers great choice and flexibility when it comes to redeeming your Velocity Points.  You can redeem them for flights around Australia, flight upgrades, accommodation, or products via the Velocity Rewards Store. And when the time is right, you'll be able to travel to your favourite locations overseas with Virgin Australia and Velocity's international airline partners.
This offer is only available to new American Express Card Members. That means you must not have held a card issued directly by American Express Australia in the last 18 months. However, you are still eligible for this offer if you've held an Amex card issued by a bank (i.e. Westpac, ANZ, CBA or NAB) or if you're an additional Card Member on someone else's account.
The minimum income to qualify is $65,000 per annum.


Important: This article is not intended to suggest that you should apply for a card. You should seek independent, professional advice and consider your personal circumstances before deciding to apply for a card.
If you apply for a card via a link in this article, we may receive a commission from Amex. This income helps keep our site running, and we thank you for your support.
Read more in our Cards Disclosure.