Qantas Points lovers, you can pick up a handy 55,000 bonus Qantas Points with the Qantas American Express Ultimate Card: my top pick of Qantas Amex cards in Australia.
This card is packed with valuable perks like the highest Qantas Points earn rate on spend, a $450 annual travel credit that fully offsets the card fee, four airport lounge entries each year, travel insurance and more.
Here are the reasons I love the Qantas Amex Ultimate Card, with more details and a mobile-friendly application form available here.
1. Receive a very high points earn rate on spend
You'll supercharge your Qantas Points balance by earning 1.5 Qantas Points per dollar on everyday purchases – the highest earn rate in Australia.
With a large and growing network of merchants accepting Amex, there's no shortage of places where you can earn points with this card.
You'll receive 0.5 Qantas Points per dollar spent at government bodies and 2.5 Qantas Points per dollar spent on selected Qantas products and services in Australia.
As a bonus, there's no cap on how many points you can earn each month or year.
2. Take off with a $450 travel credit every year
You'll get a $450 travel credit at the start of every card membership year, which fully offsets the $450 annual card fee.
The travel credit is redeemable for Qantas flights online via Amex Travel and is very flexible. While you need to use it in a single booking, that can be for one or more people, travelling one way or return, and on domestic or overseas flights.
Eligible flights are standard Qantas flights with a QF flight number, so you'll have lots of routes to choose from.
And you don't even need to use travel credit for yourself – you can use it to book a flight for someone else, which gives you even more flexibility.
3. Enjoy four airport lounge entries each year
Relax before your next flight in style, even if you're flying economy.
Each calendar year, you'll receive two entries to the Amex lounge at Sydney Airport international or Melbourne Airport international. Simply flash your Amex card at the door to access the space.
You'll also receive two Qantas lounge passes (valid for both domestic Qantas Clubs and Qantas International Business Lounges) in each card membership year after your first card spend that year on selected Qantas products and services.
Selected Qantas products and services are Qantas flights with a QF flight number purchased with Qantas direct or some travel agents, and Qantas Frequent Flyer and Qantas Club membership joining and annual fees.
You'll receive an email from Qantas when the lounge passes are activated, which you can then manage (eg. assign to a flight booking or forward to a family member) here.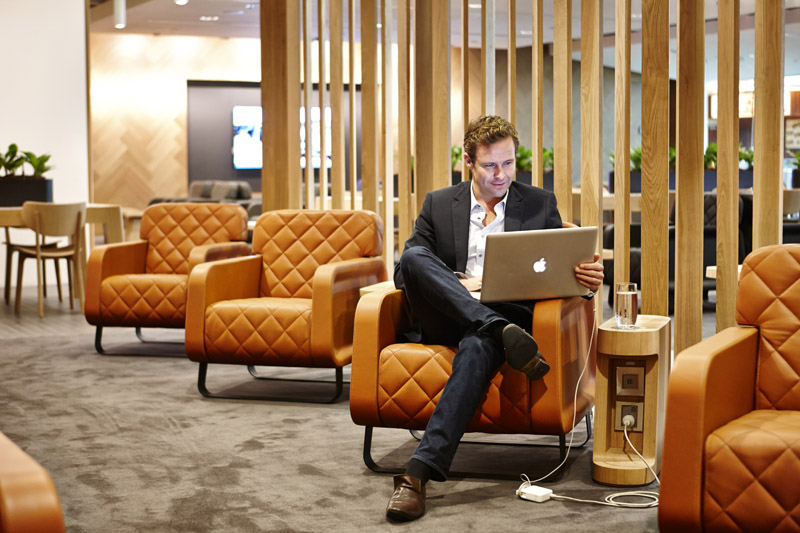 Relax in style before you fly
I'd value these lounge entries at $50 each (at least) – so there's easily $200 of value here.
4. Receive complimentary domestic and international travel insurance
I really like the travel insurance you receive when you pay for a return flight with your card or use Qantas Points or the $450 travel credit to book.
The insurance covers you, your partner and dependent children 22 years of age or younger for:
inconvenience (flight delays, cancellations or missed connections, and delayed luggage)
medical emergency expenses up to $2,500,000
damaged, destroyed, lost or stolen baggage, money or documents
travel cancellation costs
personal liability.
You can read the full insurance policy document here.
If you're currently paying for travel insurance and this cover meets your needs, you can save a lot of money by relying on it.
5. Enjoy other valuable features and perks
There are lots of other benefits to enjoy, like:
free supplementary cards for family members over 18 years of age
complimentary premium membership to the Qantas epiQure wine delivery service (worth $99) – one of my favourite sources of points
a 0% balance transfer offer for 12 months
refund and purchase protection for selected purchases.
On top of that, as an Amex card member you get access to a range of special events, lifestyle perks and money-saving offers throughout the year.
Plus 55,000 bonus points
Receive 55,000 bonus Qantas Points when you apply online, are approved and spend $3,000 on your new card within the first 3 months.
You could use these bonus points, together with the points earned on initial spend, to travel overseas: like from Melbourne / Sydney to Bangkok, or from Brisbane to Tokyo, in economy return for 56,000 points plus taxes, or one way in stylish business class for 60,000 points plus taxes.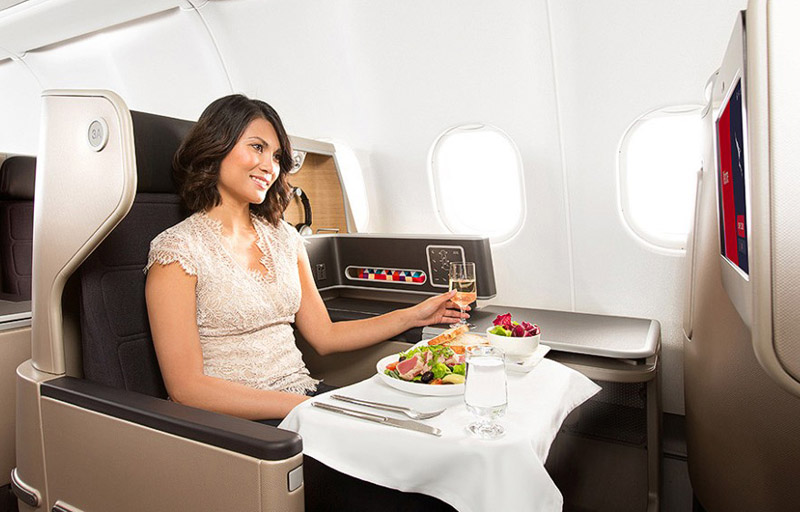 Use your points to enjoy Qantas business class
To be eligible for the bonus points, you must not have held a credit card issued directly by Amex Australia in the last 18 months. Note that means you are eligible if:
you've held an Amex card issued by a bank (i.e. Westpac, ANZ, CBA or NAB)
you've held a David Jones Amex Card, or
you're a supplementary cardholder on someone else's primary card account (including a corporate account).
The minimum personal or combined household income to qualify is $65,000.
This card is my top pick of Qantas Amex cards for people who love earning Qantas Points and travelling with Qantas, and the 55,000 bonus points is a great incentive to sign-up.
Please note that we are not a credit services provider and we are not suggesting that you should apply for this credit product. You should seek independent, professional advice and consider your personal circumstances before making a decision to apply for a credit product. 
If you decide to apply for this card via the above link, we'll receive a small commission from Amex. This income helps keep the blog running, and we thank you for your support.