Out of all the high value uses of Qantas Points I write about, my favourite is probably the 'oneworld award'. It allows you to fly up to a whopping 35,000 miles with 5 stopovers, which is enough to take you round the world, at a cost of 280,000 Qantas Points in business class.
Since you can spend almost 280k points on a return business class fare to London or New York, flying much longer with 5 stopovers represents excellent value.
I've just booked the bulk of my next oneworld award itinerary for June to August 2019.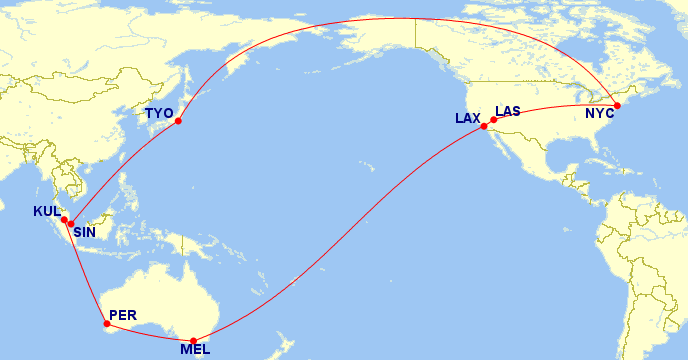 Taking off from my hometown of Melbourne, I'll be stopping over in Los Angeles and Las Vegas (this is counted as as one stopover because I'll make my own way between the two cities), New York, Singapore/Kuala Lumpur and Perth, with room to add one more stopover and 10k miles of travel, which I'll organise later. It could be Tokyo, which I'm currently transiting through, or somewhere else.
The reason for booking these flights now, before my plans are finalised, is that it's essential to secure seats on popular routes before they are snapped up. That's especially the case for flights to and from Australia. NYC to Asia also often has limited availability.
I booked the Melbourne-LA flight a few months ago when seats were first released, and added all the other flights to the itinerary yesterday.
If the 280k point price cap wasn't in place, this itinerary would already cost 376k points, and by the time I add more flights, it would be well over 400k points. Getting all this for 280k points – saving over 100k – is a great deal!
As a bonus, surcharges only come to $790 so far, since most of the flights are with lower-taxing airlines like American Airlines, Japan Airlines and Malaysia Airlines.
If you'd like to know more about the oneworld award and how to book, check out my detailed post here.
To get tips like this delivered straight to your inbox, subscribe to our newsletter: