Now that the dust has settled on major changes to the Qantas Frequent Flyer program, we've updated this guide on how members can get the most value from their points.
It remains the case that premium economy, business class and first class reward seats and upgrades offer the most 'bang' for your points 'buck'. That's despite the fact that Qantas has increased the prices of these redemptions while reducing the cost of economy reward seats.
I've written a separate article on whether economy reward seats are a good deal now that Qantas has lowered prices (answer = maybe, but never as good as flying at the pointy end).
Qantas continues to tempt members with a growing list of other redemption options: hotel stays, car hire, insurances, gift vouchers, household goods, movie tickets … the list goes on. But these almost always provide less value that spending the equivalent number of points on flights.
Here's an example: you need just over 18,000 Qantas Points to purchase a $100 Myer gift card, or for a similar number of points you can upgrade from discount economy to business class one-way between Melbourne and Brisbane, or book an economy reward seat between Sydney and Perth one-way (plus $43 in taxes and fees). I'd value the business class upgrade more than the Sydney-Perth flight, which in turn is worth more than a $100 gift voucher.
As always, it pays to compare the actual value of points redemption options.
Assuming I've won you over to the cause of using points to fly in style, here are some examples of great ways to spend Qantas Points from Australia.
1. Fly business class around the world with the 'oneworld award'
The oneworld award is hands-down the best way to redeem Qantas Points, in my opinion. It allows you to fly up to 35,000 miles with five "stopovers" using any of the airlines in the oneworld alliance.
Since a total of 16 flight and land segments are permitted, you can actually visit more than five destinations by making land segments on your own.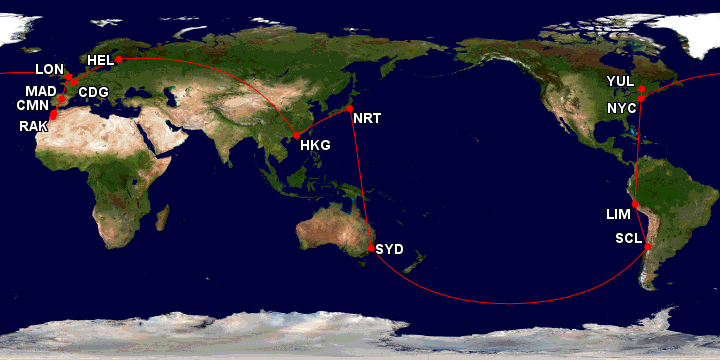 You don't need to fly round-the-world if you don't want to – it's not required under the rules – which means you can loop or zig-zag anywhere you like.
Since many airlines don't offer first class, business class is the sweet spot. The cost in business is 318,000 Qantas Points plus taxes and fees, which is on par with some return flights from Australia to Europe or the USA – so this is a fantastic deal.
Booking this award can be tricky, so I've written a lengthy article with tips on how you can go about it.
2. Emirates business or first class 
Emirates is one of the world's top airlines with a huge network that services most major Australian cities. As well as flying to Dubai and onwards to other destinations, you can also travel directly between Sydney and Christchurch, and Melbourne and Singapore.
Business class is very comfortable on the carrier's A380 fleet (not so much on the 777s) where you'll find great seats, good service and solid dining – as well as an on-board cocktail bar! I reviewed this product previously between Melbourne and Singapore.
First class is fabulous on all aircraft, though on the A380 you can enjoy the unique experience of showering at 40,000 feet. Emirates first class is one of the most luxurious ways to fly, and you can read my review of it here.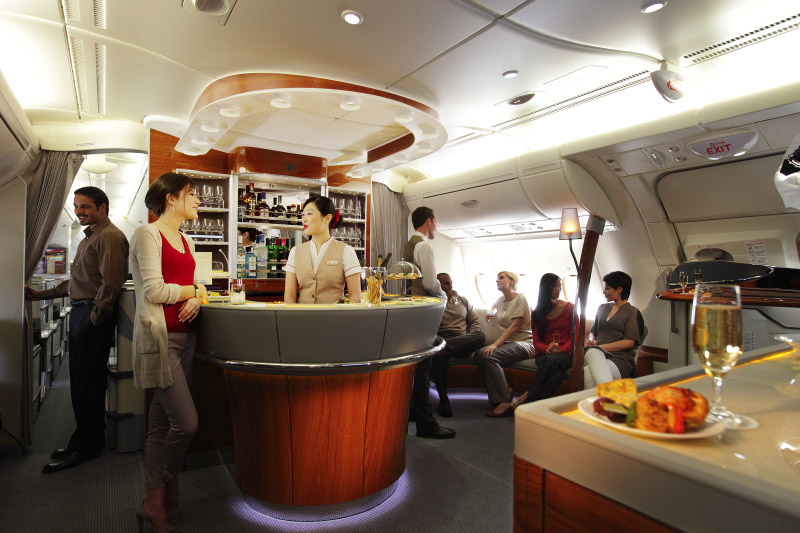 Emirates A380 business and first class bar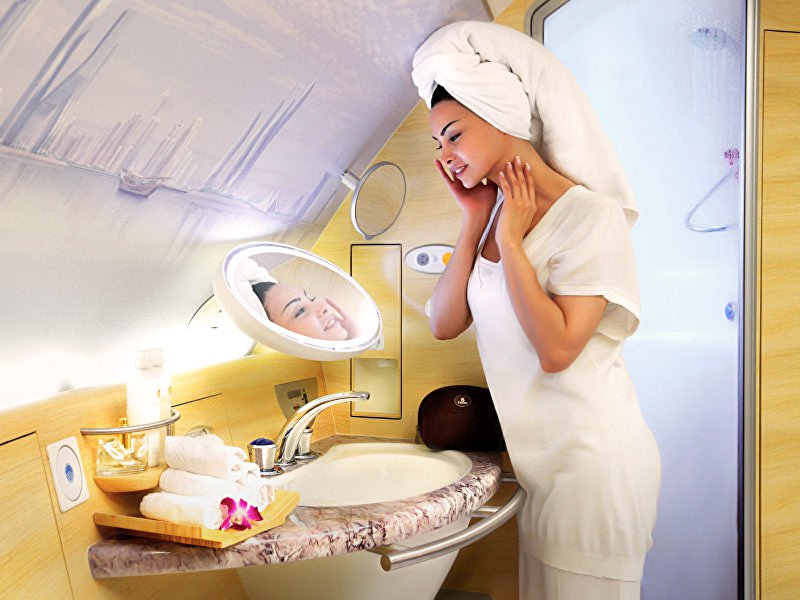 Emirates A380 first class 'shower spa'
The cheapest reward seats from Australia are for Sydney-Christchurch, which cost 41,500 Qantas Points in business or 62,200 in first class. For a longer trip like to Western Europe, you'll need 144,600 points in business class or 216,900 in first class one-way.
3. Qantas 787s, A330s and refurbished A380s on long-haul routes
Qantas is progressively rolling out shiny new Boeing 787 Dreamliners across its long-haul network, replacing the old 747s that have operated many of these routes and are being retired.
This follows the recent refurbishment of the carrier's A330s, which are seen on some routes to Asia, and coincides with the current refurbishment program for all A380 aircraft, which is due to be completed by the end of 2020.
This means that pretty soon, all Qantas passengers flying long-haul will enjoy Qantas' newest seats in premium economy, business class and first class.
Qantas's recently-refreshed first class product (available only on A380s) isn't as luxurious as you'll find with Emirates or other leading carriers, but it's still a great experience.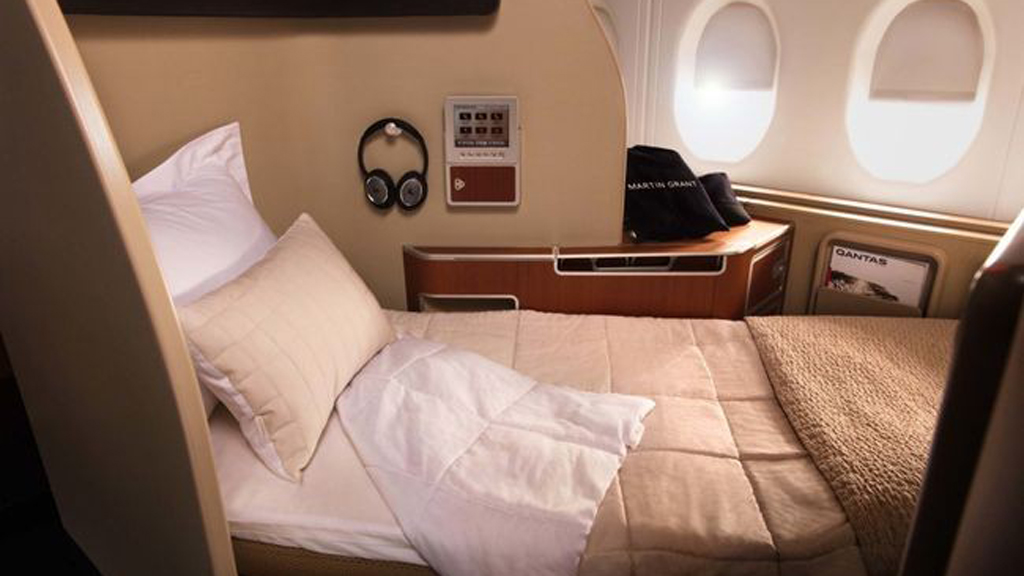 Qantas first class seat
Qantas' new business class is more competitive with other leading carriers. Passengers enjoy a lie-flat seat and direct aisle access thanks to a 1-2-1 layout. The seats have all the mod-cons, including plenty of storage, USB ports and a large high-definition entertainment screen.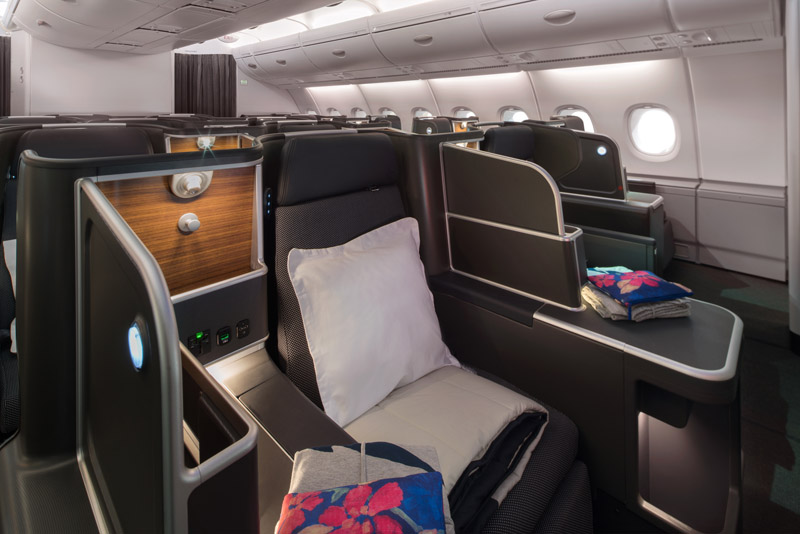 Qantas' new long-haul business class
Premium economy is in a 2-3-2 layout. The seats have great padding, recline and entertainment screens, but Qantas scrimped a little on the leg room, which is a couple of inches less than some competitors offer. Still, it's a pretty good way to fly (if you're not overly tall!).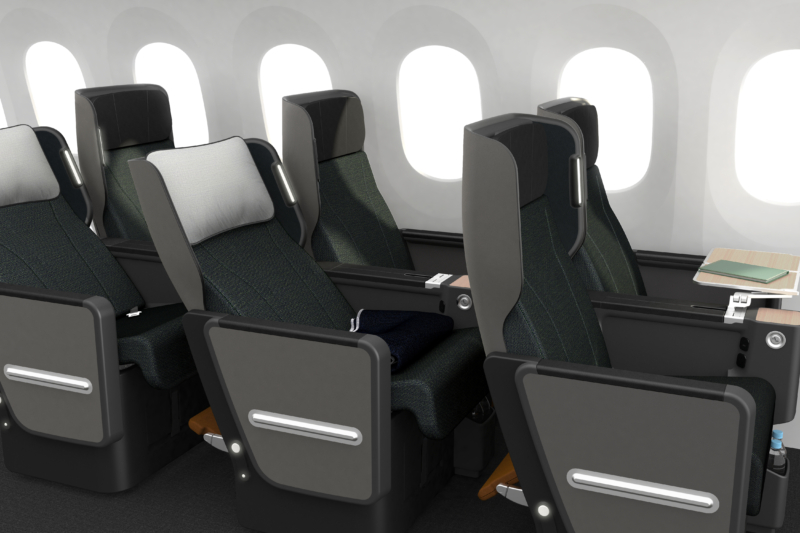 New premium economy seats
By way of example, a one-way flight between Melbourne and Los Angeles costs 81,300 points in premium economy, 108,400 points in business class and 162,800 points in first.
4. Fly coast-to-coast in Qantas A330 business class
Qantas operates A330s on many flights between Perth and the east coast. This aircraft features the first-generation 'Business Suite' on board. It's a far superior option to business class on the smaller 737s that also fly domestically.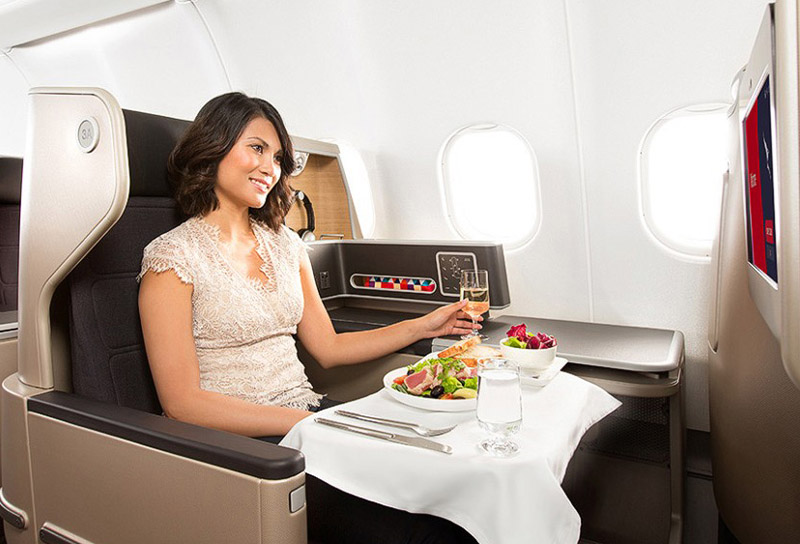 Qantas A330 Business Class
Passengers enjoy business class lounge access before their flight, a good meal and drinks service, and solid entertainment. It's a great way to fly across the continent, and you can read my review of a Melbourne-Perth flight here.
A reward seat costs 41,500 points one-way between Perth and the east coast, or you can upgrade from discount economy for 27,200 points or from flexible economy for a bargain 10,900 points.
5. Business or first class with Japan Airlines
Japan Airlines flies year-round from Melbourne and Sydney to Tokyo, as well as sometimes seasonally between Sydney and Osaka. Right now, all flights are operated by the airline's Boeing 787 Dreamliners, however from 1 September 2020 JAL will swing a Boeing 777 onto the Sydney-Tokyo route, which also features a first class cabin.
I've previously reviewed Japan Airlines business class, which is a fantastic way to fly. While the layout is 2-2-2, everyone has direct aisle access due to the staggered configuration. The service, food and drinks (sake!) are also top-notch.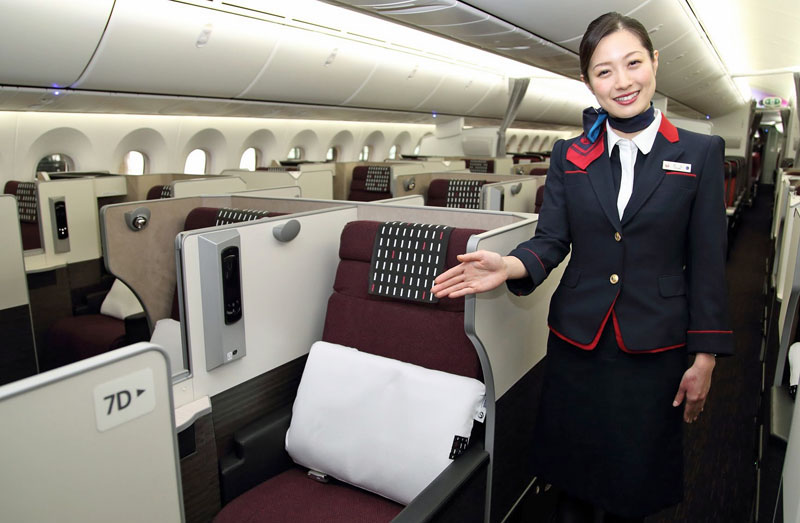 Japan Airlines 787 Business Class
I haven't flown first class yet, but reportedly it's wonderful.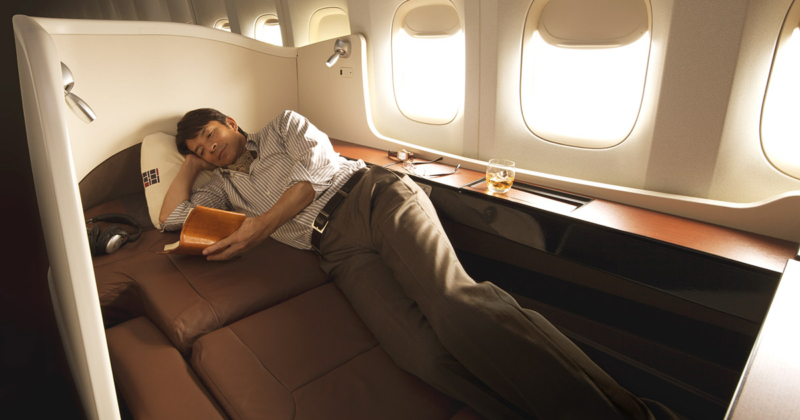 Japan Airlines first class
Seats to Tokyo cost 90,000 Qantas Points in business class and 129,300 in first class one-way. From there you can also connect to onward flights to North America, Europe and elsewhere in Asia.
6. Qatar Airways Qsuites
Many people regard Qatas Airways' Qsuites as the world's best business class product. It features the travel industry's first-ever double bed in business class, with privacy panels that stow away, allowing passengers in adjoining seats to create their own 'bedroom'. You can even configure a group of four seats for a family travelling together.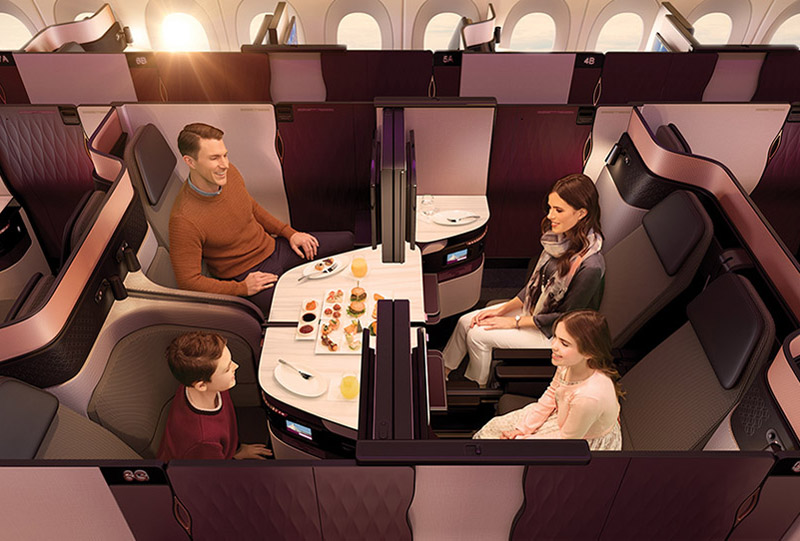 Qatar Airways' Qsuites
Other features include sliding doors, a large 21.5 inch entertainment screen, a range of seat controls, a handheld touchscreen controller and more – all paired of course with Qatar Airways' reliably good dining and customer service.
The airline is rolling out Qsuites across its fleet (A350s and 777s, but not A380s). In Australia, it's currently available on select flights from Adelaide, Canberra and Sydney to Doha. From there, you can fly to Europe, Africa and North America.
A one-way flight to Doha costs 119,200 Qantas Points.
Summing up
In my view, the best use of Qantas Points is flying in a premium cabin. The value you get from spending Qantas Points this way is much higher than with any other redemption. Equally importantly, you get to experience something that for many people would otherwise be out of reach.
While premium reward seats and upgrades can be tricky to secure, with a little planning and effort you should be able to make it work.
To help with planning, visit Qantas' website for reward seat and upgrade pricing and to research reward seat availability. Upgrades using Qantas Points are only available for Qantas marketed and operated flights.
To get tips like this delivered straight to your inbox, subscribe to our newsletter: