Qantas has sent out a survey to some frequent flyer members asking for their opinion about possible changes to classic flight rewards that could see more sought-after business class seats becoming available.
Posted by user kpc on the Australian Frequent Flyer forum earlier today, the survey begins with the following statement:
"Qantas is considering making changes to our classic flight rewards in order to better address the needs of our customers. These changes will include changes to the number of points required to get to different destinations, as well as to the portion of cash required in addition to points (made up of Government tax, carrier charges, and fees).
These changes will help Qantas to increase the number of seats we can set aside for customers to redeem for a classic flight reward. The percentage of flights where a seat is available for a classic reward will also increase, depending on the route and cabin. A summary of the changes being considered is below (please note these are examples only)."
Here's a photo of the examples provided.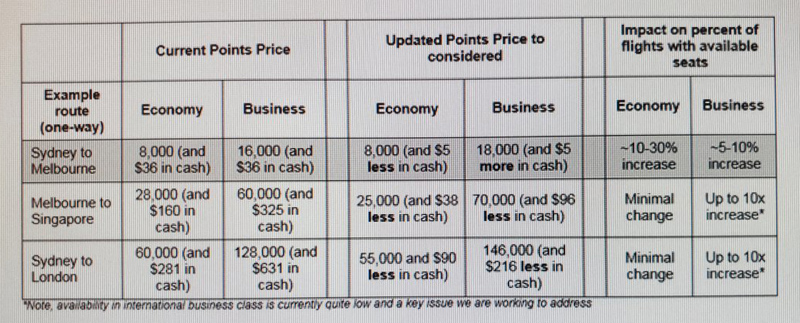 The proposed changes to economy rewards are all positive, but economy seat availability has never been the main problem.
It's in international business class where people experience the most frustration finding seats. Under the changes being considered, more points would be required for a reward booking but the cash component would fall. These changes cancel each other out if you value a point at around 1 cent, but I think that's on the low side, so this is slightly negative for customers.
However, it's the promise of "up to 10x" more business class award seats becoming available that really stands out. If that was actually delivered, then I think customers would be happy to absorb a slightly higher cost.
Without knowing any more details, I'm not going to get my hopes up.
Qantas is clearly aware that low availability of international business class reward seats is turning people off the frequent flyer program (which is probably why today it released more seats for December and January travel). If Qantas can permanently boost availability, it would no doubt increase member enthusiasm for the program as well.
I'm skeptical, but hopeful.
Stay tuned for more details as they come to hand.
To get news like this delivered straight to your inbox, subscribe to our newsletter: