Singapore Airlines has pulled back the curtain on its eagerly-awaited new A380 business and first class cabins.
The big reveal comes as the airline faces tough competition from Middle Eastern and Asian carriers in the premium travel market. Singapore Airlines no doubt hopes the cabin upgrades will help it maintain its allure.
Singapore Airlines first class passengers are set to enjoy spacious new suites arranged in a 1-1 layout on the superjumbo's upper deck.
A 21-inch leather armchair that reclines to 45 degrees and swivels is accompanied by a separate fold-down bed measuring 193 cm by 68 cm.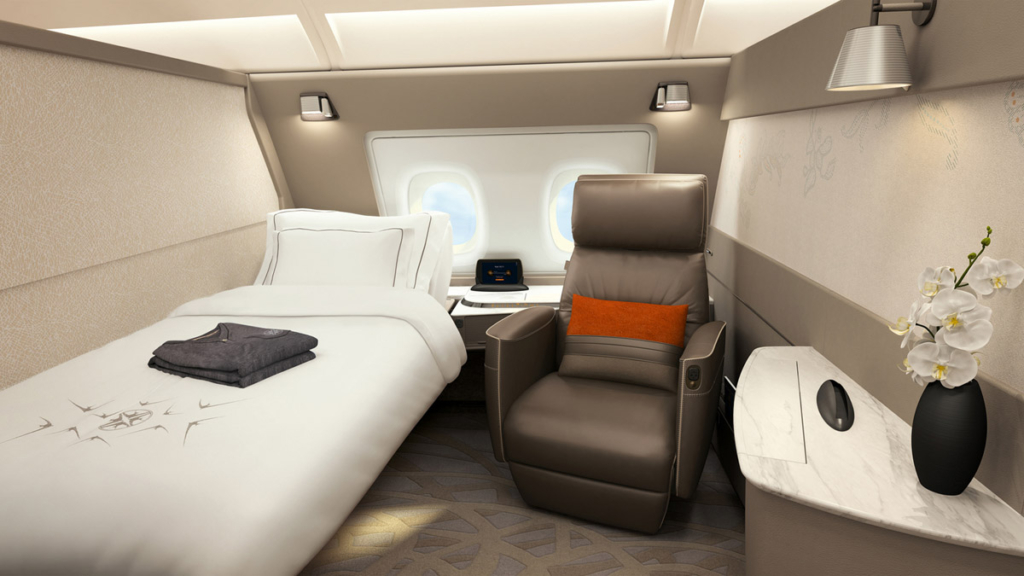 The new Singapore Airlines A380 first class suite
With just six suites in total (down from the current 12), the design is reminiscent of Etihad's first class offering, which is regarded by many as industry-leading.
Couples travelling together will have the option to combine the suites in rows 1 and 2 by lowering the dividing wall between them, in effect creating a double bed. Unlike in Etihad first class though, it doesn't look like you'll be able to dine together as the seats are quite far apart.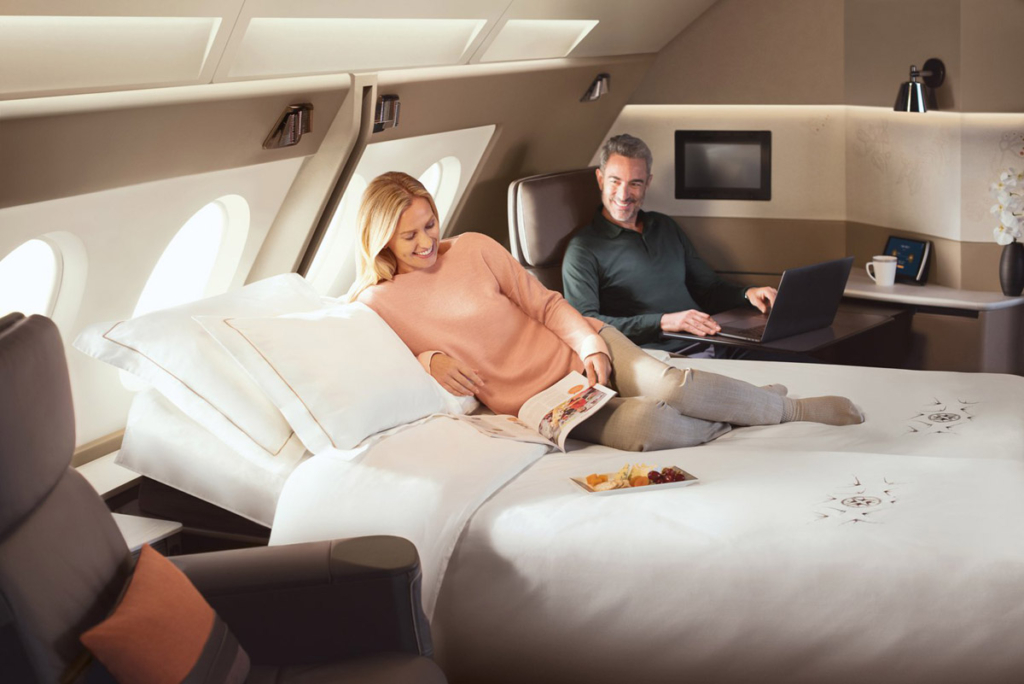 Combine the suites in rows 1 and 2 into a luxurious space for two
Each suite has a 32-inch full HD monitor that can swivel for the different viewing angles in seat and bed modes, a full-sized personal wardrobe, customised handbag stowage compartment, amenity box and mood lighting.
Plenty of storage in the new suites
Unlike some of its competitors, Singapore Airlines has opted not to install first class showers. Instead, two spacious and stylishly appointed bathrooms will be located at the front of the cabin, one of which will have a sit-down vanity counter.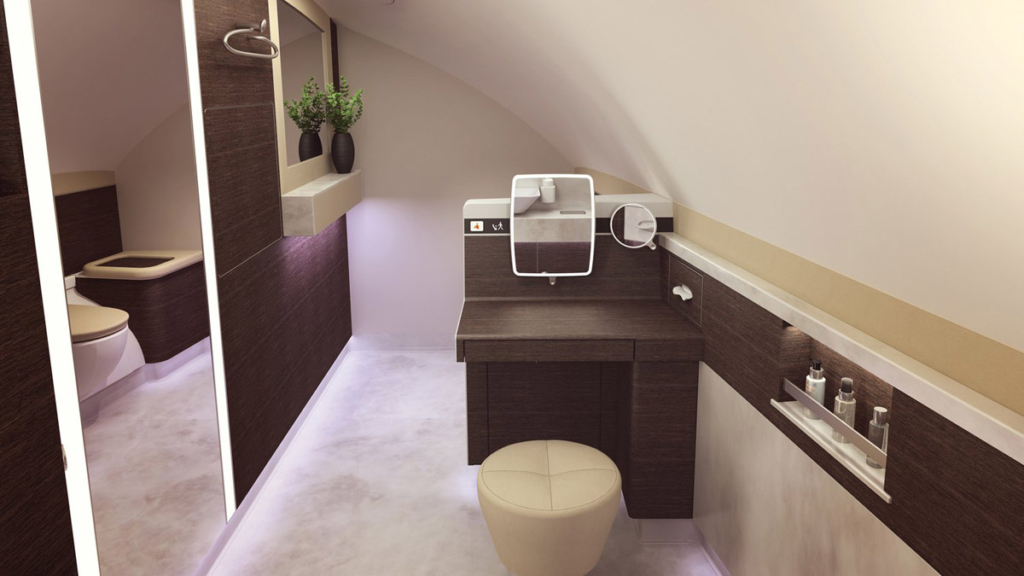 One of two stylish first class bathrooms
Filling out the remainder of the A380 upper deck will be 78 new business class seats arranged in a 1-2-1 layout.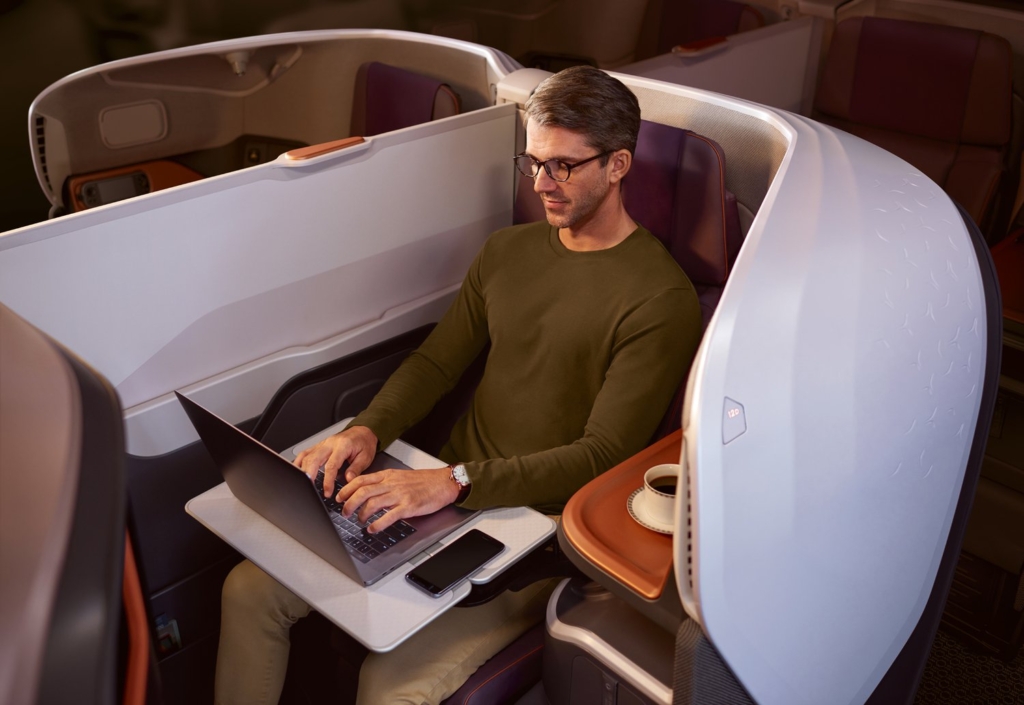 The new Singapore Airlines A380 business class seat
Singapore Airlines has opted for a denser configuration and narrower seats compared to its existing A380s, no doubt to increase revenue.
Measuring 25 inches in width and reclining into a 78-inch full-flat bed, the new business class seats are an evolution from the airline's current products on Boeing 777-300ERs and A350s.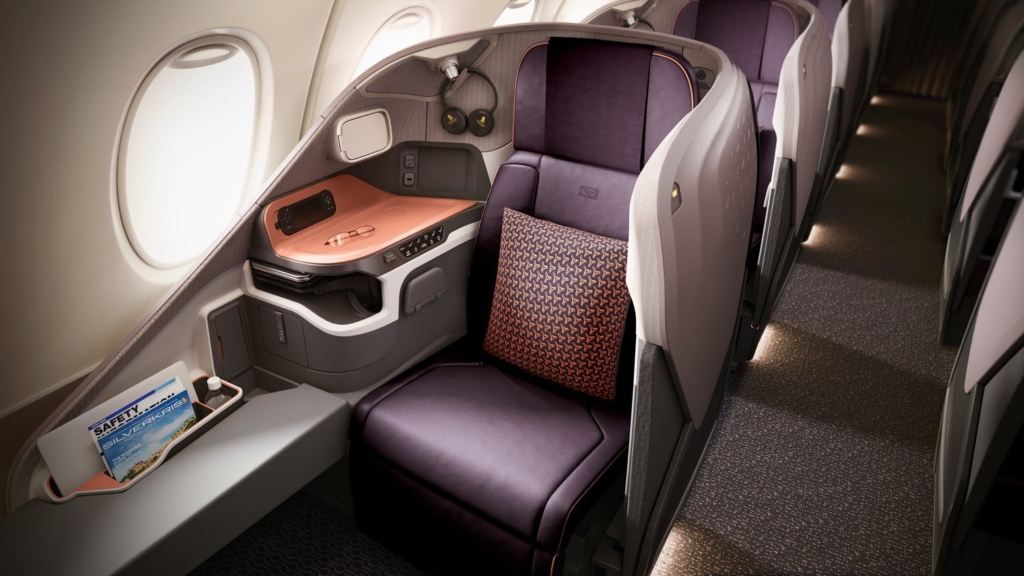 The new Singapore Airlines A380 business class seat
A new feature is that the middle two seats behind a bulkhead (three rows in total) can be transformed into a 'double bed' for couples – but it doesn't look like you'll have much privacy.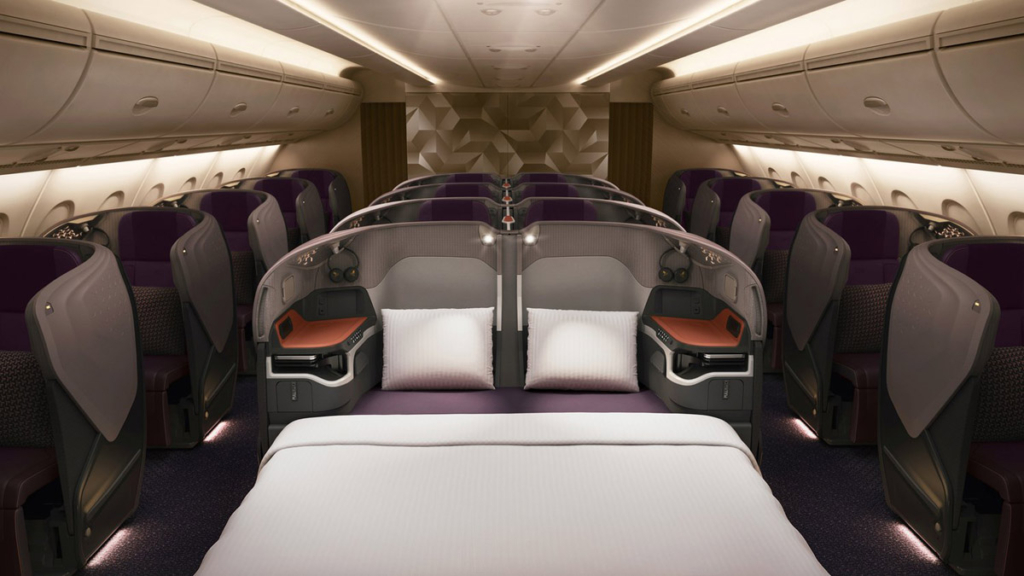 A 'double bed', of sorts, in business class
Other features include USB ports and in-seat power, an enlarged dining table, an 18-inch entertainment screen and more stowage space.
In premium economy and economy, passengers can expect a minor refresh from what the carrier currently operates on its newer aircraft.
Sadly, Singapore Airlines has opted to not provide a social space on its A380s (such as a bar or lounge) where passengers can enjoy a change of scenery or mingle, unlike what you'll find on some of its competitors' planes.
The revamped cabins will be installed on the five new A380s Singapore Airlines has on order while its 14 existing A380s will be retrofitted between 2018 and 2020.
The first A380 with the new cabins will debut on the Singapore-Sydney route in December, with Singapore-London tipped to be next in early 2018.
To get news like this delivered straight to your inbox, subscribe to our newsletter: