Have you ever wanted to sip a cocktail at a bar while flying at 40,000 feet? Or take a hot, relaxing shower during a long flight?
You may think these kinds of experiences are out of reach, but that's not the case if you're a Qantas Frequent Flyer member. Qantas Points can be used to fly business and first class with Emirates (which is where you'll find such luxuries) and this is easily one of the best uses of Qantas Points.
Emirates' has a huge international network and makes a decent amount of premium award seats available. In Australia, the airline flies from Sydney, Melbourne, Perth, Brisbane and Adelaide to Dubai, as well as from Sydney to Christchurch, and from Melbourne and Brisbane to Singapore.
Most of these flights are operated by the popular A380 aircraft, which have the shower and cocktail bar on board. You won't find these on the Boeing 777s that fly into and out of Australia. Business class on the 777s is inferior, with a 2-3-2 configuration, but first class (if available) is very good.
I've reviewed Emirates A380 business class and first class, and you can read those posts for a detailed overview of what to expect. Here's a summary, along with some tips on how to book.
The Emirates experience – why it's worth it
You'll have access to priority check-in at the airport and, where available, a fast track through security and immigration. You'll then relax before your flight in a lounge, either one that Emirates operates or has a contract arrangement with.
If Qantas and Emirates both operate lounges at the airport, you can choose the one that's nicer!
Emirates Lounge Melbourne Airport
Once on board, you'll enjoy spacious seats, quality food and drinks and award-winning entertainment.
On an A380 (not a Boeing 777), both business and first class passengers can kick back in the bar / lounge, and first class customers can also enjoy a hot shower.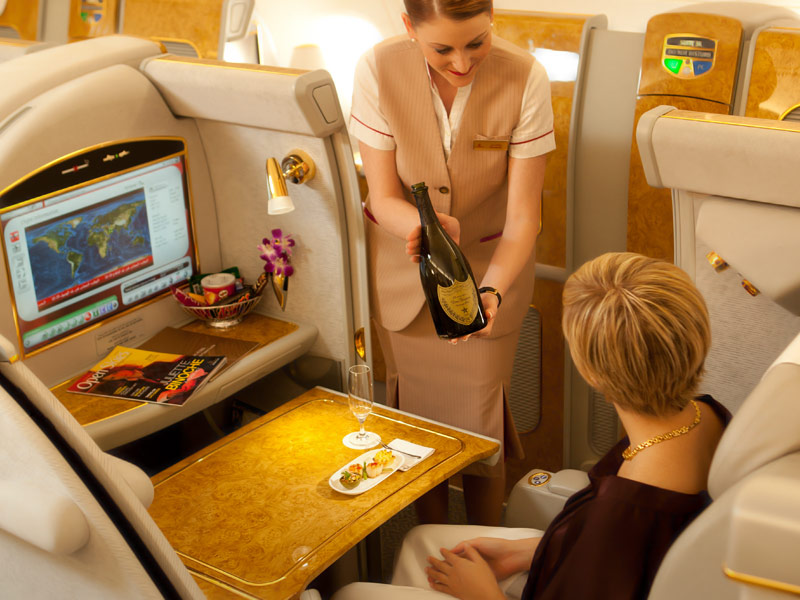 Emirates A380 First Class seat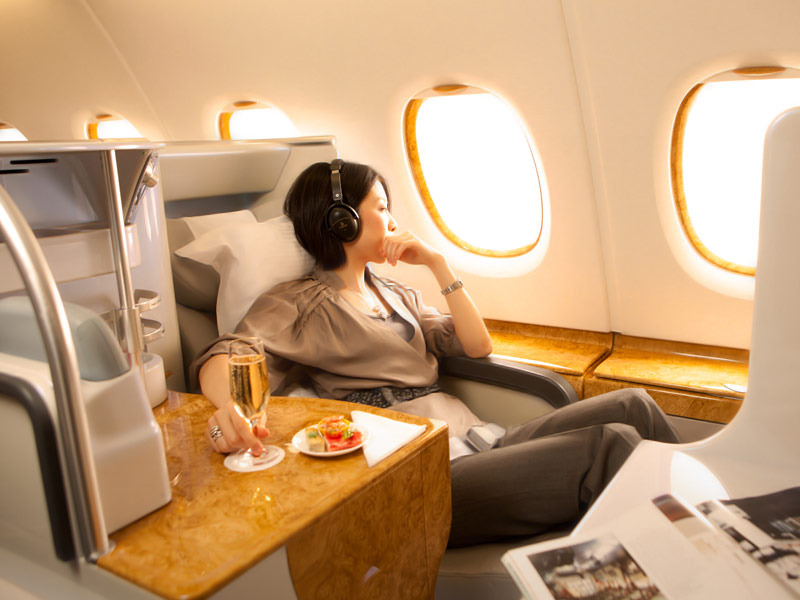 Emirates A380 business class seat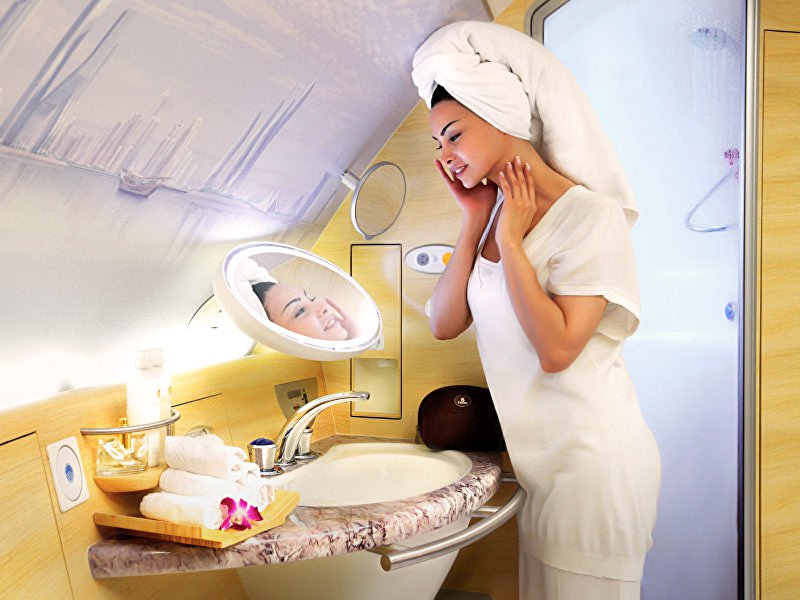 Emirates A380 first class bathroom
Emirates A380 bar and lounge (for both business and first class passengers)
If you're connecting in Dubai, you'll have access to Emirates' huge business or first class lounges at the airport.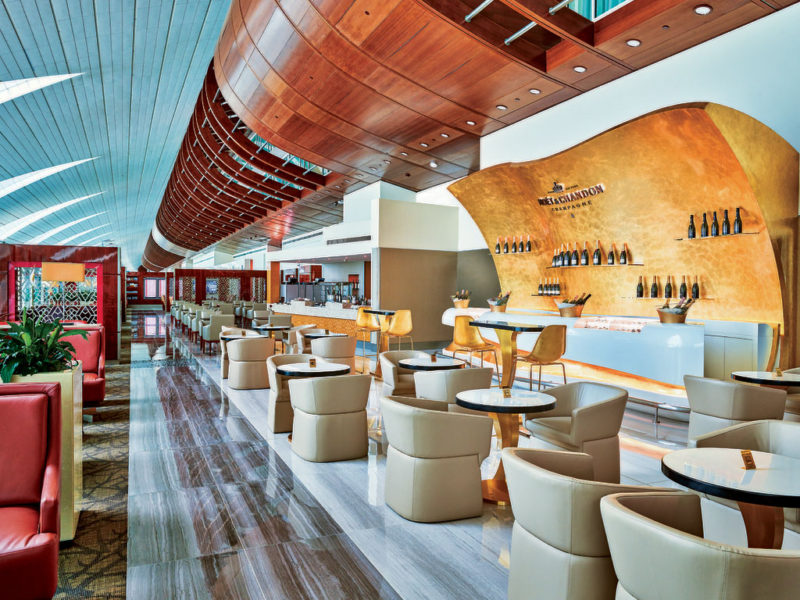 Emirates business class lounge in Dubai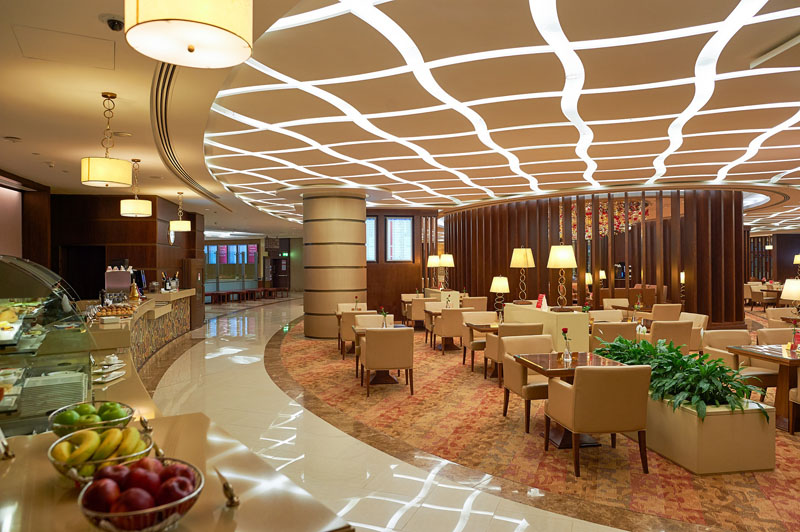 Emirates first class lounge in Dubai
Finally, when you land at your destination, a chauffeur will take you to your accommodation: no queuing for taxis for you!
How to book Emirates seats using Qantas Points
You can search for and book seats instantly on the Qantas website. Simply log in and search for an award seat on the route you want (make sure to tick "Use points – Classic Flight Rewards only" not "Use money, points or both").
Any available Emirates seats will appear in the search result, along with information about the aircraft, so you can check if it's an A380 or a 777.
Award seat availability with Emirates is generally quite good, however as with all premium inventory, numbers are limited and you should book as far ahead as you can.
Emirates releases seats around 330-340 days out. You can also often pick up a last minute seat if there is unsold inventory, so if you have the flexibility to travel with only a few days notice, that's a good option.
It's much easier to find award seats outside Australia – no doubt because demand is much lower. Keep that in mind if your travel plans include overseas sectors. You can view Emirates' route map here.
In terms of how many Qantas Points you'll need, that will depend on the distance flown. There are both long and short flight options from Australia, so even if you don't have many Qantas Points, you can still enjoy the Emirates experience.
The shortest flight is Sydney-Christchurch, which requires 36,000 points in business or 54,000 points in first class.
You can also fly Sydney to Bangkok, and Melbourne or Brisbane to Singapore, for 60,000 points in business or 90,000 points in first class.
Longer routes from Australia include flights to Dubai and then onwards to Europe, Africa or even the Americas. Here's Qantas' award table showing the points needed (you can calculate the distance between cities/airports at gcmap.com).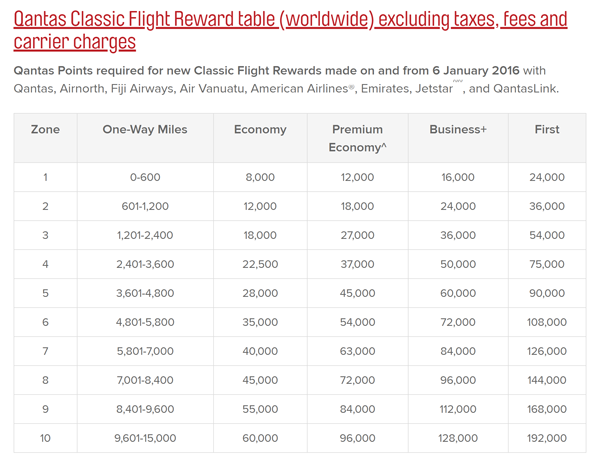 Note that you used to be able to create an itinerary from Australia to the USA via Dubai (i.e. the long way around) using the "multi city" option on Qantas' website, with a cost of 128,000 points in business or 192,000 in first – but when I just tried that again, it was pricing out much higher, so Qantas may have closed this loophole.
Emirates does impose pretty steep taxes and fees on award bookings. For example, they add up to over $300 on a one way business or first class flight from Australia's east coast to Singapore or Bangkok. This can't be avoided unless you're flying out of Hong Kong, where government regulations keep the fees down (eg. you only need to pay $60 for a first class flight from Hong Kong to Dubai).
Despite the high taxes and fees, I still think these award flights are a good deal.
Summing up

Using Qantas Points for Emirates first or business class seats is a superb option for Qantas Frequent Flyers and one of the best uses of Qantas Points.
You'll enjoy great door-to-door service, comfort on board, high-quality food and drinks and some unique experiences in the air – like the A380 onboard bar and shower!
To read more about what it's like to fly with Emirates, check out my reviews of A380 business class and A380 first class.
To get tips like this delivered straight to your inbox, subscribe to our newsletter: