Air New Zealand has pulled back the curtain on its new Boeing 787 Dreamliner cabins that will launch in 2024, featuring no fewer than seven seating options for travellers on long-haul flights.
This includes a new Business Premier Luxe seat, designed for customers looking for more space and privacy than a standard business class seat, and Skynest, the world's first sleep pods in the sky for economy travellers.
The airline says it has responded to overwhelming customer feedback on the importance of sleep and need for more comfort and space on marathon journeys, such as its new direct Auckland-New York service.
Business Class
Travellers will have the choice of two business class seats. The first is Business Premier: a fairly conventional lie-flat seat arranged in a 1-2-1 layout.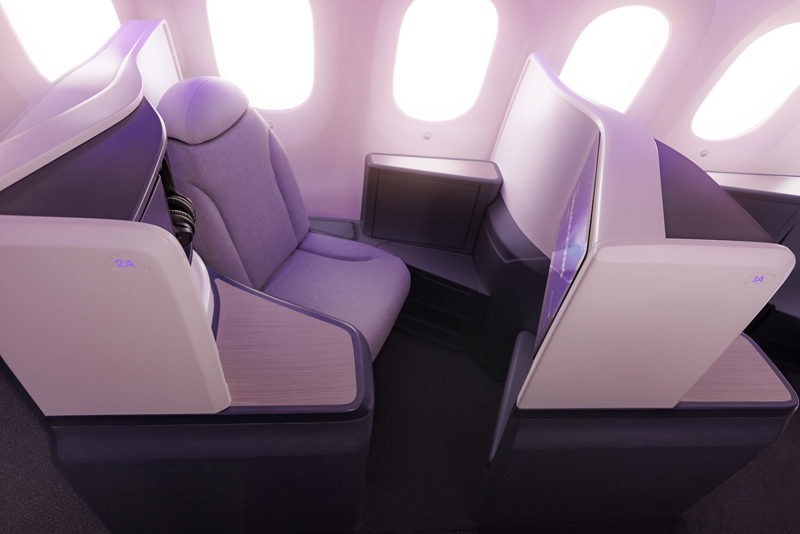 Business Premier seat
For those seeking a bit more luxury, the new Business Premier Luxe offering provides more space and privacy, with a fully closing door and space for two to dine. The seat itself is identical to the standard business class product, but customers get more room and the chance to dine with a companion thanks to seating space and a larger table.
These seats will be located at the front of the cabin.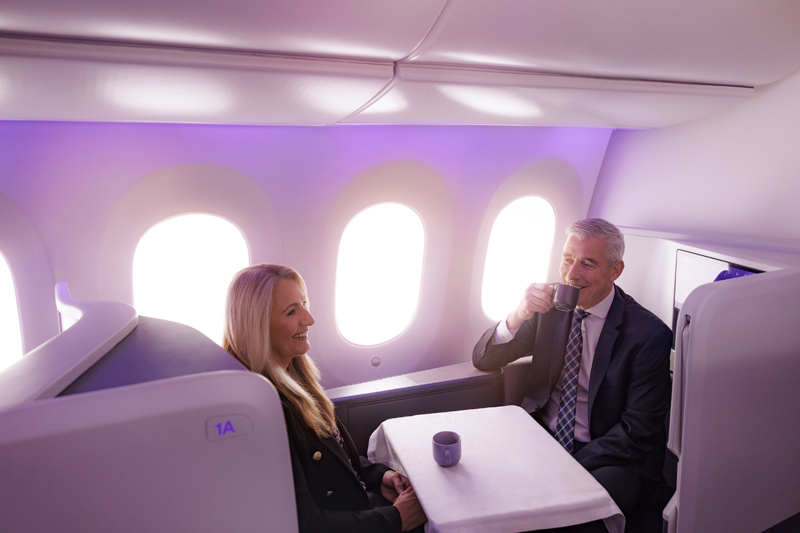 Business Premier Luxe
Premium Economy
For travellers on a mid-range budget, Air New Zealand's latest generation premium economy seat offers more privacy and protected space where you can recline at leisure without interrupting the person behind you (or being annoyed by people reclining in front of you), since the seat reclines into its own housing. The seat width is 19 inches and pitch is 41 inches, while the cabin layout is 2-3-2.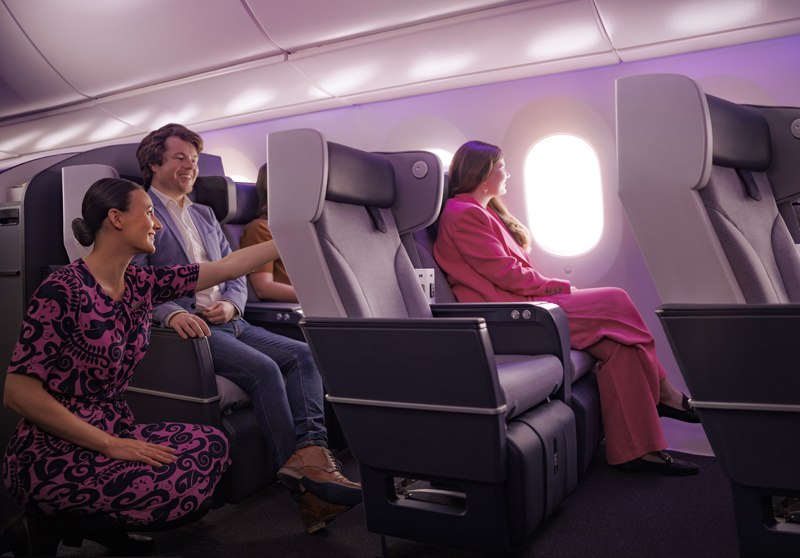 Premium Economy
Economy
Customers in economy will have four options to choose from. Of course, there's a standard economy seat offering, with a refreshed design that provides more storage, comfort and space, and a bigger screen.
Some rows have extra leg room, which the airline refers to as Economy Stretch.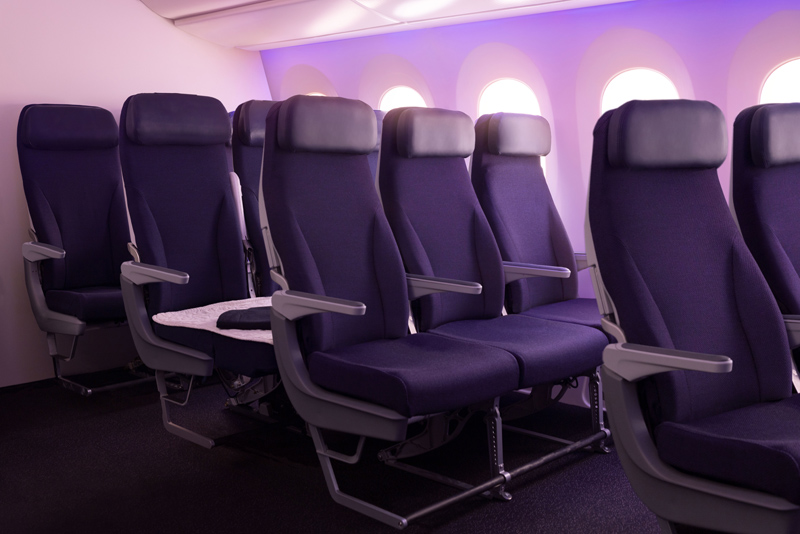 Economy and Economy stretch seats
Solo or multiple travellers can also book a row of economy seats as a Skycouch, with extendable seats and padding providing extra comfort.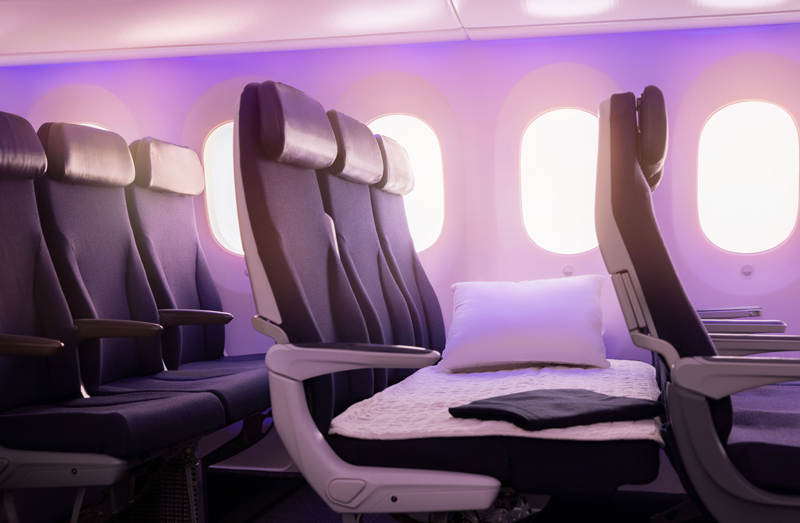 Economy Skycouch
And then there's Skynest: a sleep pod that can be booked for a 4-hour slot to get some shut-eye, available to both economy and premium economy passengers, but only on ultra-long-haul flights such as to the USA.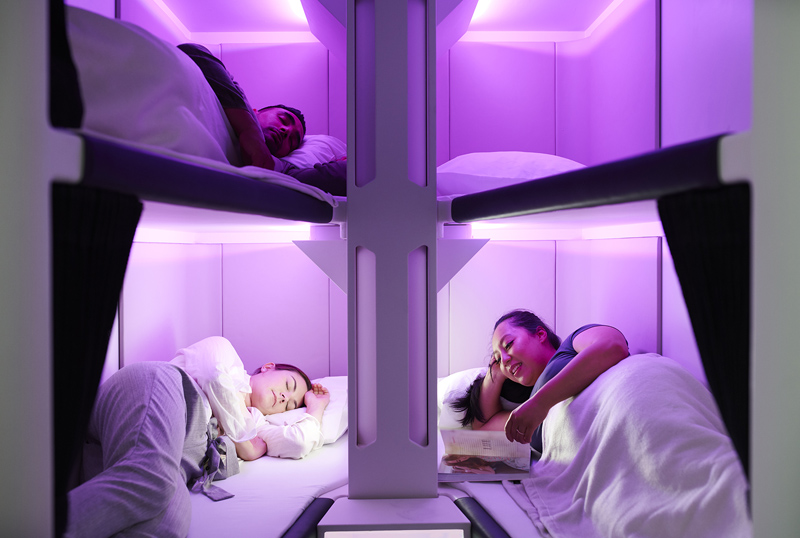 Skynest pods
The six pods arranged in a 'bunk bed' layout measure at around 203 cm long and 58cm wide (which sounds a bit narrow, actually), and include a mattress pad, pillow and blanket, as well as curtains to provide privacy (claustrophobes need not apply).
A four-hour stay is purportedly enough to enjoy two sleep cycles, and each pod will be cleaned between bookings.
The new seating options will launch in 2024 on new and retrofitted Dreamliners. The airline hasn't yet revealed how much these add-ons will cost, but they are sure to appeal to many customers.
To get news like this delivered straight to your inbox, subscribe to our newsletter: