For this final article in my series on the American Express business card range, I'm focusing on a topic that's very dear to my heart: earning and spending reward points!
As you'd expect from the owner of a travel and points blog, I pay nearly all business expenses with my American Express card so I can enjoy the rewards (which are usually business and first class flights!). With everything from supplier purchases to recurring bills going on my Amex card, the points quickly pile up.
If you're not maximising points earn on business spend, you could be missing out on lucrative rewards. To make sure that doesn't happen, here are some tips for improving your points game.
Earning points
Amex offers some of the highest points earn rates on the market, with no limit on the number of points you can earn. To make the most of this with your business expenses, try some or all of the following simple tactics:
use your Amex card as the default payment method for recurring expenses like telecoms, insurance, utilities and regular purchases from suppliers
notify any suppliers who don't yet have your card on file
if a supplier doesn't accept card payments, you can still pay them with your card via the American Express AccessLine service: the payment is charged to your card as a purchase (not a cash advance), with funds deposited into your supplier's bank account. For more details, check out my article on AccessLine here
use your card for one-off purchases, especially large ones with high points earning potential
give employees additional cards which are linked to your account – you can get up to 99 additional cards, at no extra cost for some cards. This can also help you boost cash flow and track expenditure across the business (read more about that here)
use your card for Australian Tax Office payments, either by paying the ATO directly or via AccessLine. If you pay the ATO directly, note that it charges a card payment fee (currently 1.45% for Amex cards) and Amex will classify the transaction as 'government spend', which attracts a lower points earn rate. I think it's a better deal to pay via AccessLine, where the fee is 2.15% but you earn full points.
Using points
When it comes to redeeming points, if you have a Qantas or Velocity partner card, the points earned are transferred to the airline's loyalty program monthly. From there you can redeem the points for flights, hotels, gift vouchers and other rewards.
Generally, you'll get the most value from airline points by using them to fly in a business or first class cabin. I've written a whole article about that (specifically in relation to Qantas Points, but the same applies to other airline points) here.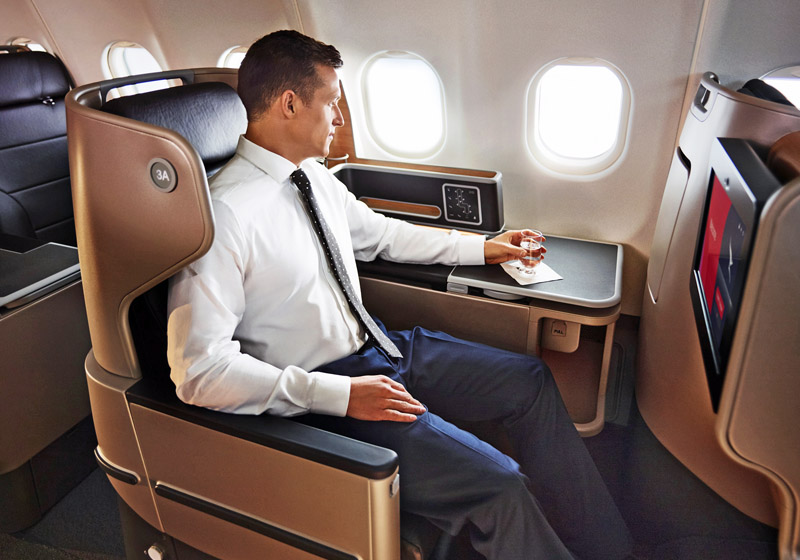 Flying business class is one of the best uses of points
If your card earns Amex's own Membership Rewards points, you have more flexibility. The points accumulate in your Amex account until you're ready to use them. Then, you can manually transfer the points to 8-10 airline partners, depending on the card, which can give you access to more flight options when the time comes to book.
You can also redeem Membership Rewards points for gift cards, online shopping or to pay off the balance on your Amex card, as well as other uses.
Again, you'll generally get the most value by transferring Membership Rewards points to an airline to fly in a premium cabin. That being said, the other redemption options can also deliver good value: for example, 20,000 Membership Rewards points can be redeemed for $100 on your card account, which can be a useful option for businesses looking to save money.
Be aware that you can't use Qantas or Velocity Points to pay for purchases on your card, only Amex's own Membership Rewards points.
Selecting the right card
If your goal is to build up a Qantas Points balance, Amex's business card range has two Qantas co-brand cards to choose from. My pick is the American Express Qantas Business Rewards Card, which is a charge card and is packed with perks including a very high points earn rate on spend, triple Qantas Points for flights, Qantas lounge passes, insurance covers, and more. You can read my full review of this great card here.
Another option for increasing your Qantas Points balance is the American Express Business Platinum Card. It actually earns Membership Rewards points, which can be transferred to Qantas or nine other airline partners. This is the only Membership Rewards card that lets you manually transfer points to Qantas, and it also comes with a huge range of travel, business and lifestyle perks – but also a relatively high annual fee.
If you're a Virgin Australia loyalist, all Membership Rewards cards have the Velocity Frequent Flyer program as a transfer partner. Amex also has one Velocity co-brand business card.
In terms of Membership Rewards cards, my two favourites are the Platinum Business Card  I mentioned above, as well as the Business Explorer Credit Card which also offers some great perks for a lower annual fee.
Before deciding on a card, make sure to check out my earlier article in this series where I provide a full overview of the cards in the range and their various perks. It'll help you choose the card that's right for you.
This article has been prepared in partnership with American Express. 
To get tips like this delivered straight to your inbox, subscribe to our newsletter: