Before my recent Malaysia Airlines flight from Kuala Lumpur to Sydney, I didn't know what to expect. I'd never flown long-haul with the airline before and my only prior experiences with it were a couple of short flights within South East Asia: not exactly good reference points for a long-haul trip.
I was hoping for a high level of service and comfort, consistent with the airline's solid reputation. I was also looking forward to flying in the advanced A350 aircraft that Malaysia Airlines operates on this route. The carrier has six A350s in its fleet which fly to various international destinations, and with their quiet cabins and optimised air pressure and humidity, they provide for a very comfortable passenger experience.
The flight met my expectations: the aircraft and crew especially so, though there were a few flaws that provide room for improvement.
Here's my review of the flight.
Flight Details
Route: Kuala Lumpur to Sydney
Flight number: MH123
Departure: 11.35 pm
Arrival: 10.55 am (+1)
Flight length: 8 hrs 20 mins
Seat: 5G (business class)
Cost: 40,000 American Airlines Aadvantage Miles + US$50 in taxes and fees (I could have booked with Qantas Points but this was a better deal)
Check in
Kuala Lumpur International Airport is Malaysia Airlines' home hub, so it was no surprise to find plenty of check-in counters open when I arrived at the airport relatively early, three hours before the flight.
The check in process at the dedicated business class counter was a breeze, and with a fast track through security I got through the formalities quickly.
Malaysia Airlines' Australian flights (and many other overseas flights) depart from a satellite building away from the main terminal. A train normally transports passengers to the satellite building, but it wasn't working when I arrived, so we were shuttled there by bus instead. The trip only took a few minutes.
The lounge 
It was a bit tricky finding the lounge due to poor signage in the satellite terminal. The lounge is located directly above the train stop arriving from the main terminal. You have to look for an elevator or escalator to reach the mezzanine level to access it.
There's a separate business and first class lounge, both of which were recently refurbished. I quite liked the art-deco themed entry and the abundance of space for dining, working and relaxing inside.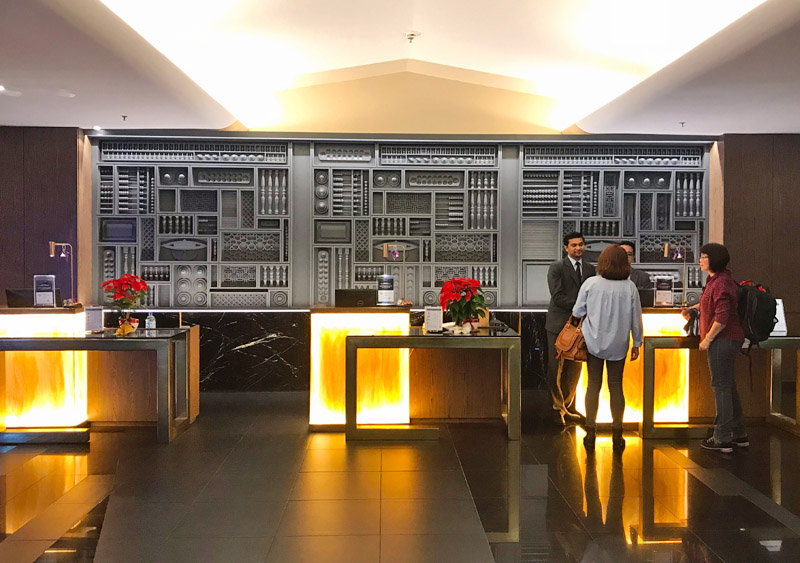 Lounge entry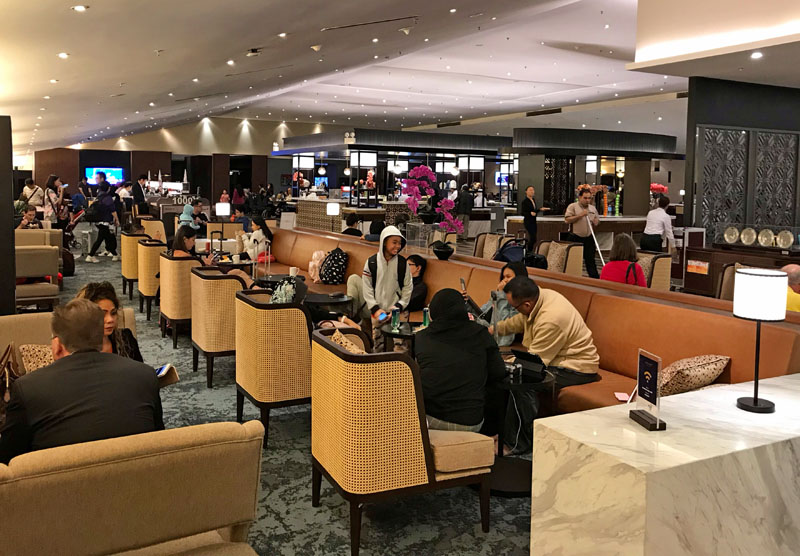 Main seating area – quite busy when I first arrived
My favourite seating options were adjacent to the main space, alongside the windows looking out across the tarmac.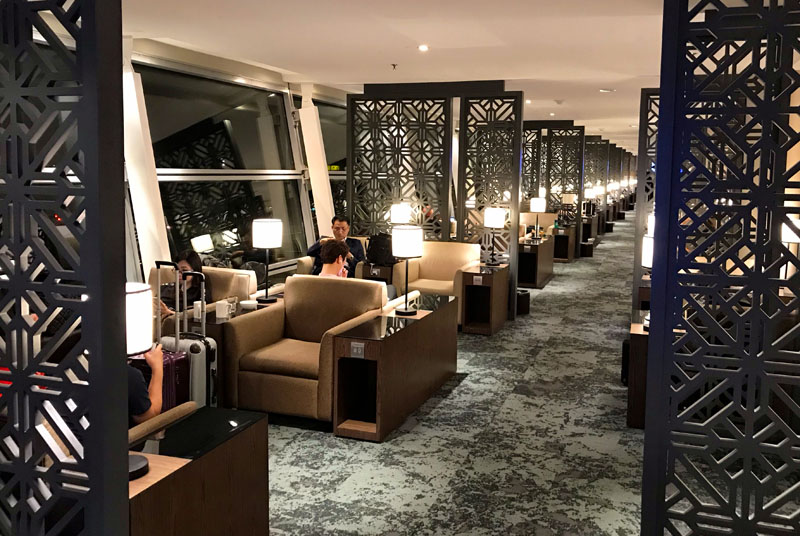 Tarmac views
There was a modest selection of hot and cold food available at a self-serve buffet.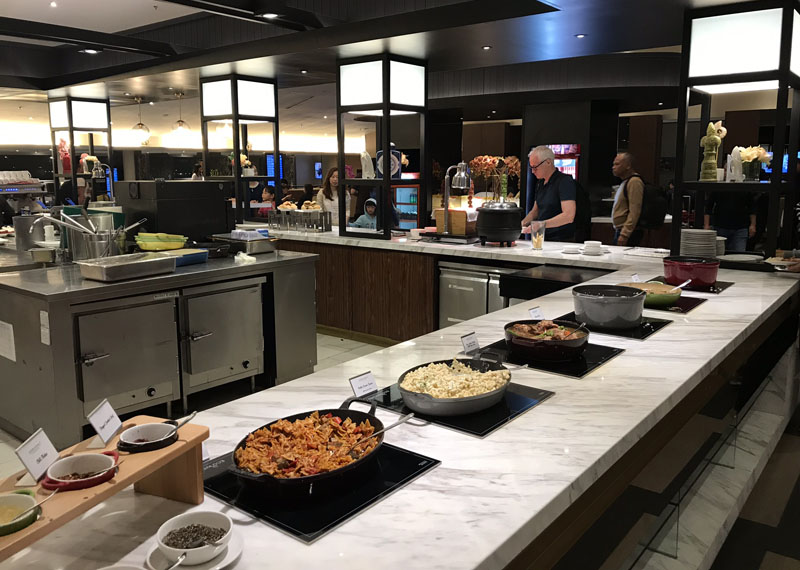 Hot buffet – pasta and some Malaysia dishes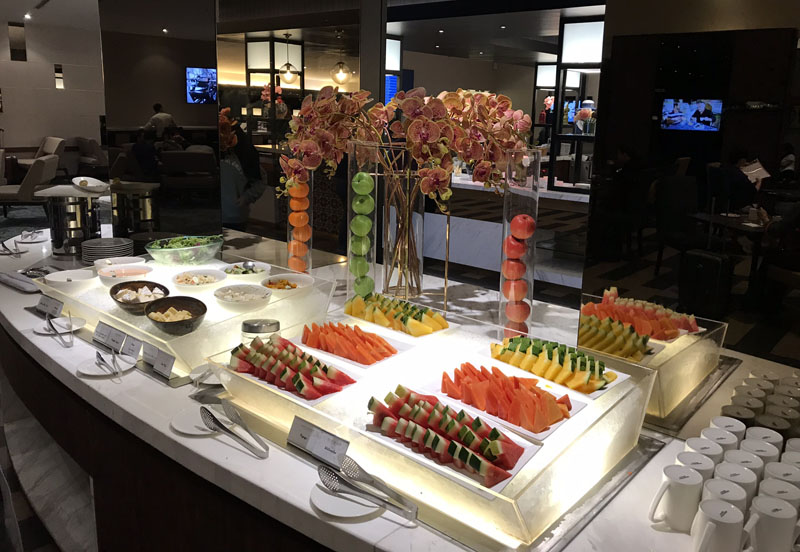 Salads and fruit
At the separate noodle bar, local fare and other Asian delights were cooked to order.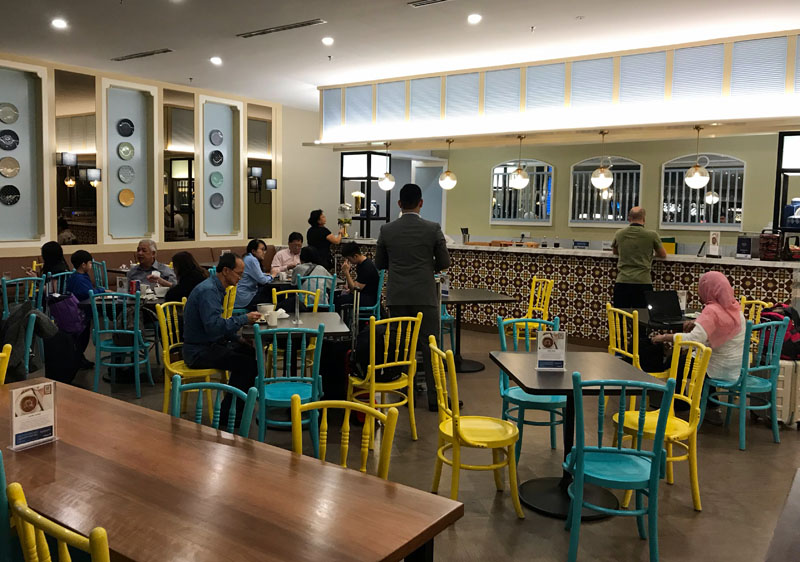 Noodle bar
Non-alcoholic drinks were available self-serve in the main lounge space, but for booze you have to go to the separate bar area.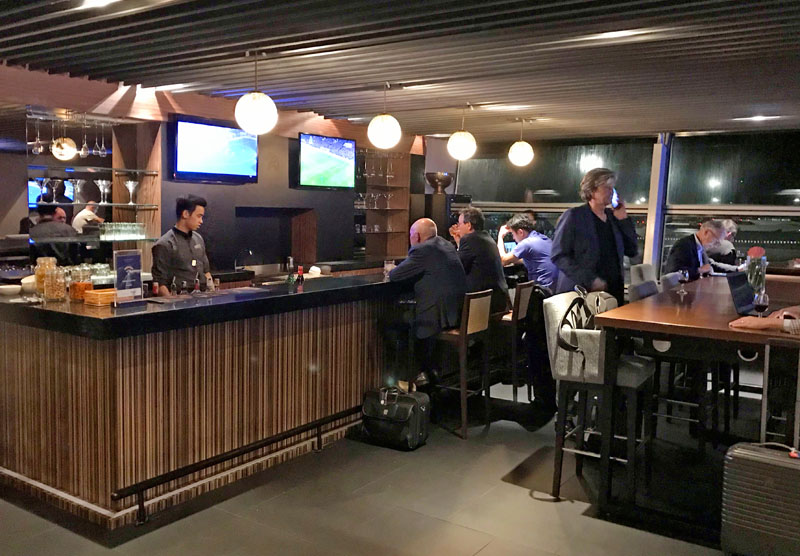 Bar
While this wasn't one of the best business class lounges I've visited, it was certainly a comfortable space to relax in and I enjoyed it overall.
Boarding
Boarding was a bit messy.
First of all, the scheduled boarding time printed on my boarding pass was a full hour before departure, which seemed excessive. Annoyingly, no boarding announcements were made in the lounge and the screens merely displayed when the gate was open and then the final call.
Since the gate was quite close to the lounge, I decided to head over 30 minutes before departure. Upon arriving at the gate, there was a long queue for security screening, with no priority lane for premium passengers.
Then it turned out the flight wouldn't be departing on time after all. It wasn't a long delay – boarding commenced about 15 minutes after the scheduled departure time, so we were about 45 minutes late overall – but the gate staff oddly kept insisting that the flight wasn't "delayed". It seemed like the airline was more concerned with this pretense than giving passengers accurate information.
Those of us who were in the lounge could easily have spent another 30 minutes there, had we known. Clearly, there's room for improvement with Malaysia Airlines' boarding process.
The cabin 
The business class cabin is located just behind a single row of what used to be first class seats, but were recently rebranded as "Business Suites" – something in between business and first class.
The business class cabin is split into two zones by lavatories, galley and prayer area, as you can see in the seat map below.
A350 seat map
The seat layout is a little unusual: it's either 1-2-1 or 1-2-2 depending on the row. That means some window seat passengers don't have direct aisle access, and if you're travelling solo you'll want to avoid those.
My partner and I opted for the middle two seats in row 5.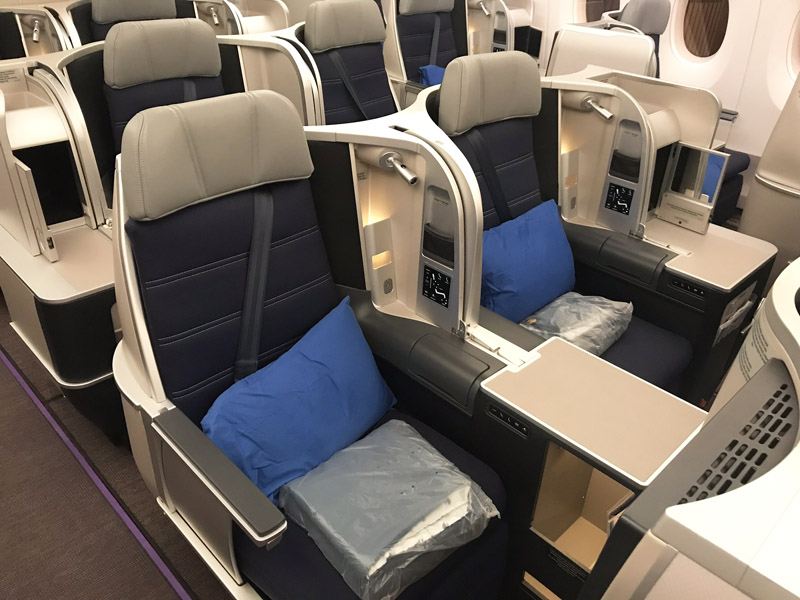 Our business class seats in row 5
The decor in the cabin is quite simple – lots of greys, creams and blues. There are no storage lockers above the centre seats, which gives the cabin a spacious feel, though it's not so practical when passengers have lots of hand luggage.
The seat
The seat is 22-inches wide, which is by no means the most you'll get in business class these days, but it's comfortable enough.
The seat can recline into any position and it also has adjustable lumbar support and a massage function. It reclines into a fully flat bed measuring 78 inches (198 cm).
When I boarded the plane, a blanket, pillow and mattress topper were already waiting at my seat, and later we were given an amenity kit. As for pyjamas, it's BYO.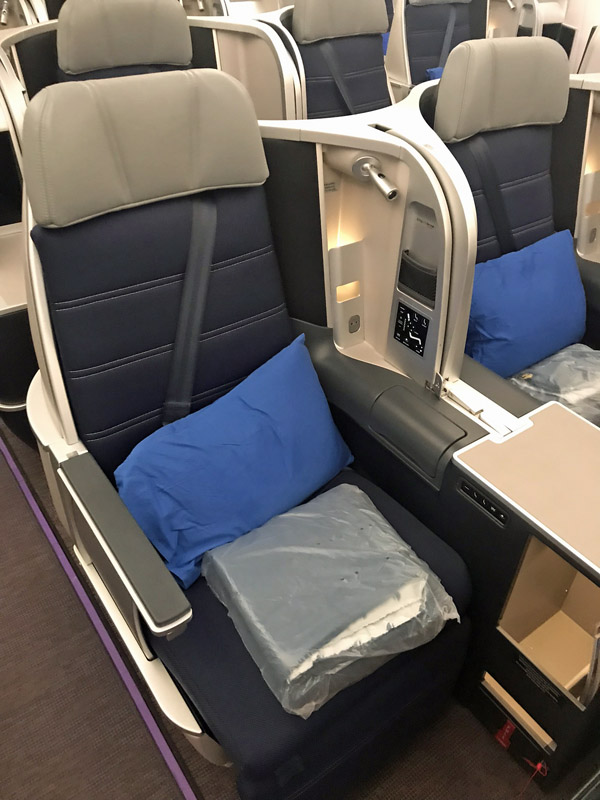 I had no trouble sleeping during the overnight flight. The seat padding was comfortable and I appreciated the quietness of the A350 cabin.
All seats have access to power, USB ports, reading lights and enough storage compartments for small items.
The best seats for couples are in the centre, as you'll both have direct aisle access. One of the seats will be slightly more enclosed than the other due to the positioning of the consoles. This is easily identifiable on the seat map above.
Solo travellers will most enjoy one of the 'throne' window seats (2K, 5K, 9K and 11K) pictured below. I tried one of the empty ones and it was awesome, though larger people may find it a bit narrow.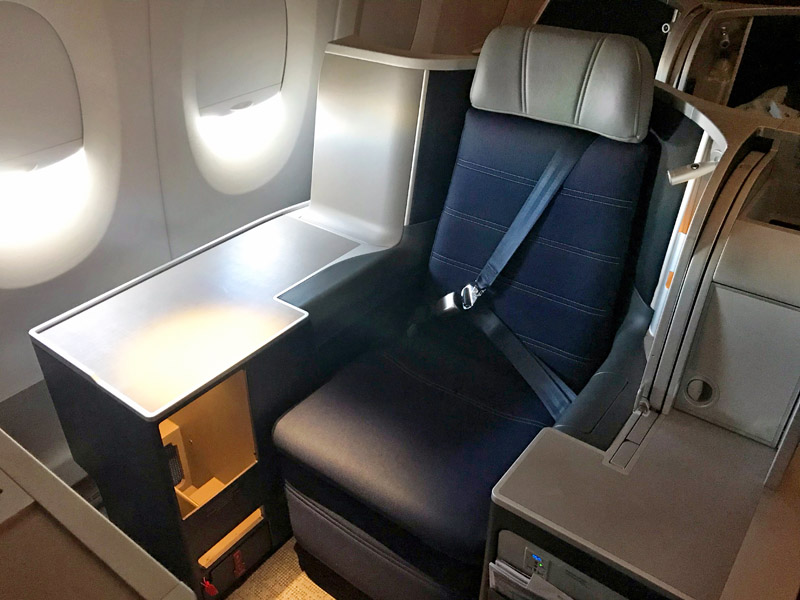 One of the prized 'throne' window seats
The dining 
Upon boarding, a crew member came around with welcome drinks: a variety of juices and water. Surprisingly, no champagne was offered, but when I asked for it the flight attendant was happy to oblige (I think that in international business class, champagne should just be offered automatically).
We had the option to pre-book from a selection of five hot meals up to 24 hours before the flight via the airline's 'Chef on Call' service. I received an email about this a week before departure but didn't take it up as I didn't want a large meal just before sleeping.
I still expected to see some meal choices on the in-flight menu, and was surprised that there weren't any. All that was available was a satay snack and some cold 'light bites'.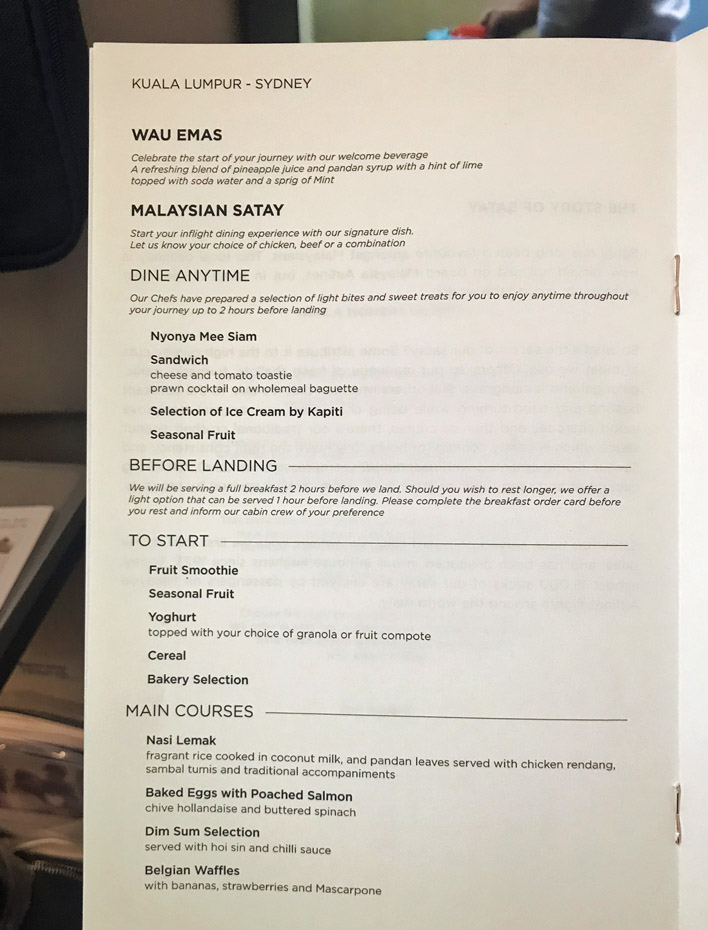 Dining menu
I've never had an airline not offer a full meal after departure, no matter the departure time. (Incidentally, on the daytime return flight from Sydney to KL, just one meal is also offered – in that case lunch, after which only snacks are available).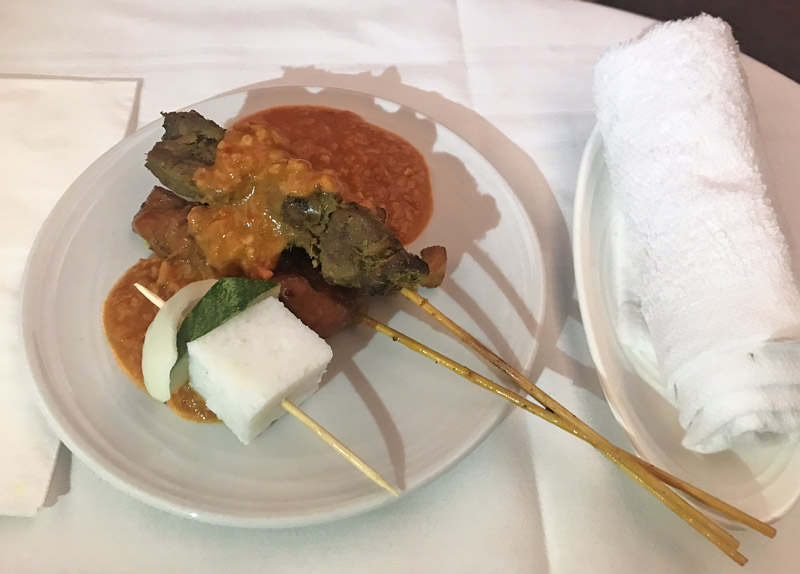 Malaysian satay snack – it didn't photograph well but was tasty 
The breakfast served before landing in Sydney was very good, with fruit, pastries, yoghurt, cereal (not pictured below) and a choice of main dish.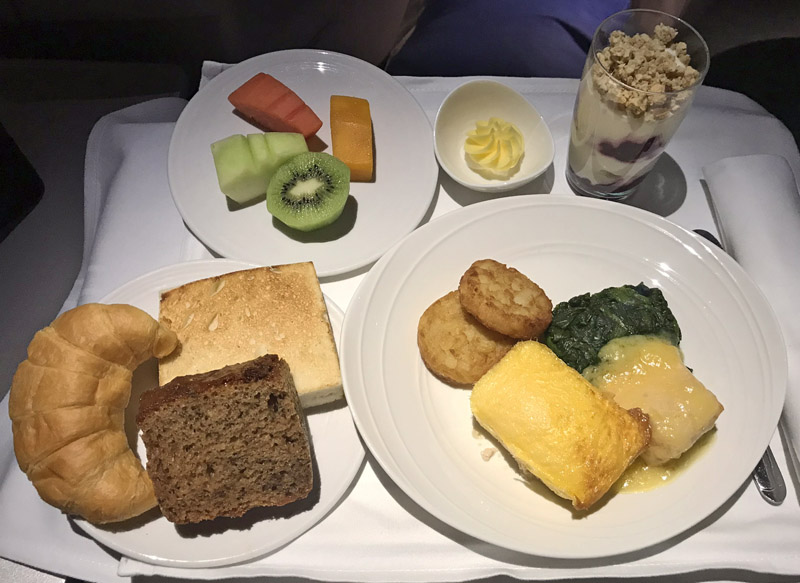 Breakfast before landing in Sydney
The menu for alcoholic beverages was also quite good. The Taittinger champagne is an excellent drop – much higher quality than I was expecting – while the rest of the wine selection was on par with what you'd expect in business class.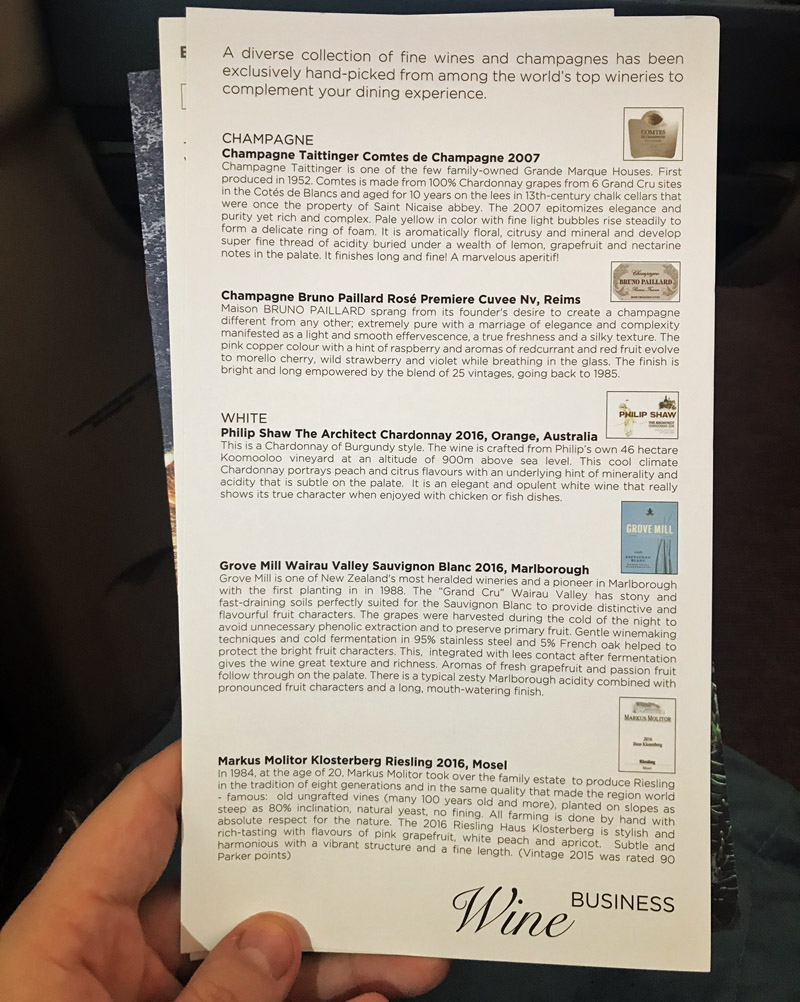 A selection of coffee, tea, hot chocolate, juice, water and soft drinks was also available.
Entertainment 
A high-definition 16-inch entertainment screen offered access to plenty of movies, TV shows, games and music to whittle the time away.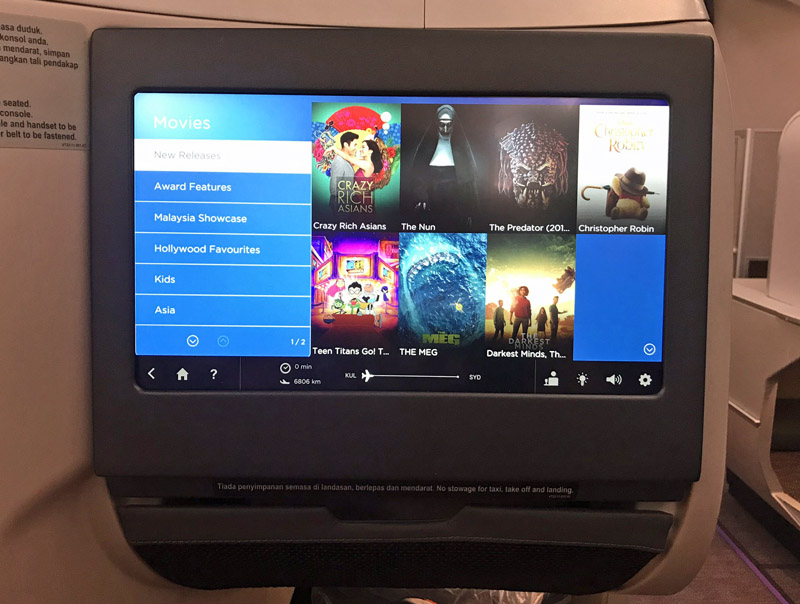 Entertainment screen
The screen could be controlled by touch (not convenient when seated) or by a handy remote control next to the seat.
Noise cancelling headphones were also provided.
Wi-Fi was available at a cost of US$2 for 10MB, US$10 for 50MB or US$25 for 200MB of data.
The service 
The crew were great throughout the flight – very friendly and attentive. They responded to calls quickly and were very pleasant to deal with all around. An excellent job.
Summing up
Malaysia Airlines' A350 business class product compares well with competitors in the region. While it's not quite at the level of Singapore Airlines and Cathay Pacific, it still provides customers with a very comfortable experience.
The A350 is one of the most passenger-friendly aircraft operating today, and Malaysia Airlines has coupled it with comfortable seats and great service, drinks and entertainment. The key area for improvement is the dining, where I would definitely recommend passengers pre-book a meal via the airline's 'Chef on Call' service.
To get reviews like this delivered straight to your inbox, subscribe to our newsletter: