Qatar Airways took the spotlight at the Paris air show this week, showcasing its first aircraft fitted with the innovative business class seat, Qsuite, which takes off to London this weekend.
Qsuite is a top contender for the best business class seat in the sky. It features the travel industry's first-ever double bed in business class, with privacy panels that stow away, allowing passengers in adjoining seats to create their own 'bedroom'.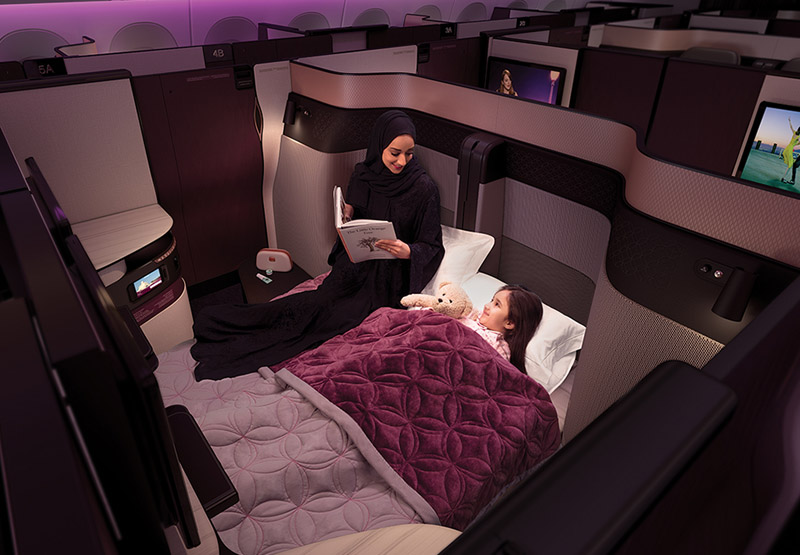 The staggered 1-2-1 layout will allow the middle seats in every second row to form a 'double bed', while in the other rows passengers will be more separated.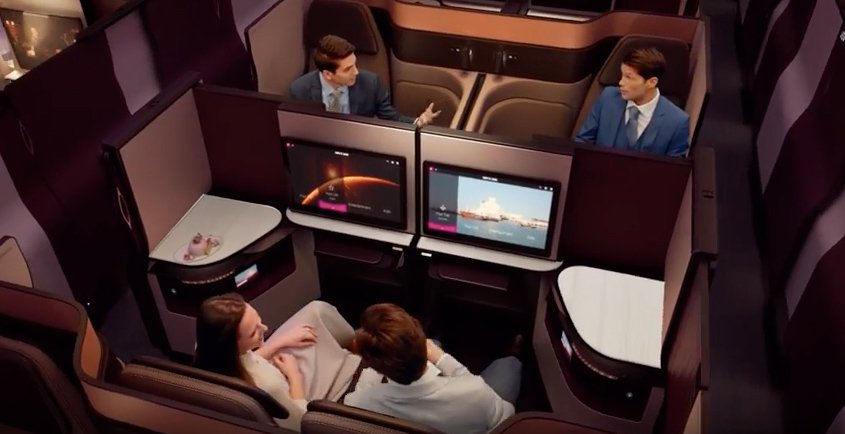 Groups of four passengers travelling together can also adjust the panels and TV monitors in some of the centre seats to create a private four-person 'suite', allowing them to work, dine and socialise together.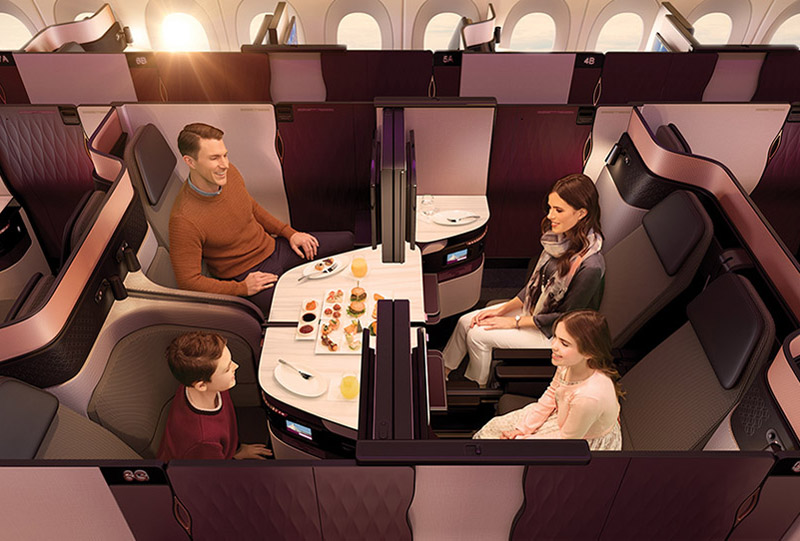 Solo travellers will also enjoy the 1-2-1 layout, with window seats that provide direct aisle access, and privacy screens for those in the centre.
Other seat features include a large 21.5 inch entertainment screen, a range of seat controls, a universal power outlet, two USB ports, a headphone jack, HDMI port and a handheld touchscreen controller.
The actual dimensions of the seat aren't that revolutionary – 21.5 inches of width and 79 inches of length when fully flat – but it's the privacy provided by the 135-cm high sliding door and the customisation that make it stand out. This is the most customisable experience you can get at the pointy end of the plane.
QSuite continues the trend of blurring the lines between business and first class, which I've written about previously.
The new seat will debut on the Doha – London route this Saturday, 24 June. The airline's fleet will be retrofitted at the rate of one plane per month, with the Qsuite set to fly next on routes to Paris and New York.
Qatar Airways is a member of the oneworld alliance and a Qantas partner, meaning you can earn or use Qantas Points with the carrier.
The airline has recently been hit by the blockade on Qatar by four neighbouring countries, although in a statement last week the carrier said that its global operations were "running smoothly".
Yesterday, Qatar Airways won the "Airline of the Year" award from Skytrax, the most widely recognised airline rating service.
To get news like this delivered straight to your inbox, subscribe to our newsletter: