Qantas has finally pulled back the curtain on new premium economy seat for its Dreamliner fleet.
The highly-anticipated new planes will be in Australian skies in October before operating on key international routes, starting with Melbourne to Los Angeles in December and then the record-breaking Perth to London direct flights from March 2018.
Qantas CEO Alan Joyce has stoked high expectations for the new premium economy seat, claiming in recent months that the design would be "revolutionary". Given Qantas already operates a pretty good premium economy product on its A380s and B747s, a lot of hype has built up.
So, here it is – the new Qantas premium economy seat.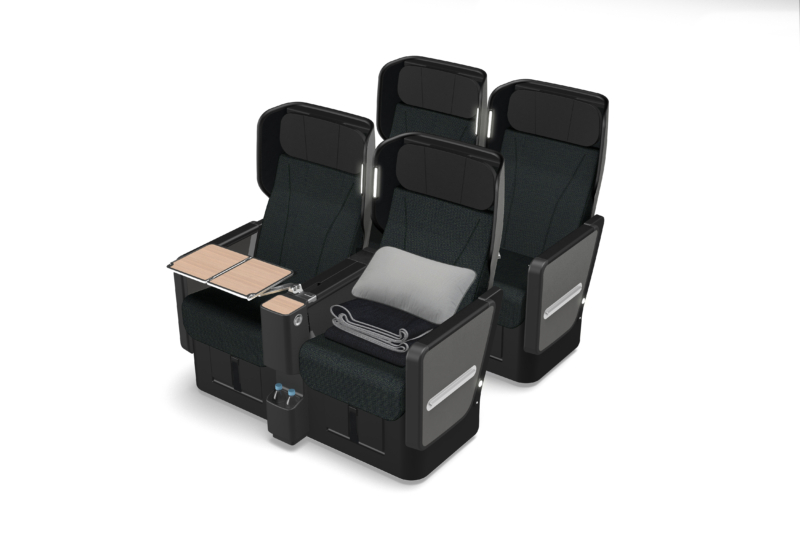 Qantas new premium economy seat – front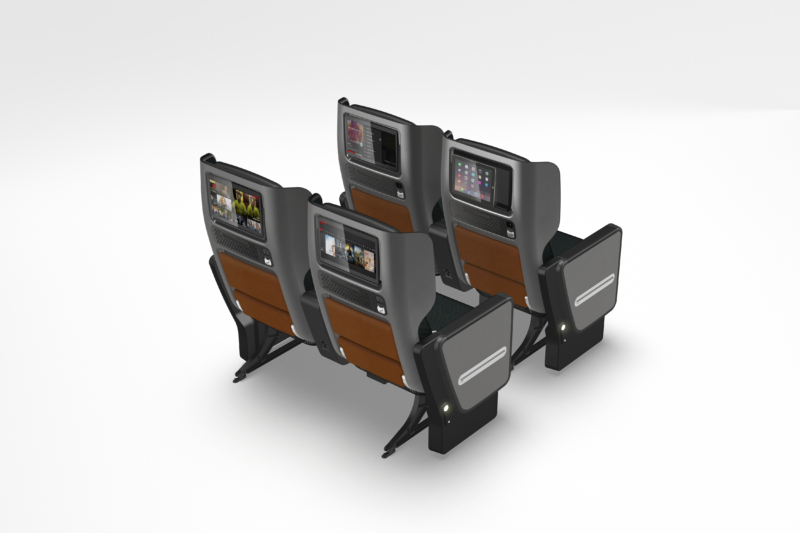 Qantas new premium economy seat – rear
With a width of "up to" 22.8 inches (but actually a bit less because of the way Qantas measures it), the seat is slightly wider than Qantas' existing premium economy seat. However, the 38 inches of leg room is the same at the current product, and the 9.5 inch recline is only marginally better (the current seat provides 9 inches).
By comparison, Virgin Australia and Air New Zealand provide an extra 3-4 inches of leg room (with a slightly smaller recline). Singapore Airlines and Cathay Pacific both offer 38 inches of leg room with an 8-inch recline.
Qantas premium economy passengers who have someone in front of them fully reclined will have a nightmare getting out of their seats.
On the basis of these factors, I wouldn't say the new Qantas seat is revolutionary at all – but it is competitive.
What might be unique is the recline motion Qantas has developed, with several sections shifting to support your body as you recline into a more relaxing position. Qantas CEO Alan Joyce says "you have to experience how well it supports you when you recline to realise it's completely different from anything else in its class." We'll have to wait and see until we try it.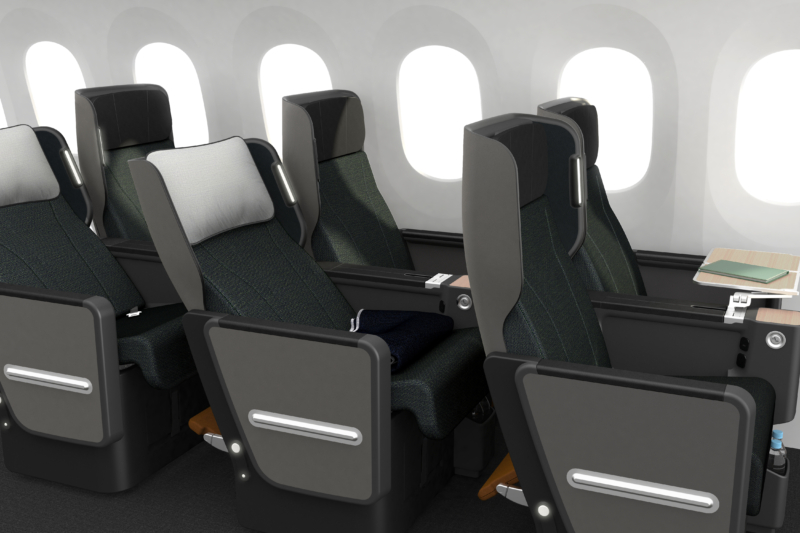 The new seat in recline – but watch the leg room!
Other features of the new Qantas premium economy seat include:
a headrest that can be fitted with a specially designed pillow
a footrest
a 25 per cent larger HD Panasonic entertainment screen (13.3 inches) plus a holder for an iPad if you prefer to bring your own entertainment
five individual storage compartments
two USB charging points per seat, as well as shared AC power (it would have been better for every seat to have AC power)
personal LED light.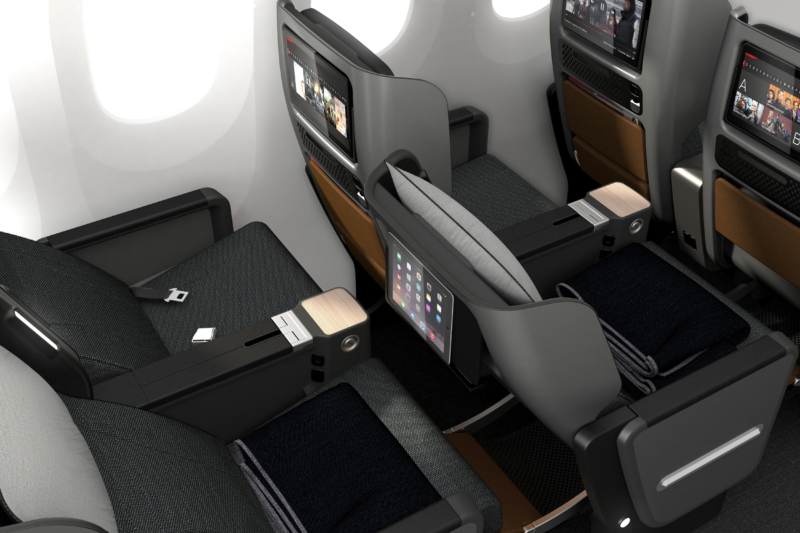 Qantas new premium economy seat – detail
My overall impression is this: I like the new features such as the recline, storage and screen, but I can't help being disappointed by the space provided, especially the leg room. This is likely to be a key factor for passengers on ultra-long-haul flights. Hopefully the seat padding and extra width will provide some additional comfort.
The Dreamliners will have 28 premium economy seats arranged in four rows in a 2-3-2 layout. They'll be located right in the centre of the plane between business and economy (in green on the seat map below). Passengers will have access to the two toilets between rows 8 and 10, shared with business class.

The Dreamliners will also sport new economy and business class seats, as I wrote about in October.
In business class, passengers will enjoy the excellent Business Suite, which currently flies on Qantas' A330s (and will be subject to some very minor improvements).
The Business Suite – coming soon to the Qantas Dreamliner fleet
I really like the Business Suite and have flown it many times on the A330s (you can read my review of it here). There will be a relatively large number of business class seats (42) arranged in a 1-2-1 layout, with eight rows in the forward cabin and three further rows in a separate mini cabin close to premium economy, as illustrated in the seat map above.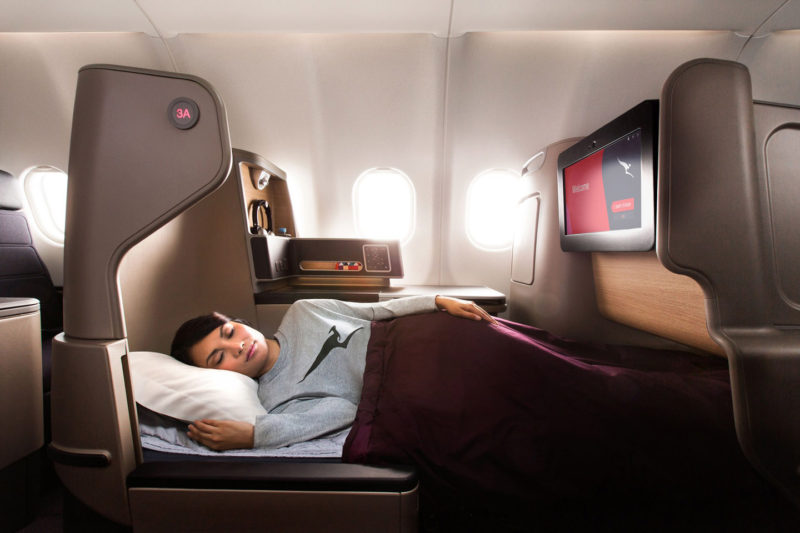 The Business Suite – currently flying on the A330s
As we've known for some time, economy passengers will also experience a new seat design with extra legroom. The seats will be less cramped than on many other airlines' B787s because of the ultra-long-haul distances the Qantas planes will fly (though I still wouldn't want to be stuck in economy for 17+ hours). The seats will be arranged in a 3-3-3 layout.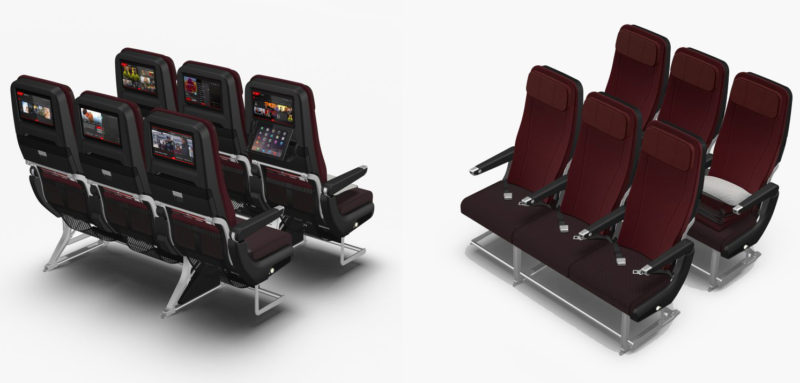 New economy seats for the Dreamliner fleet
It's not yet clear when Qantas will upgrade seats in any of its A380 or B747 cabins, though it's been rumoured an A380 refurbishment program could start in 2018. Qantas today said it will assess updating existing Premium Economy cabins "in-line with its fleet planning and product cycles".
Today's announcement is probably the last major news about the Dreamliners until tickets go on sale for the Perth to London flights in April. Make sure you follow us on Facebook and subscribe to our newsletter to be the first to hear, including about when award seats become available (they're bound to be snapped up quickly!).