Velocity Points are one of Australia's most popular rewards currencies, giving travellers access to top-notch flight experiences with Virgin Australia and partners like Singapore Airlines and Etihad Airways.
I often get asked about the best uses of Velocity Points. My answer is always that you get the best value and experiences by redeeming them for business and first class flights.
While it can be tricky sometimes to find a premium award seat, if you figure out how the system works and are flexible with your travel plans, your Velocity Points can take you almost anywhere in the world.
If you're looking for some inspiration (and many readers are thanks to our current 90,000 Velocity Points offer with Amex) here are some great value Velocity Points redemptions, all of which are achievable with modest points balances.
Virgin Australia domestic A330 business class
With comfortable lie-flat seats arranged in a 1-2-1 layout and high-quality dining and service on board, Virgin Australia's A330 business class is a no-brainer on domestic trips.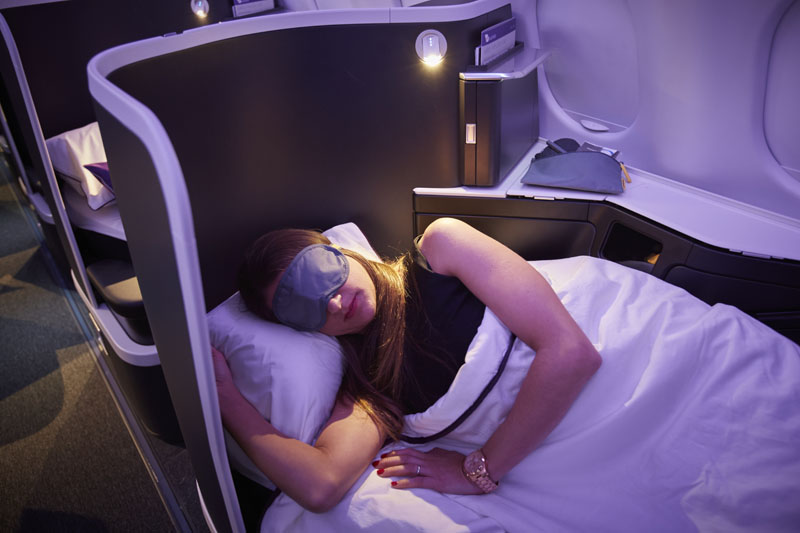 Virgin Australia domestic A330 business class
The aircraft is most commonly found on the longest transcontinental flights to Perth. You can book an an outright award seat for 35,500 points one way (plus taxes and fees), or you can upgrade from less for an economy fare.
This is a high value use of points, especially on flights that last 4+ hours.
Virgin Australia's A330 business class rivals Qantas' A330 offering as the most stylish way to fly domestically in Australia.
Virgin Australia 777 business class to Los Angeles
Many frequent flyers regard Virgin Australia's Boeing 777 business class as the best way to fly between Australia's east coast and Los Angeles (or at least they did until Qantas started flying its Dreamliner to LA. Let's just call it a tie now!)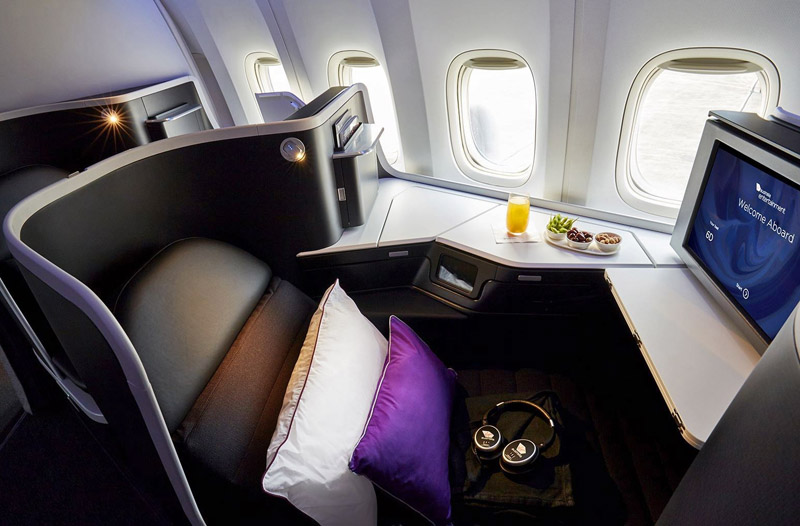 Virgin Australia 777 business class
Virgin Australia's 777 business class features lie-flat seats arranged in a 1-2-1 layout, top-notch dining and service, and a small on-board bar.
The main downside of this route is scarce award seat availability, but if you look far ahead or very last minute, you may be able to find a seat or two. Of course, you can also upgrade from economy.
The cost of an award seat on this route is 95,500 Velocity Points plus taxes and fees. It's an excellent use of Velocity Points.
Business or first class with Singapore Airlines
One of the most popular articles on The High Life is my guide for using Velocity Points to book Singapore Airlines business and first class award seats.
Singapore Airlines' business and first class products are among the best in the world. Passengers not only enjoy comfortable and spacious seats, but the airline is also renowned for its excellent dining and customer service.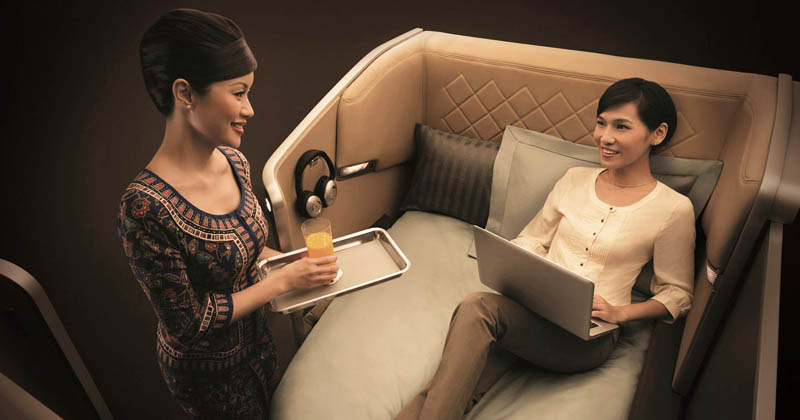 Try a 'once in a lifetime' first class flight
Singapore Airlines bookings are quite affordable, with modest taxes and fees, while award seat available is pretty good too (though more so in business class than first).
Singapore Airlines can take you to Asia, Europe, Africa or the USA. Check out my guide for tips on how to make sure you get the best deal when booking.
Business or first class with Etihad
Etihad offers highly-regarded business and first class products, and a network that extends to the Middle East, Europe, Africa and even North or South America (if you want to go the long way around!).
In first class, Etihad set a new benchmark with its A380 private 'suites', while in business class it also offers one of the world's best experiences (on a 787 or A380).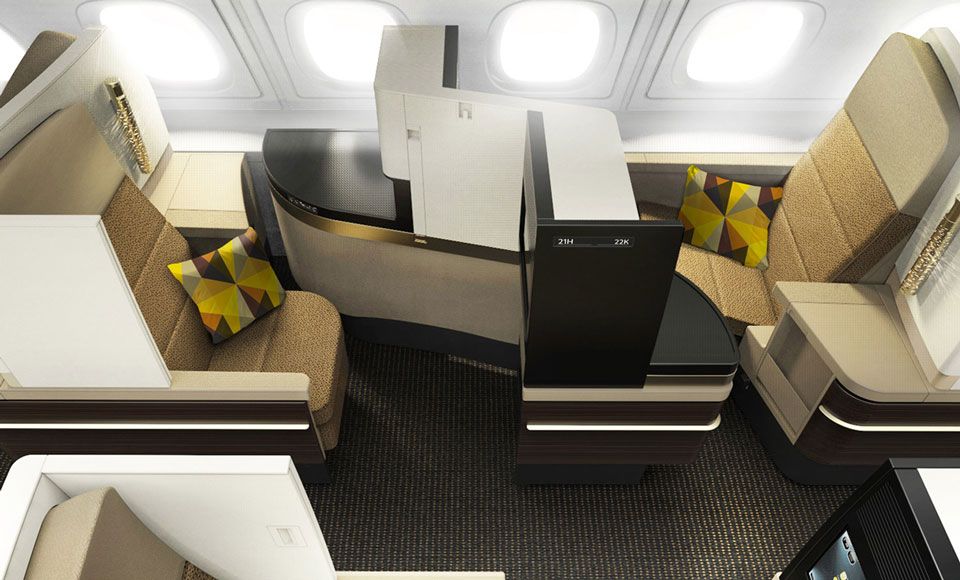 Etihad A380 business class
To fly from Sydney to Paris costs 139,000 Velocity Points in business class or 203,000 points in first class, which isn't bad for a hop halfway around the world.
However, while the points component is quite reasonable, Etihad imposes hefty surcharges on premium award seats – up to US$300 per sector, in fact.
If you don't mind the high surcharges, this is a great redemption option.
Fly Virgin Atlantic further afield 
Virgin Australia has a bunch of other partners (you can view the list here), one of which is Virgin Atlantic.
Although Virgin Atlantic doesn't fly to Australia, it's a great option between Britain and Asia, North America, Dubai or Johannesburg.
Points redemptions are quite well priced, for example New York to London costs just 49,500 points one way in "Upper class" (which is basically business class).
Virgin Atlantic also operates some very impressive lounges (called "Clubhouses") at major airports that are definitely worth seeing.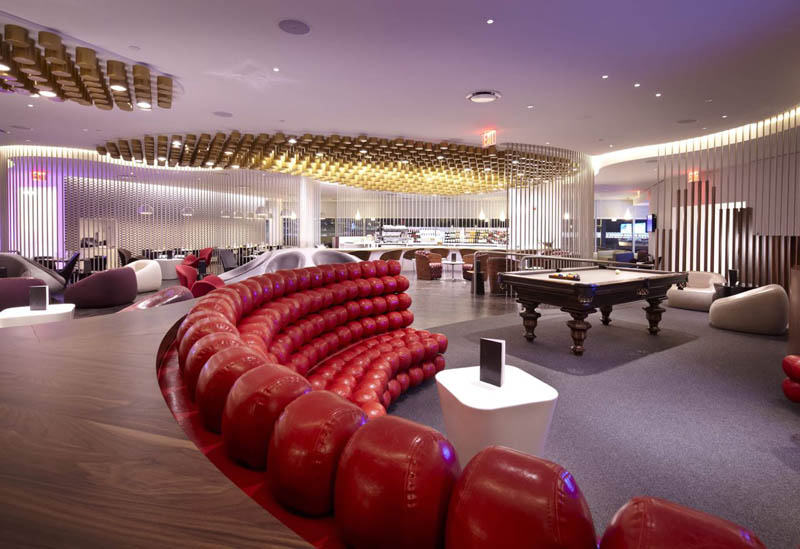 Virgin Atlantic Clubhouse in New York JFK
Summing Up
Some people overlook Virgin Australia's frequent flyer program in favour of Qantas', but I think it's a very useful program because of the quality of Virgin Australia's services and those of its partners (and it's often easier to find award seats with them compared to Qantas' partners).
As you can see from the examples above, Velocity Points open up access to comfortable and stylish flights to almost anywhere in the world.
If you're looking to boost your Velocity Points balance, don't miss our huge 90,000 Velocity Point offer in partnership with Amex – it ends on 14 November 2018!
To get tips like this delivered straight to your inbox, subscribe to our newsletter: