One of my favourite perks of being an American Express Card Member is saving money and earning bonus points with leading brands through the Amex Offers program.
Amex Offers is a complimentary benefit that delivers compelling value to Card Members. Depending on the offer,  you can get a credit on your Amex account when you make an eligible purchase with a participating merchant (similar to a 'cashback' scheme) or earn bonus points on such a purchase.
Over time, the savings and additional points can really add up – making your hard-earned money go further and bringing points redemptions within closer reach. I save hundreds each year with Amex Offers and earn lots of bonus points as well.
Many readers here at The High Life already love and use Amex Offers, but we know that some aren't yet making the most of the program. So to help everyone maximise the rewards, we've teamed up with American Express to produce this guide.
Read on to discover how Amex Offers works, and then to see what offers are available to you visit Amex here.
And if you're not a Card Member yet and want to make use of Amex Offers, now is a great time to sign up, with some big bonus offers on the table.
What are Amex Offers?
Amex Offers are limited-time opportunities to save money or earn bonus points on eligible spend with specific merchants.
Typically, the offers are structured like:
spend $X, get $Y back on your account
spend $X, get Y number of bonus points
earn X number of bonus points for each $1 spent at a particular merchant.
For example, here are some of the offers I've currently saved to my card.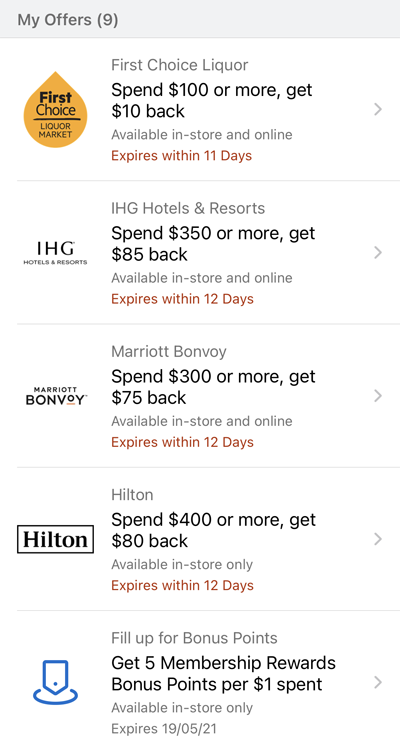 Amex Offers examples
Many different merchants across the travel, transport, dining and retail sectors participate in the program, from small businesses to global brands.
Some of the current and recently expired offers include:
Ampol: spend $50, get $10
Menulog: spend $30 or more, get $10 back
Toys R Us: 15% back
General Pants: 15% back
Pablo & Rusty's Coffee Roasters: spend $24 or more, get $10 back, up to three times
Matches Fashion: spend $550 or more, get $125 back
Rag & Bone: spend $200 or more, get $50 back
Sheridan: spend $200, get $30 back
Bras N Things: 15% back
Seafolly: 15% back
MJ Bale: 15% back
Boozebud: 15% back
Liquorland: spend $100, get $10 back
Hertz: spend $200 or more, get $40 back
Virgin Australia: spend $250 or more, get $40 back
Avis: spend $270 or more, get $50 back
IHG Hotels & Resorts: spend $350 or more, get $85 back
Marriott Bonvoy: spend $300 or more, get $75 back
Hilton: spend $400 or more, get $80 back.
Some of the above offers are available to save right now. However, there is a cap on how many cards can save each offer, and some cap out faster than others.
Often you can 'stack' Amex Offers with promotions run by the brands themselves to get an even better deal – though you'll want to check the offer T&Cs first to make sure your planned purchase is eligible, as exclusions may apply.
How to use Amex Offers
Most American Express cards can participate in the Amex Offers program, including Additional Cards issued to family and friends.
New offers pop up all the time and can sometimes be targeted at individual Card Members. That means that not every Card Member will have access to the same offers.
To see what offers you can access, simply check the "Offers" tab in the Amex App …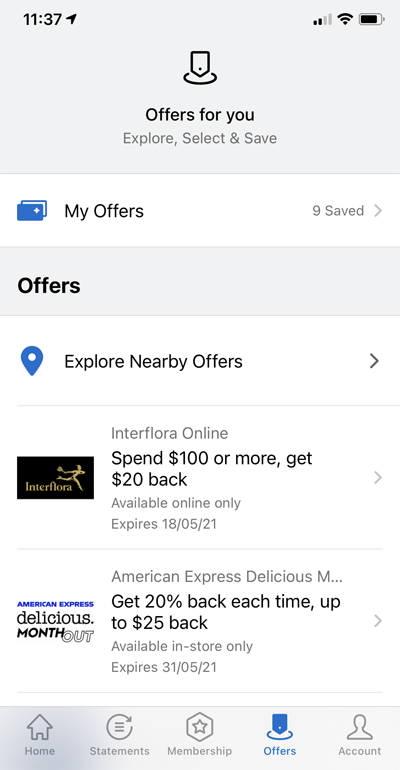 Amex Offers – App view
… or, if you're on a desktop computer, scroll down to the "Offers" section on your account homepage.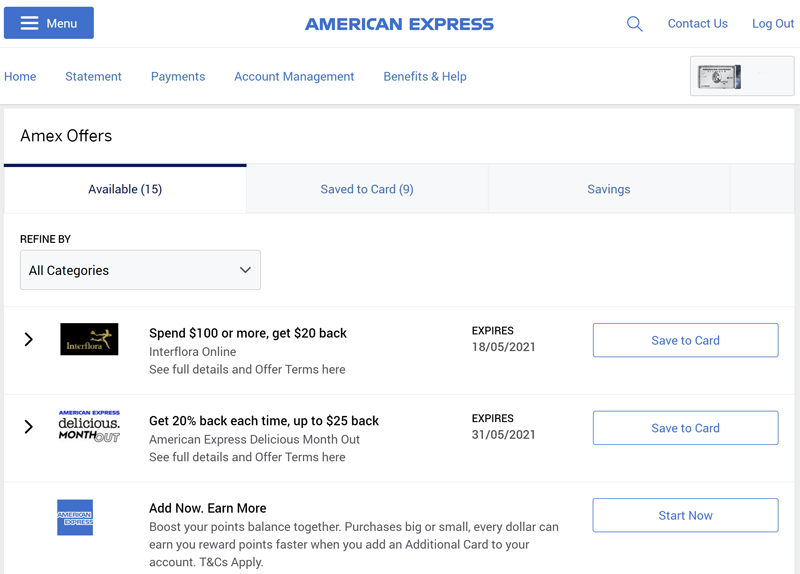 Amex Offers – desktop view
To take advantage of a deal, simply save the offer to your card and then shop with the merchant in line with the offer T&Cs. You must save the offer to your card before spending with the particular merchant.
You can view the offers already saved to your card in the Amex App and online.
As mentioned above, each offer usually has a cap on how many cards can save it, so it's a matter of 'first in, best dressed'. Savvy Card Members will want to regularly check what offers are available and enable marketing communications from Amex to receive emails about new offers (to do this, log into your account online then click on Account Management -> Alert & Communication Preferences -> Privacy Preferences).
Once you've redeemed an offer, the credit or bonus points will usually appear within a few days, but sometimes may take longer.
Summing up
Amex Offers provides a simple way to get more out of your spend by earning bonus points or receiving a credit on your card account.
It's easy to keep track of new offers (in fact, it's become second nature to me to check what offers are available whenever I have a few seconds spare), and redeeming them is also straightforward: simply pay with your card and enjoy the rewards.
I save hundreds of dollars each year through Amex Offers, and you may be able to as well.
To check what offers are available to you right now, click here.
This article was produced in partnership with American Express.
To get tips like this delivered straight to your inbox, subscribe to our newsletter: