It's no secret that Aussies love to 'buy now, pay later'. This convenient way of paying for purchases has absolutely taken off in recent years, and it's little wonder why: you get to enjoy the flexibility of paying for things over time while avoiding high interest charges.
With millions of Australians embracing BNPL, established credit card issuers like American Express are joining the party. Amex has just launched a new feature called Plan It™ Instalments , which allows eligible card members to pay off balances in equal monthly instalments, with a modest monthly fee and 0% interest.
We're big fans of American Express cards here at The High Life, and we love the flexibility Plan It provides. Amex has made it super easy to use, too: you simply spend on your card as usual, and then when your statement arrives, you can set up instalment payments of 3, 6, 9 or twelve months – which is much longer than BNPL firms like Afterpay and Zip allow.
Since we know many of our readers will be interested in Plan It, we've teamed up with American Express to produce this guide. Before we dig into the details, you can also check out the short video below which provides a brief overview.
Who can access Plan It
Plan It is available to individuals who hold an American Express credit card. Almost all of Amex's consumer cards are credit cards – they're the ones with a fixed credit limit.
Plan It isn't available to individuals who hold a charge card or a David Jones-affiliated card, or business or corporate card holders.
How Plan It works
With Plan It, you pay off a portion of your statement balance in equal monthly instalments. The minimum portion is $150 and there's no fixed maximum – but it must consist of new purchases from your most recent statement (note that some balances may not be eligible for Plan It, including balance transfers, cash advances, fees, interest, or balances on a promotional rate).
You can choose the length of the payment plan: either 3, 6, 9 or 12 months. You can also have multiple instalment plans running at the same time if you wish.
Once a plan is set up, you don't pay interest on the amount. Rather, you're charged a fixed monthly fee of 0.42% – 1.04% of the starting plan balance, depending on the card you hold (the fee will be displayed upfront before you start a plan). There's a useful calculator on Amex's website that lets you see how this works.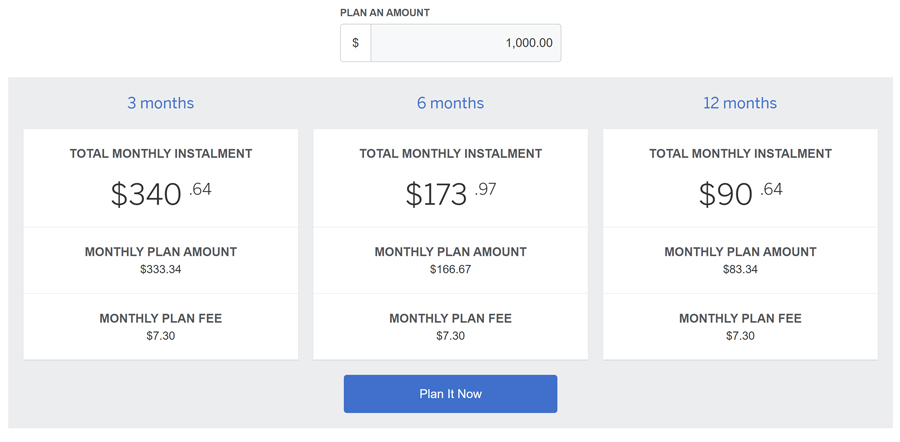 How to set up a plan
When you get your statement, you can create a plan any time before the payment due date. If you have a direct debit set up on the account, you can create a plan up to 24 hours before the direct debit due date.
Once you've received your statement, simply log into the Amex app or your online account. Then, follow these three steps:
choose how much of your balance you want to pay off with Plan It
select the length of the plan: either 3, 6, 9 or 12 months
review the details and T&Cs, and if you're happy, click "Submit".
Easy!

You plan will be set up within 24-48 hours and the details will be visible in your online account and Amex app.
A summary of all your instalment plans will also appear on your monthly statements.
How to make payments
When your plan is set up, the minimum payment on future monthly statements will include any instalment amounts that are due. Be aware that if you don't pay the minimum monthly amount by the due date, your account may become overdue and you'll be charged a late payment fee and interest.
You can cancel your plan any time if you wish (there's no cancellation fee). When you cancel the plan, the remaining balance will go back into your standard card balance. You won't be charged any more monthly plan fees.
More information about how Plan It works, including detailed FAQs, is available on Amex's website.
Summing Up
No matter how big or small your purchases are, Plan It gives you a handy new way to pay them off. By opting to pay in fixed monthly instalments, you could be in a better position to manage your budget, plan future purchases and save money on interest charges.
As with any payment option, it's important to carefully consider whether it meets your needs before going ahead with it.
To find out more about Plan It, we encourage you to visit Amex's website here.
This article has been prepared in partnership with American Express.