The ability to transfer points between Virgin Australia's Velocity Frequent Flyer program and Singapore Airlines' KrisFlyer program has returned, more than two years after the feature was switched off in the early days of the pandemic.
Members of both programs can now link their accounts and transfer points between them at will (subject to a 5,000 point minimum).
The transfer rate continues to be 1.55 : 1 (e.g. 15,500 Velocity Points converts to 10,000 KrisFlyer miles, and vice versa).
Of course, you can continue to use Velocity Points to book reward seats with Singapore Airlines via the Velocity website or call centre, and vice versa.
When booking SIA seats via Velocity, you can access economy, premium economy and business class, and it's likely first class award availability will return in the future. This will cost fewer points than sending the required amount to KrisFlyer.
Similarly, KrisFlyer members can book Virgin Australia reward seats via their own program.
The main advantage of sending points from Velocity to Krisflyer is that Singapore Airlines makes more seats available to its own program members, so that could be your only way to secure seats. In addition, you can use KrisFlyer miles to upgrade paid fares or access reward seats with Star Alliance and other partner airlines.
Before making any decisions, your first step should be to compare prices and availability on the Velocity and KrisFlyer websites.
A reminder that Virgin Australia will impose a new "carrier charge" for Singapore Airlines reward tickets issued from 5 October onwards, as per the table below (with a fee charged for each segment flown).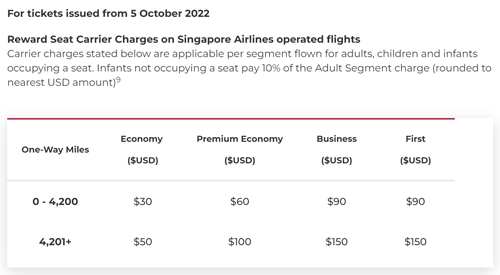 Australia-Singapore flights all fall into the 0-4200 mile range.
This is going to particularly hurt on multi-segment flights. For example, a return business class trip from Australia to Europe with a layover in Singapore will incur US$480 in additional charges. Ouch!
If you want to book Singapore Airlines seats via Velocity, it would be wise to get your tickets issued before 5 October to avoid these charges.
To get news like this delivered straight to your inbox, subscribe to our newsletter: