Singapore Airlines is renowned for offering some of the most stylish and comfortable experiences in the air, chief of which are its first class services onboard Boeing 777 and A380 aircraft.
On a recent trip from London to Melbourne via Singapore, I was able to try first class on a Boeing 777-300ER and an A380, both of which are seen in the skies over Australia.
The first flight from London to Singapore was on the 777-300ER and it certainly didn't disappoint. With superb seats, dining and service, this was easily one of the most enjoyable flights I've ever taken.
Here's a review of that journey.
Flight details
Route: London to Singapore
Flight number: SQ319
Departure: 8.50 pm
Arrival: 4.55 pm (+1)
Seat: 1C
Cost: 148,000 KrisFlyer miles + $420 for the entire LHR-SIN-MEL booking; LHR-SIN alone would cost 115k miles + $385
Check-in
Singapore Airlines operates from Terminal 2 at Heathrow Airport. Upon arriving, check-in was a breeze thanks to a dedicated desk for first class passengers. Add to that a fast track through security and no immigration exit controls, and the formalities were all over very quickly.
This was already the most pleasant experience I've ever had at the often-painful Heathrow airport, but then it got even better. Rather than make first class passengers endure a 10-15 minute walk to the lounge, Singapore Airlines has a 'buggy' on hand to whisk you through the terminal: warning lights, alarm and all!
Honestly, the embarrassment of every single person in the terminal staring at us was easily outweighed by the novelty and convenience.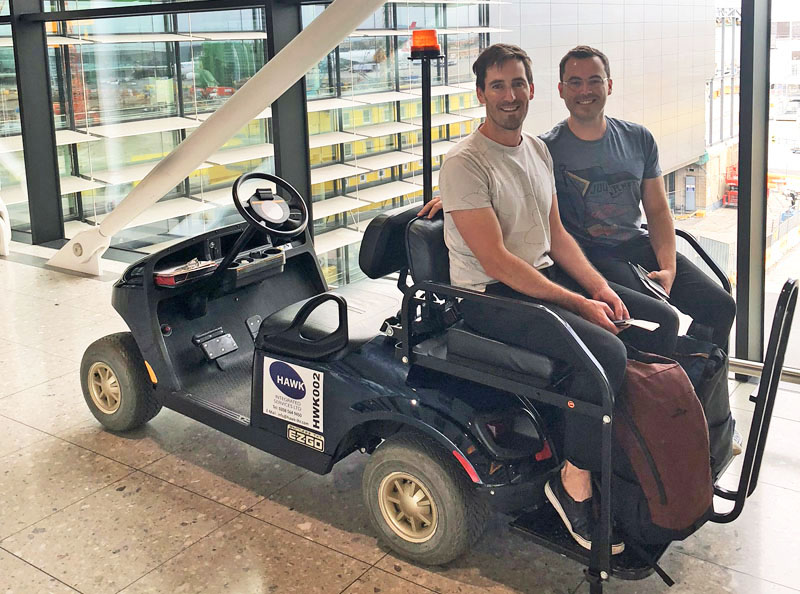 Ready to roll to the lounge
The lounge
Singapore Airlines has separate lounges at Heathrow for business and first class passengers. Each space is elegantly appointed with similar decor, though the quality of dining and beverages goes up a notch for first class passengers – as you would expect.
I don't find Singapore Airlines' lounges very interesting from a design perspective, but they are very comfortable and the service is consistently top notch.
The first class lounge offered a wide range of seating options including lounge chairs, sofas, workstations and dining tables split into zones for dining, working and relaxing.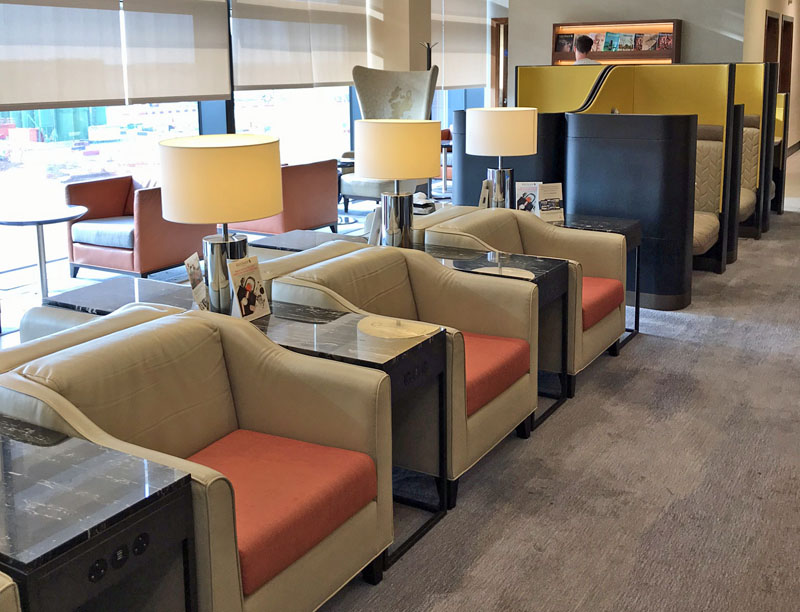 First Class Lounge seating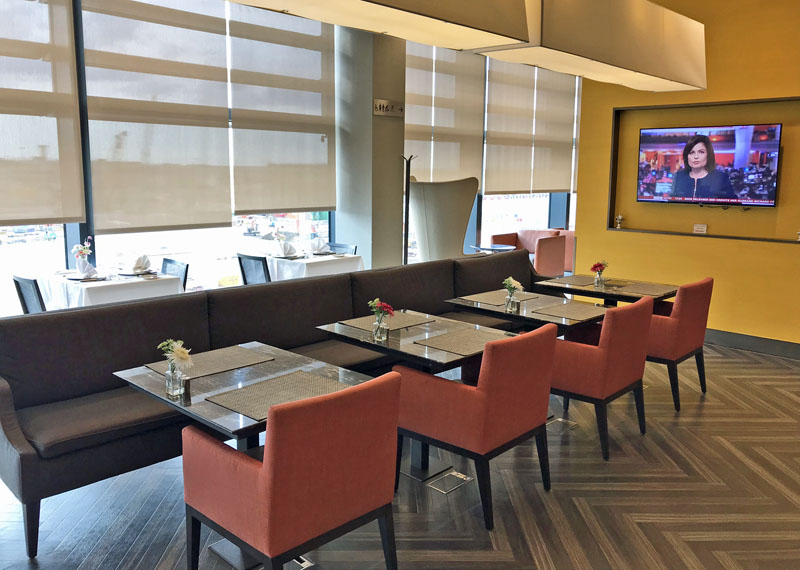 First Class Lounge seating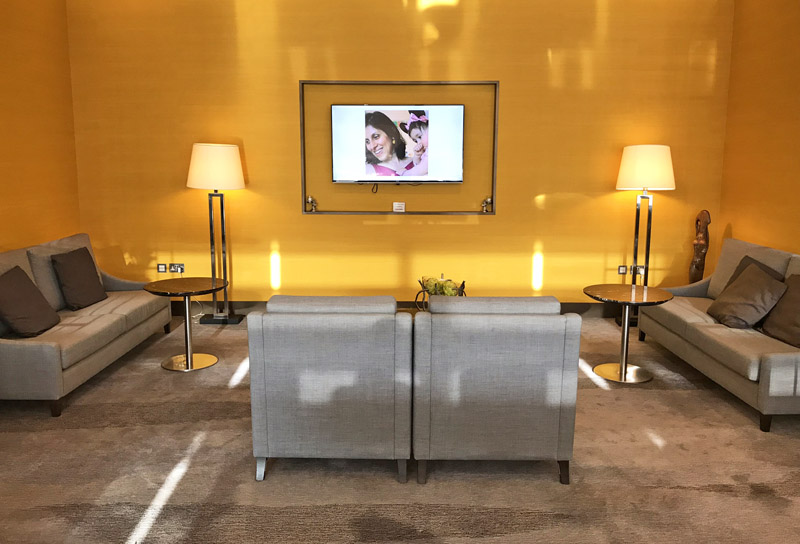 First Class Lounge seating
The dining options were a hot and cold buffet and an a la carte menu, both with a relatively limited range of options, though the quality was excellent.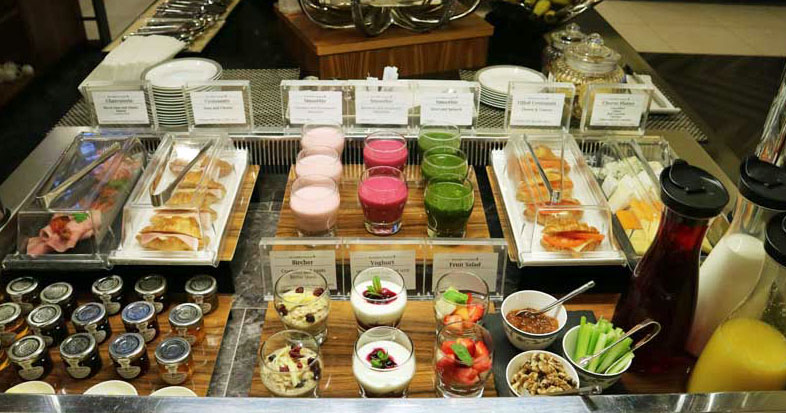 First class lounge cold buffet
A la carte menu
There was a wide range of drinks available – including wine, beer and spirits – which you could help yourself to, though each time I tried a staff member would rush over to assist.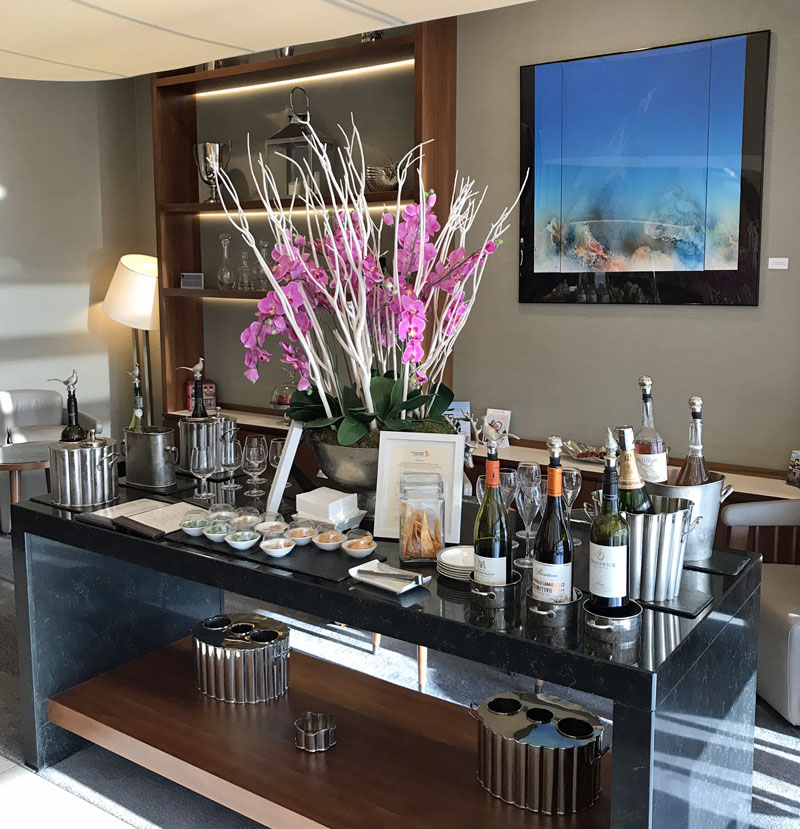 Wine station
When our flight was ready to board, a buggy was waiting to drive us to the gate … a 100 metres away! We made it there at the same time as the business class passengers who walked.
The cabin 
Singapore Airlines recently refurbished its fleet of 777-300ERs, which now sport a small first class cabin with just one row of four seats arranged in a 1-2-1 layout.
Despite the lack of doors on the seats, they still felt private, thanks to all the space.
The cabin is separated from business class just behind by a wall.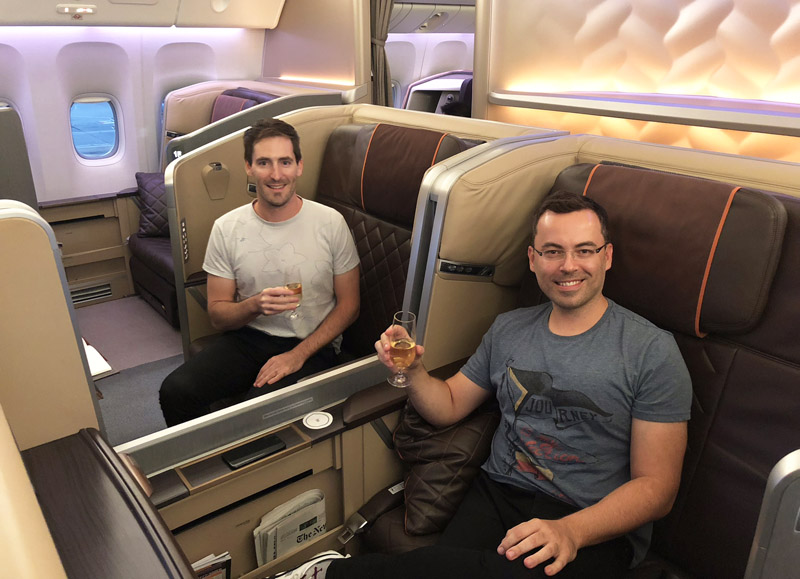 Hello from the first class cabin!
I really like the decor of warm and neutral tones accentuated by mood lighting. It felt very soothing and looks super elegant.
There are two lavatories at the front of the cabin, which is very generous for just four passengers.
Two flight attendants serviced the cabin, which meant we basically had one each to ourselves. The service was excellent.
The seat
My partner and I had pre-selected the two middle seats, but since we were the only passengers in the cabin we had all four seats at our disposal.
The crew turned the empty window seats into our beds so we could use them at our leisure.
The very wide, leather-upholstered seats were extremely comfortable, with lots of storage space in small compartments and on or below the ottoman.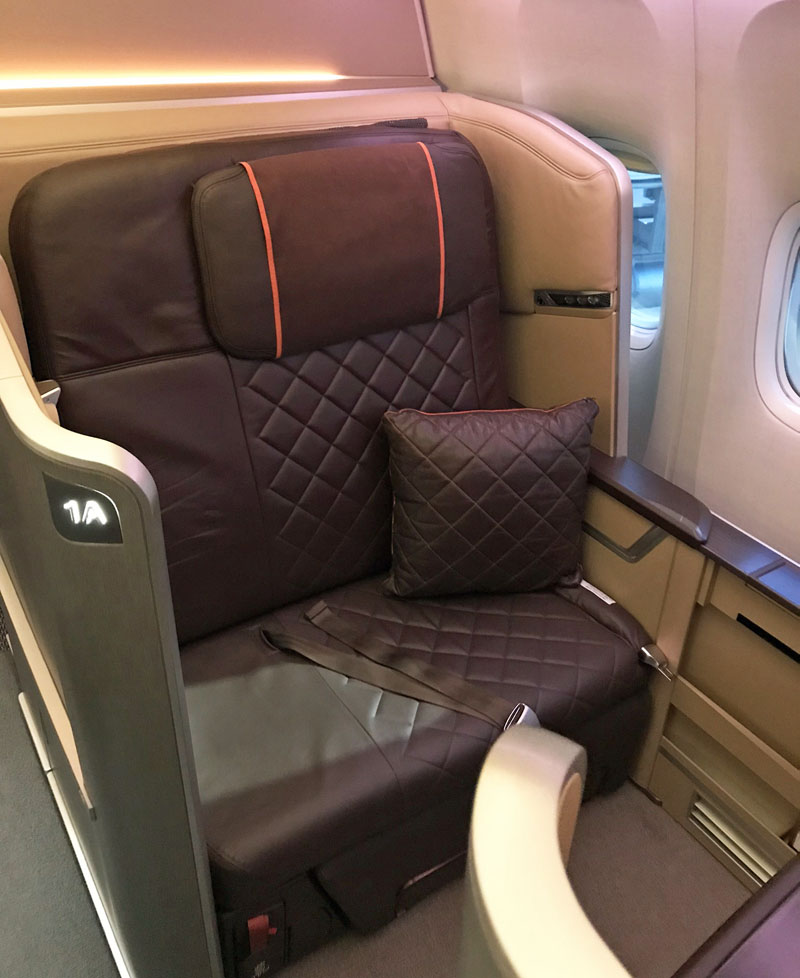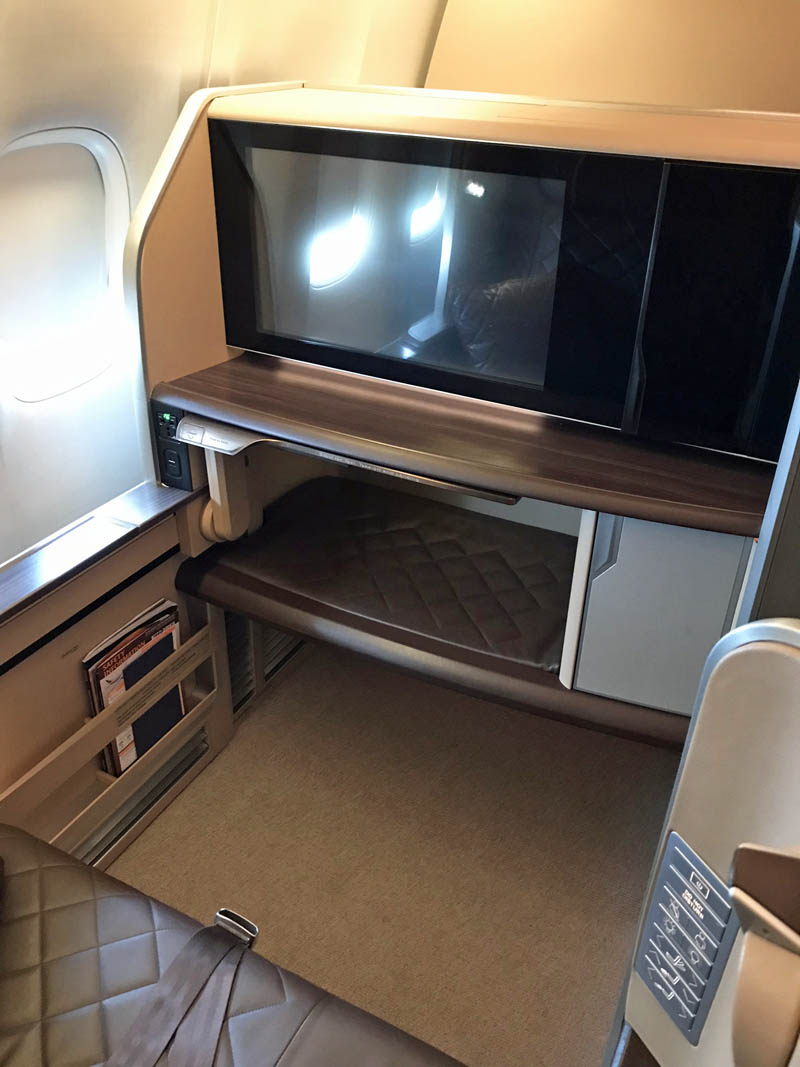 The seats recline, but not into bed mode: for that, the crew needs to 'flip' the seat over manually. That would be annoying if you want to alternate frequently between bed and seat mode.
The pillows and bedding were great for sleeping.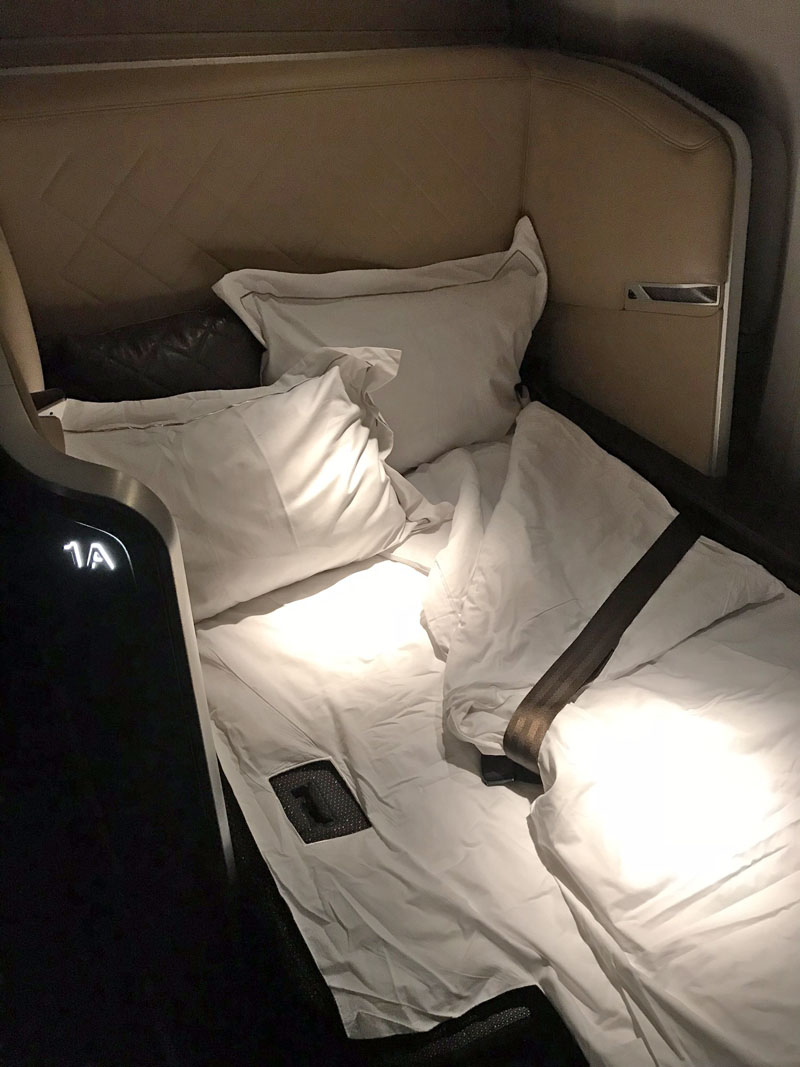 The seat in bed mode
The amenity kit and pyjamas
We were provided with stylish Lalique men's amenity kits and comfortable pyjamas, slippers and socks.
The amenity kit included just a few items like lip balm, soap, body lotion and a scented candle (?). The 'basics' like a toothbrush were in the lavatories.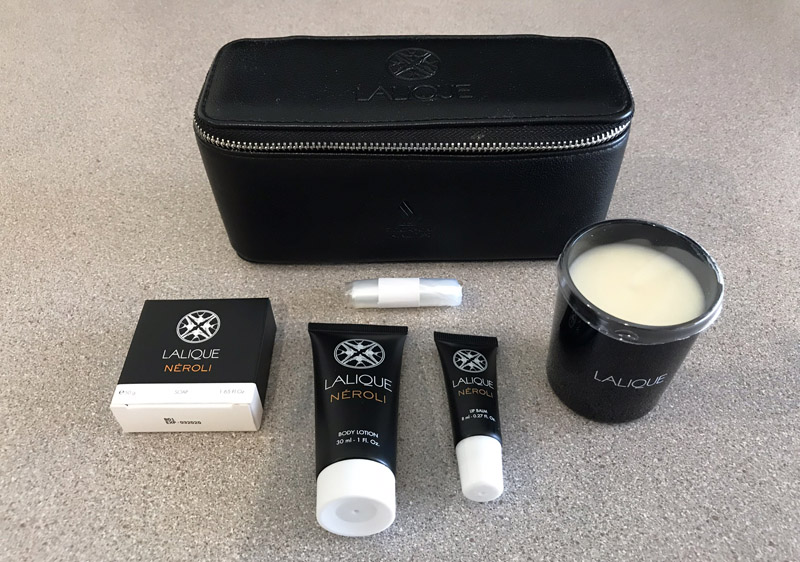 The gorgeous men's amenity kit
The pyjamas were the most comfortable I've ever received from an airline.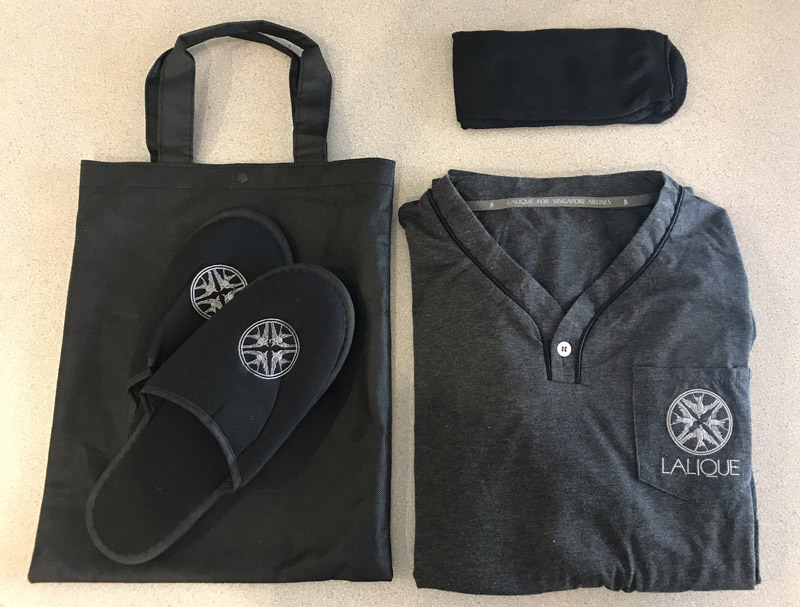 Pyjamas, slippers and socks
The dining
Dinner was served shortly after take-off with no fewer than eight courses offered.
Dinner menu
It all began with the biggest canape I've ever seen …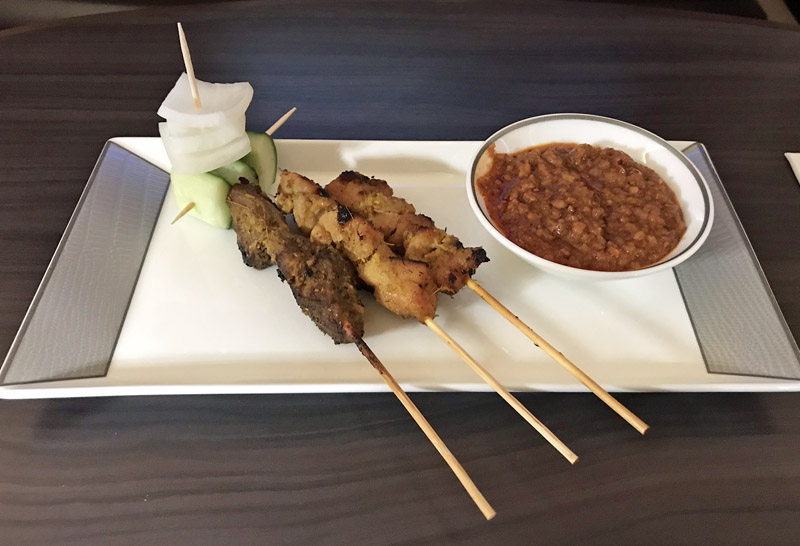 Chicken and lamb satay canape
… followed by a choice of appetiser, where I opted for caviar.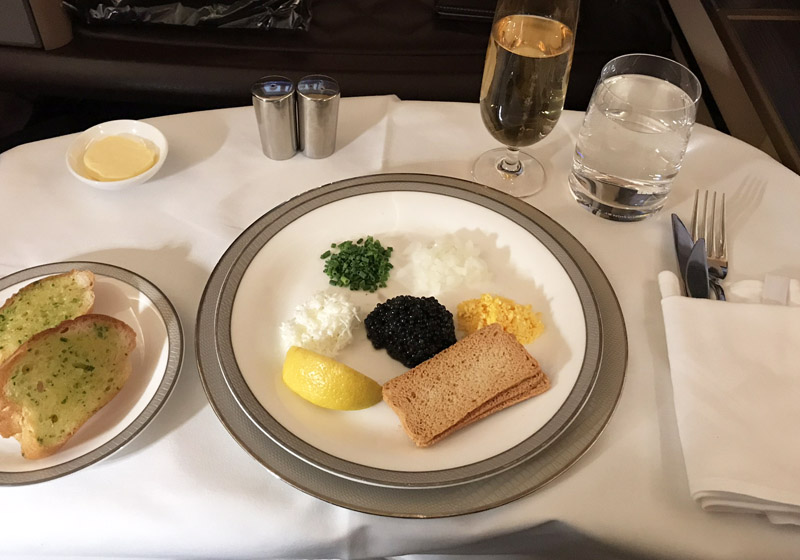 Caviar appetiser
Next up was a delicious duck broth soup…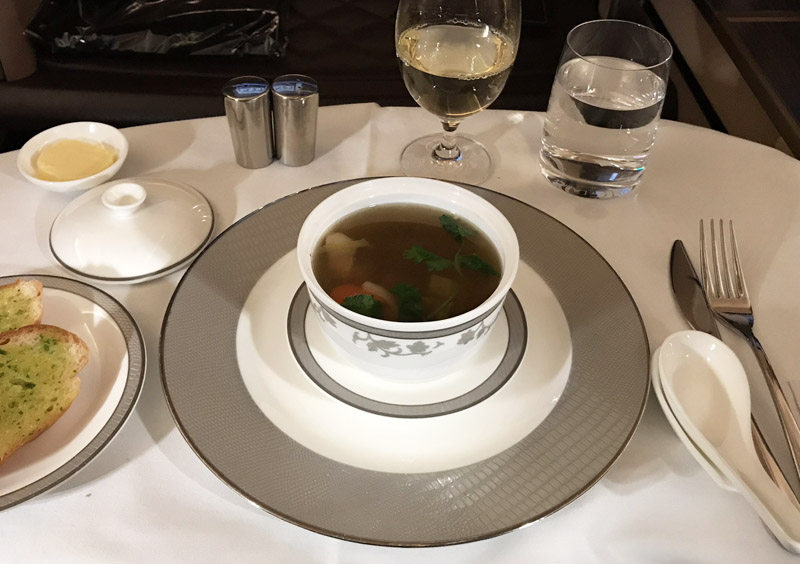 Duck broth soup
… followed by the salad course.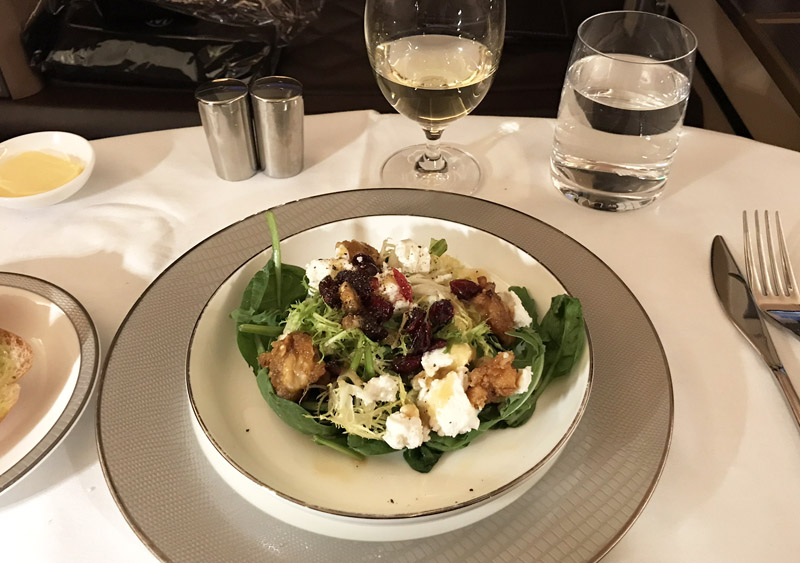 Salad 
After that warm up, we made it to the main course.
Rather than choose off the menu for the main course, I pre-selected a dish via the Book the Cook service: an extensive selection of dishes that can be ordered online up to 24 hours before the flight.
Probably the most famous option is Lobster Thermidor, which I definitely wanted to try, and it was superb.
Lobster Thermidor main course
I was so full by this point but I couldn't resist sampling the dessert and fruit selections (I skipped the cheese).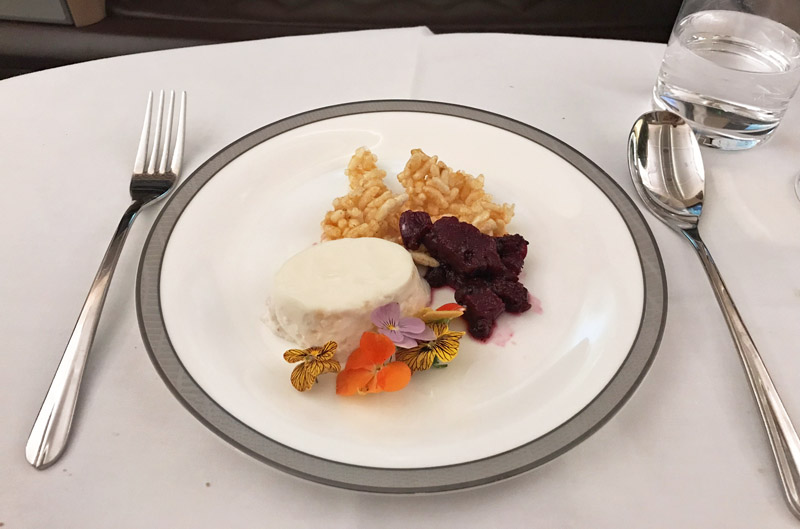 Coconut panna cotta dessert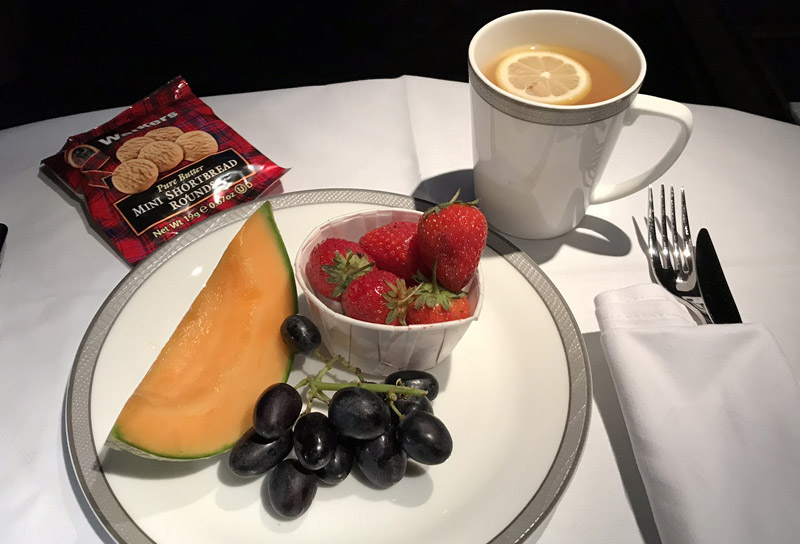 Fruit course
A selection of snacks was available during the flight, and shortly before arriving in Singapore breakfast was served.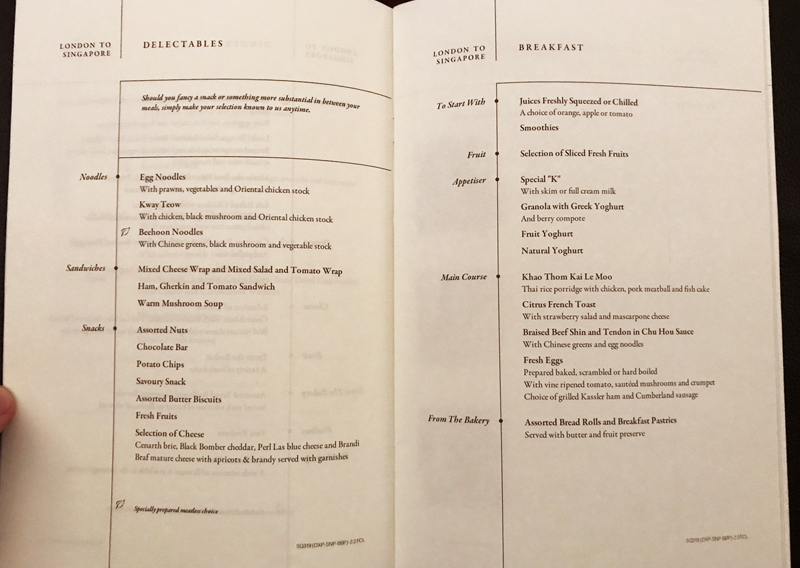 Snack and breakfast menu
Breakfast was a relatively simple three-course affair with fruit, an appetiser and a main course.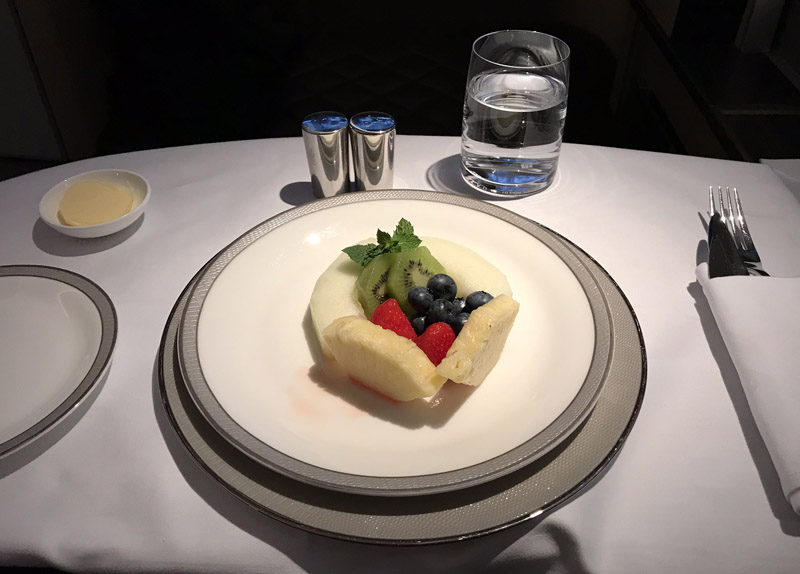 Breakfast fruit course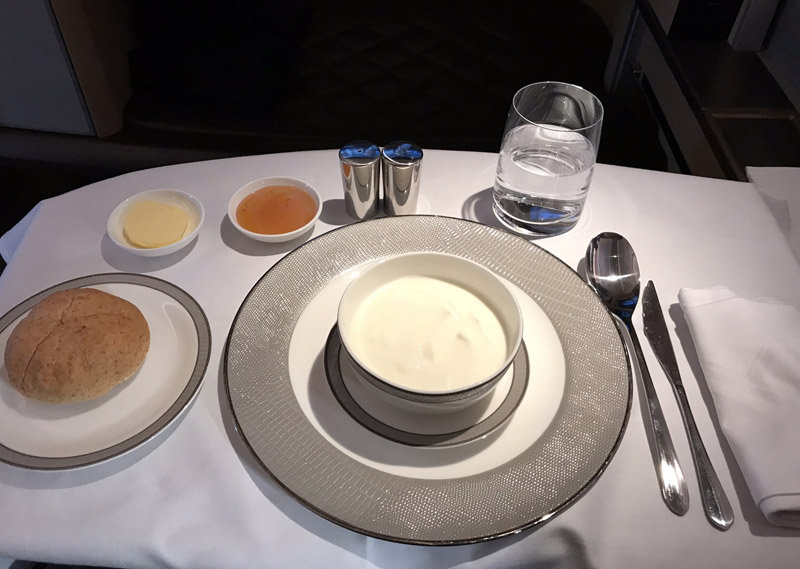 Breakfast appetiser: I opted for natural yoghurt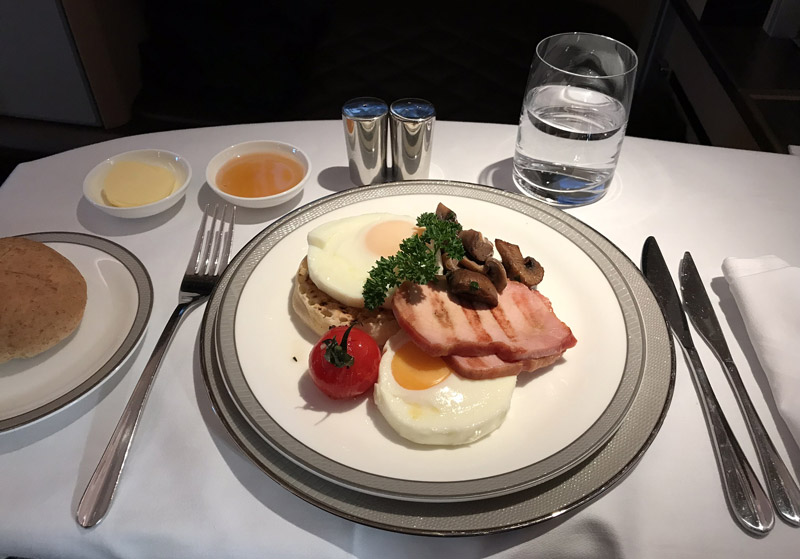 Breakfast main
The food throughout the flight was superb, and to top it off the selection of drinks included both Dom Perignon (2009) and Krug (2004) – both excellent drops – plus a wide selection of quality wines, cocktails, spirits and non-alcoholic beverages.
The entertainment 
A good quality entertainment system offered up a selection of films, TV shows and other entertainment options that easily helped whittle the time away. It was all accessed via a remote control in the seat, which was very straightforward to use.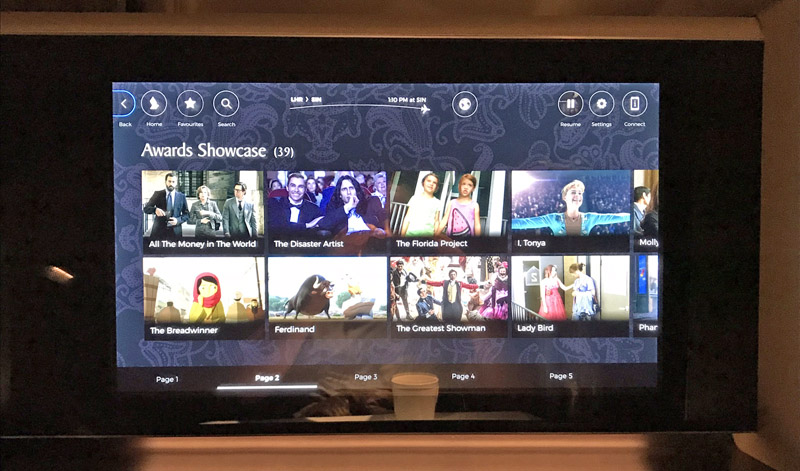 Entertainment screen
Summing up
The comfortable seats, sophisticated cabin, and top-notch dining, entertainment and service made this one of the most enjoyable flights I've ever taken.
Singapore Airlines' reputation as one of the world's premier carriers is well deserved.
I recently wrote about how Singapore Airlines has become my carrier of choice not only because of its great in-flight services, but also its large international network and very good award seat availability. My latest experiences with the carrier confirm that I made the right decision.
To get flight reviews like this delivered straight to your inbox, subscribe to our newsletter: