Qantas has launched its much-anticipated Points Club, a program that rewards Qantas Frequent Flyer members who earn lots of points 'on the ground' with benefits like lounge access and status credits for points bookings.
This initiative recognises that many Qantas Frequent Flyer members don't fly regularly but are still valuable customers by virtue of their spending habits.
The Points Club will have two tiers as follows: people who earn 150,000 points in their QFF membership year will join the Points Club, while those who earn 350,000 points will get into the more rewarding Points Club Plus. You'll keep that membership tier for the remainder of the year, plus the following year.
Qualifying transactions will be limited to 125,000 points per transaction (i.e. if you transfer 150k points from a credit card in one go, only 125k will count and you'll need to earn 25k points from elsewhere to join Points Club.) Qualifying points from flying will be limited to 20,000 points per year. Points received via Loyalty Bonus, Platinum Bonus Reward, Platinum One Bonus Reward, Family Transfer, or Qantas Business Rewards Transfer will not count towards Points Club or Points Club Plus targets.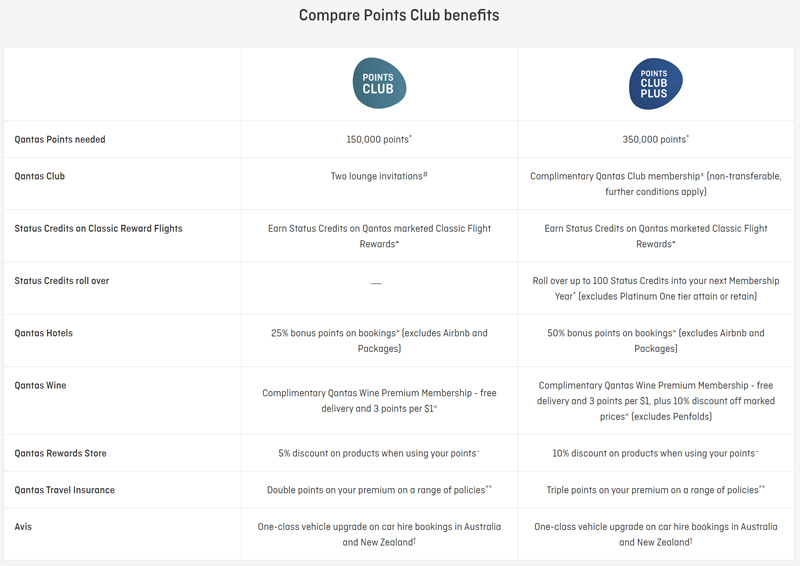 Points Club members will get two lounge passes each year, which will be valid for domestic Qantas Clubs and Qantas-operated International Business Lounges (excluding at LAX). These will be available via the Complimentary Invitations Portal within two weeks of qualifying and will be valid for 12 months.
Points Club Plus members will get individual Qantas Club membership. This will be a "digital" membership – i.e. no physical card will be provided, rather you will be able to access it on your smartphone. Members who have gold status or higher will not receive complimentary Qantas Club membership since they already have superior worldwide lounge access courtesy of their status. Qantas Club benefits can be viewed here.
Both Points Club and Points Club Plus members will be able to earn Status Credits on reward bookings (Qantas flights only) if they are a Points Club or Points Club Plus member at the time they fly. This is very handy for those of us who fly a lot using points and therefore struggle to maintain status (right now, status credits are only earned on paid fares). The earn rates are pretty good and can be viewed here.
Points Club Plus members will be able to roll over 100 Status Credits each year to help reach or maintain Silver, Gold or Platinum status, but not Platinum One.
Some of the other benefits are:
discounts at the Rewards Store: 5% for Points Club members and 10% for Points Club Plus members (excluding gift cards, vouchers, charity, and Qantas Wine products)
bonus points on hotel stays: Points Club members will earn 25% more points and Points Club Plus members will earn 50% more points on hotel stays booked through Qantas Hotels (excludes Airbnb)
bonus points for Qantas travel insurance: double for Points Club members and triple for Points Club Plus
complimentary upgrades on cars booked through Avis for both Points Club and Points Club Plus members
complimentary Qantas Wine premium membership for both membership tiers, plus a 10% discount on purchases for Points Club Plus members.
You can track your progress towards reaching Points Club membership tiers by logging into your account and visiting this page.
To get news like this delivered straight to your inbox, subscribe to our newsletter: