Travel lovers, don't miss the opportunity to get a massive 120,000 bonus Qantas Points and 120 Status Credits with Amex's most popular and rewarding Qantas card, the Qantas American Express Ultimate Card. The last day to apply for this offer is this Monday 17 May 2021.
120k Qantas Points and 120 Status Credits is arguably the richest bonus ever offered with this card. We're delighted to be the first Amex partner to bring it to market – a special opportunity we've developed with Amex to celebrate four years of our partnership (T&Cs apply; new Card Members only).
To get this deal, you must apply via our Amex partner link. This offer isn't available with any other Affiliate partner, via personal referral or by going to Amex's website directly (the bonus there is only 55k points).
120k Qantas Points can take you on up to 15 economy or 6 business class flights within Australia, or when overseas travel resumes you could enjoy a trip to anywhere in the world in economy return or to select destinations in business class one way (more on that below).
Qantas Points don't expire so long as you keep your Qantas Frequent Flyer account active by earning or redeeming at least one point every 18 months. Plus, reward bookings are refundable if your plans change.
The Qantas Ultimate Card is our expert pick of Qantas cards in Australia. It's packed with valuable perks including a very high points earn rate on spend, an annual $450 Qantas Travel Credit, airport lounge entries, travel insurance, and much more.
Here's an overview of the card benefits you can enjoy.
1. Earn piles of points on everyday spend
You'll turbocharge your points balance by earning 1.25 Qantas Points per $1 spent on everyday purchases – one of the highest Qantas Points earn rates in Australia.
You'll receive 2.25 Qantas Points per $1 spent on selected Qantas products and services in Australia, and 0.5 Qantas Points per $1 spent with government bodies.
Hundreds of thousands of merchants accept Amex in Australia, and that number is growing, so there's no shortage of places where you can earn points with this card.
There's also no cap on how many points you can earn.
In addition, as part of Amex's current Shop Small promotion, you can earn an extra 3 Qantas Points per $1 spent with small merchants until 31 March 2022, up to 40,000 extra points. Simply save the "Shop Small" offer via the Amex app or online when you receive your card.
2. Take off with a $450 Qantas Travel Credit every year
You'll get a $450 Qantas Travel Credit at the start of each card membership year, including when you first receive the card, which effectively offsets the card's $450 annual fee.
The Qantas Travel Credit is redeemable for Qantas flights online at American Express Travel. It's valid for 12 months and you can book any available flight in the future (i.e. a travel credit issued now would be valid to May 2022 for travel as far as May 2023. T&Cs apply).
The Qantas Travel Credit is very flexible. While you need to use it in a single booking, that can be for one or more people, travelling one way or return, and on domestic or overseas flights. Plus, the booking can be in anyone's name and doesn't have to include you.
Eligible flights are standard Qantas flights with a QF flight number, so you'll have plenty of routes to choose from.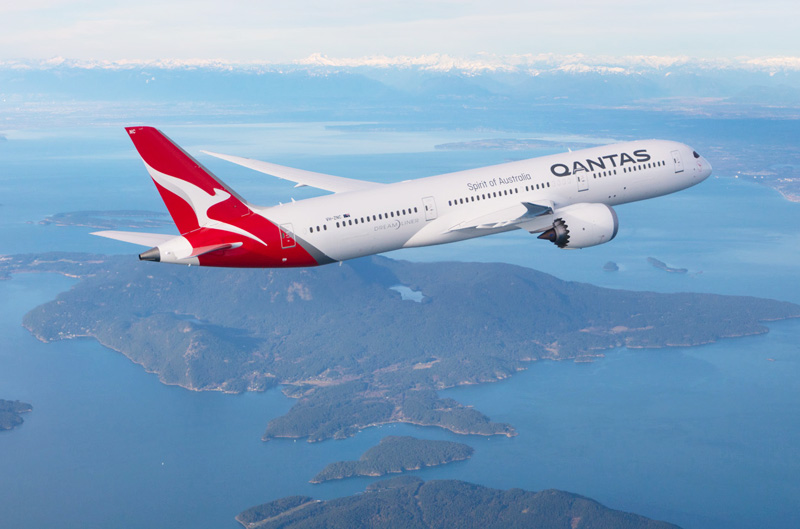 Take off with a Qantas Travel Credit every year
3. Enjoy four airport lounge entries each year
Relax before your next flight in style, even if you're flying economy.
Each year, you'll receive two Qantas lounge invitations valid for both domestic Qantas Clubs and Qantas International Lounges in Australia and overseas. These invitations will be activated in your Qantas Frequent Flyer account after your first card spend on selected Qantas products and services, such as flights.
You can use one of the Qantas lounge invites to bring in a guest, or transfer one or both invites to another Qantas Frequent Flyer member.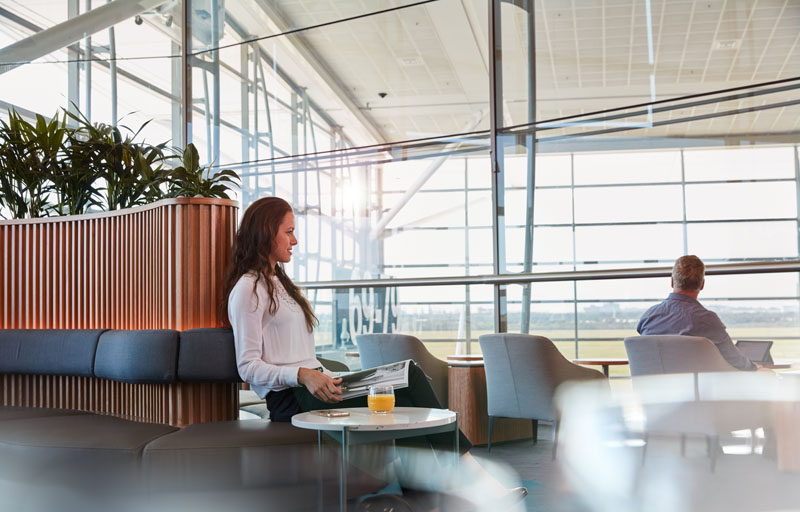 Relax in the lounge before you fly
You'll also receive two entries each year to the exclusive American Express Lounge at Sydney Airport international or Melbourne Airport international, which are the two airports in Australia that have Amex lounges so far (temporarily closed). Simply present your card at the door to get in, and you may use one of the entries to bring in a guest (children under the age of 17 get in for free).
4. Travel securely with domestic and overseas travel insurance
You'll receive comprehensive travel insurance cover when you pay for a domestic or international return flight with your card or use Qantas Points or the $450 Qantas Travel Credit to book.
This cover extends to your domestic partner and dependent children up to the age of 22 when they are travelling with you (see more on page 9 of the policy document).
You'll receive cover for:
inconvenience (flight delays, cancellations or missed connections, and delayed luggage)
medical emergency expenses
damaged, destroyed, lost or stolen baggage, money or documents
travel cancellation costs
personal liability.
If you're currently paying for travel insurance and this cover meets your needs, you can save money by relying on it (T&Cs apply).
5. Enjoy a range of other benefits
There are many more perks to enjoy with this card, including:
up to 4 free additional cards for family members or friends – an easy way to earn points faster
complimentary premium membership to Qantas Wine (worth $99) – get free delivery Australia-wide and earn 3 points per $1 spent
complimentary 12-month subscription to Chris Hemsworth's health and fitness app Centr (worth $119.99)
up to 44 days interest free on purchases (the interest rate thereafter is 20.74%)
'buy now, pay later' with American Express Plan It™ Instalments: pay off your card balance in equal monthly instalments with 0% interest and a fixed monthly fee
use your card with Apple Pay, Google Pay or Samsung Pay
Amex Offers: save money and earn bonus points via regular offers with top brands
American Express Experiences: access sought-after events like music, theatre and film, including via pre-sale tickets, and enjoy exclusive lounges at selected events.
Plus 120,000 bonus Qantas Points and 120 Status Credits
Receive a massive 120,000 bonus Qantas Points and 120 Status Credits when you apply online via our partner link  by 17 May 2021, are approved and spend $4,500 on your new card within the first 3 months (T&Cs apply; new Card Members only).
If you need help to make the minimum spend, you could buy some supermarket gift cards to use on groceries later in the year; manually pre-pay bills like phone, electricity and insurance; bring forward a planned purchase; or get free additional cards for family or friends to use.
120k Qantas Points is enough to fly domestically with Qantas up to 15 times in economy or 6 times in business class, depending on distance – e.g. you could fly Sydney-Melbourne for 8,000 points in economy or 18,400 in business class, or Perth-East Coast for 18,000 points in economy or 41,500 in business class, plus taxes and fees (redemptions are correct as of 19 April 2021).
Once overseas travel resumes, you'll also have enough points to fly:
to anywhere in the world in economy return with Qantas and select partners (costing up to 110,400 Qantas Points plus taxes and fees)
to many destinations in Asia in premium economy return, such as Brisbane-Tokyo or Sydney-Singapore with Qantas, or Perth-Bangkok with Cathay Pacific (costing up to 103,000 Qantas Points plus taxes and fees)
in super-stylish business class one way on many long-distance routes, like from eastern Australia to Los Angeles with Qantas or from Perth to Rome with Emirates (costing up to 119,200 Qantas Points plus taxes and fees).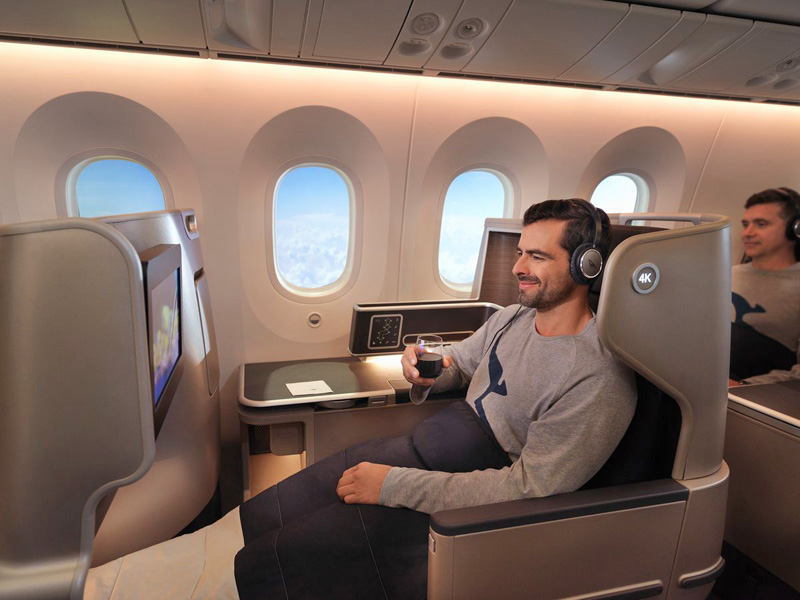 Use your points to enjoy Qantas business class
120k Qantas Points could also help you become a member of Qantas' Points Club (membership is automatic when you earn 150k points in a year). Benefits include two Qantas lounge passes, the ability to earn Status Credits on reward bookings, and more.
The 120 bonus Status Credits you'll receive with this card may also help you reach or maintain elite status with Qantas, giving you access to perks like lounge entries, priority seating and boarding, a higher baggage allowance, and more.
This offer is only available to new American Express Card Members. That means you must not have held a card issued directly by American Express Australia in the last 18 months. However, you are still eligible for this offer if you've held an Amex card issued by a bank (i.e. Westpac, ANZ, CBA or NAB) or if you're an additional Card Member on someone else's account.
The minimum income to qualify is $65,000 per annum.
It's very simple to apply, including on mobile devices.
We're delighted to celebrate four years of partnership with American Express by bringing our readers this very generous partner offer. It's only available until Monday via our partner link below, so don't miss out – you could be booking a holiday in no time!


Important: This article is not intended to suggest that you should apply for a card. You should seek independent, professional advice and consider your personal circumstances before deciding to apply for a card.
If you apply for a card via a link in this article, we may receive a commission from Amex. This income helps keep our site running, and we thank you for your support.
Read more in our Cards Disclosure.