Emirates today unveiled new interiors for its Boeing 777 aircraft – the mainstay of its fleet along with the A380 – including newly-designed seats and upgraded inflight entertainment systems in all cabins.
The biggest innovation is in first class, where Emirates has introduced fully-enclosed suites arranged in a 1-1-1 layout.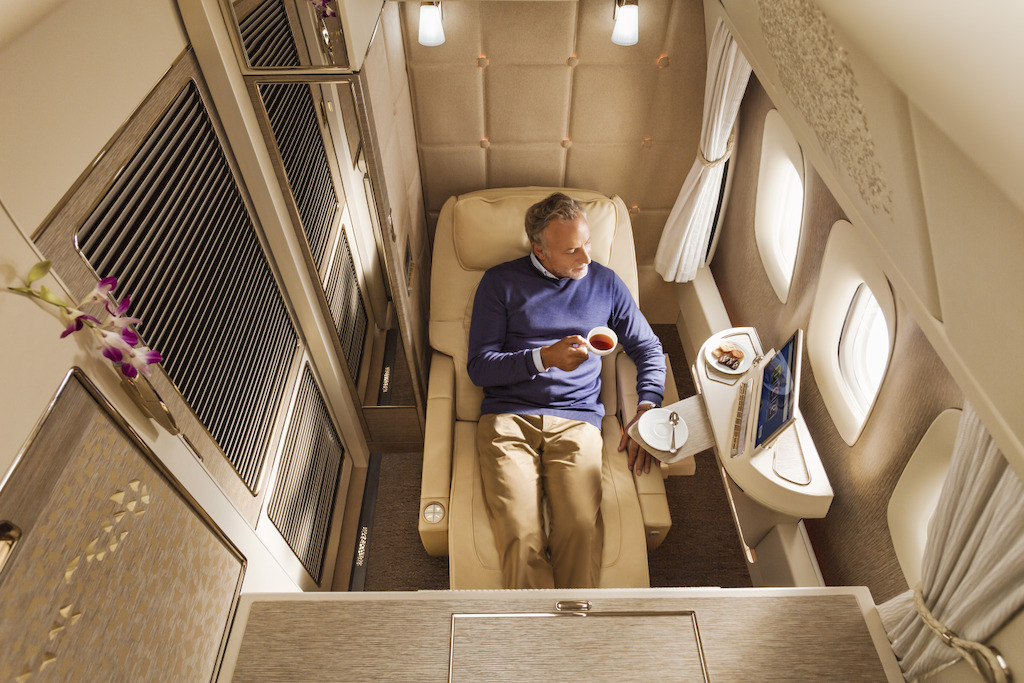 The new, fully-enclosed first class suite
With floor-to-ceiling sliding doors, travellers will have total privacy. Emirates says there will be enough space for passengers to change into their pyjamas even when the seat is fully reclined into a bed and made up.
The seat itself is made of leather and can also be placed in a "zero-gravity" position, purportedly inspired by NASA technology to give a feeling of relaxation and weightlessness. It sounds a bit gimmicky, so we'll wait and see!
The first class cabin interior uses a whole new colour palette of soft greys, cream and champagne, conveying a contemporary and luxurious feel – a big improvement over the airline's current aesthetic.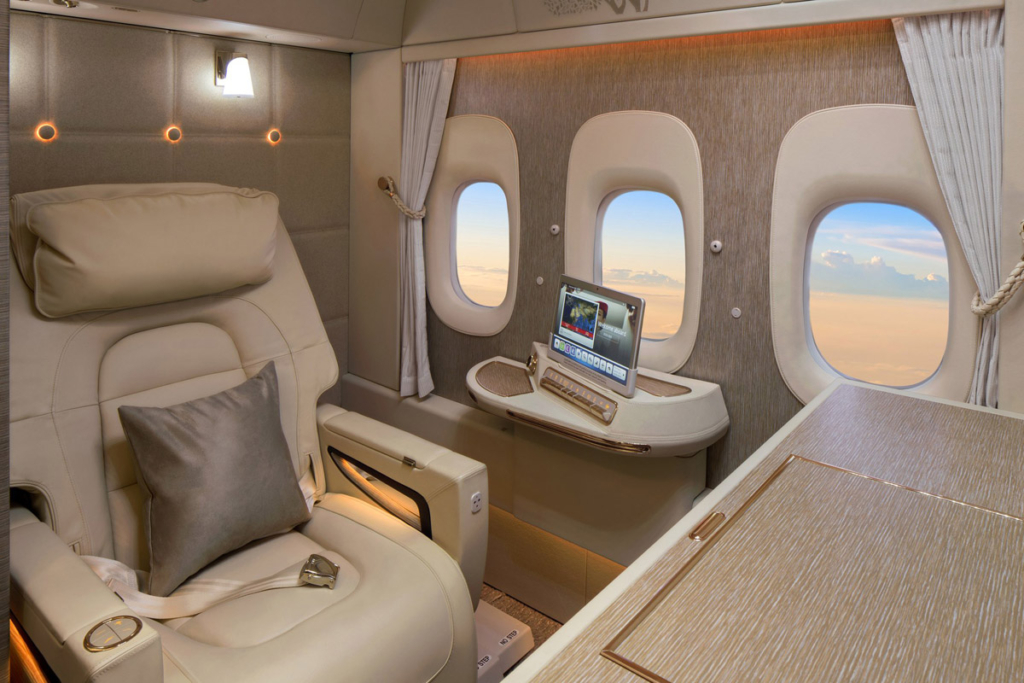 The new first class seat
The design stems from a collaboration with Mercedes Benz, which extends to Emirates using a fleet of S-Class cars as part of its complimentary Chauffeur-drive service.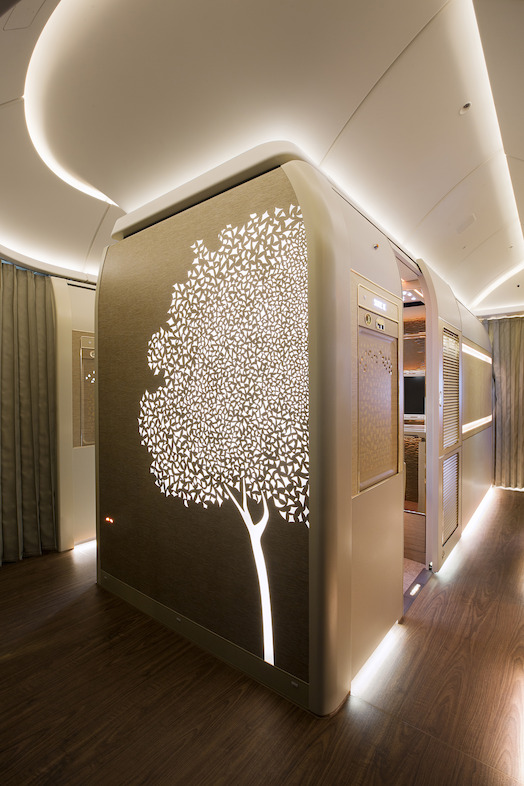 First class design feature
To ensure all first class customers have a view, Emirates is introducing the industry's first "virtual windows" for suites located in the middle aisle. These virtual windows project the view from outside the aircraft using real time camera technology.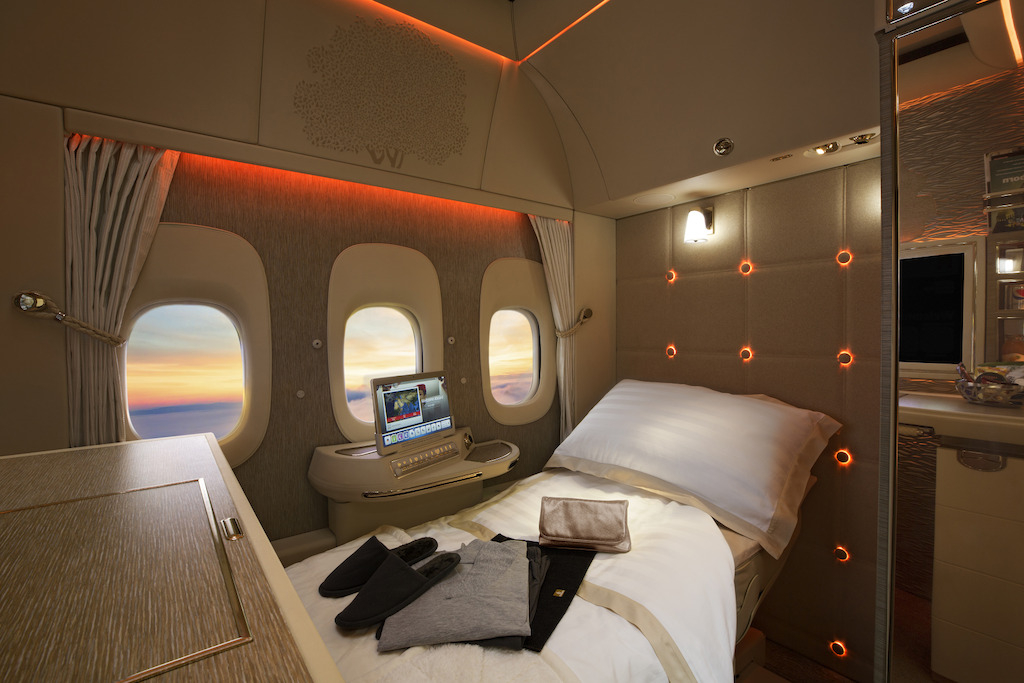 A first class suite with 'virtual windows'
In suites with real windows, binoculars will be available for customers who want to explore the sky outside.
Emirates has retained and updated features like the personal mini bar for drinks and snacks within each suite, and wireless controls to adjust seating positions and navigate the inflight entertainment system.
Customers will enjoy a 32-inch Full HD entertainment screen and Bowers & Wilkins Active Noise Cancelling E1 headphones created exclusively for Emirates and reportedly optimised for the cabin environment.
Each suite is fitted with an inspiration kit which features a luxury Byredo skincare collection, Hydra Active moisturising pyjamas, and Bulgari amenity kits.
As with any Emirates flight today, first class customers will enjoy a dine on demand service.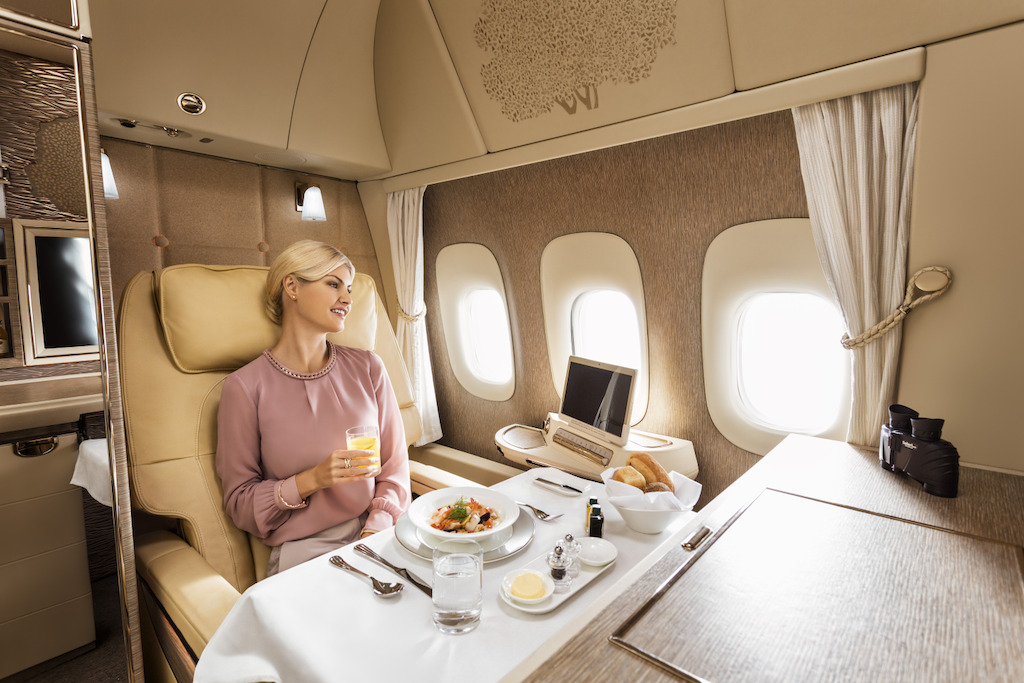 Emirates first class dining
While the new first class cabin looks impressive, Emirates has opted to retain a 2-3-2 layout in business class, which is far from competitive these days.
Emirates introduced a new business class seat design for its B777 aircraft last year, so the current refresh is minor and mainly focuses on making the cabin look consistent with the rest of the aircraft.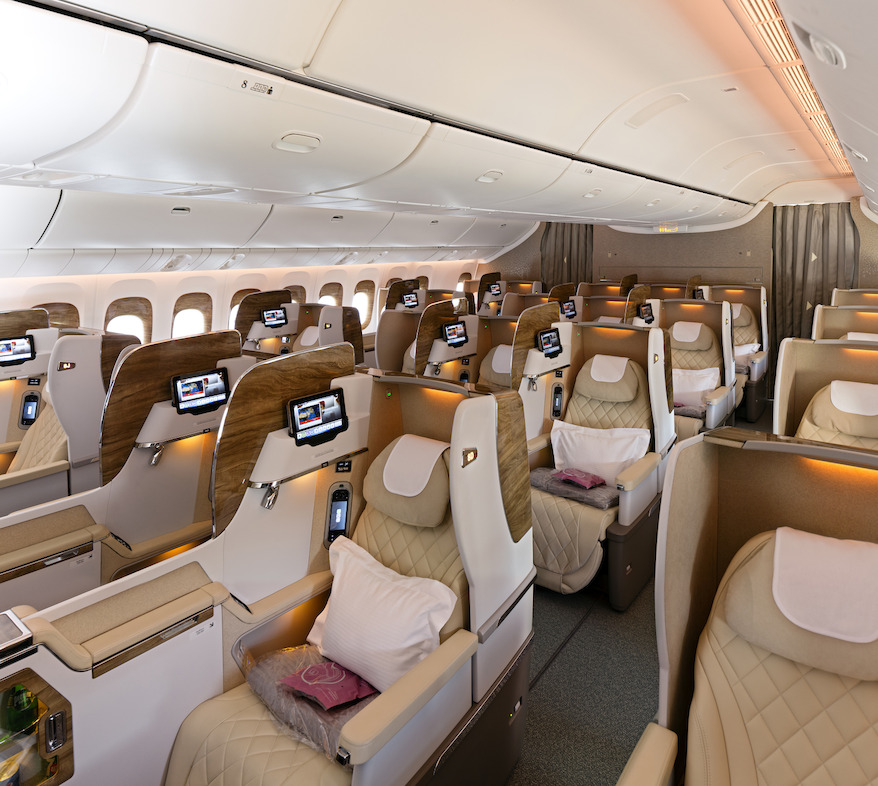 The new business class cabin – still in a 2-3-2 layout!
The business class seat has a pitch of 72 inches and moves into a fully-flat sleeping position. It also has touchscreen controls for the seat and inflight entertainment system, several personal lighting options, privacy panels between seats, a shoe stowage area, footrest, and a personal mini-bar.
Unfortunately, there's still lots of ugly wood grain for passengers to look at.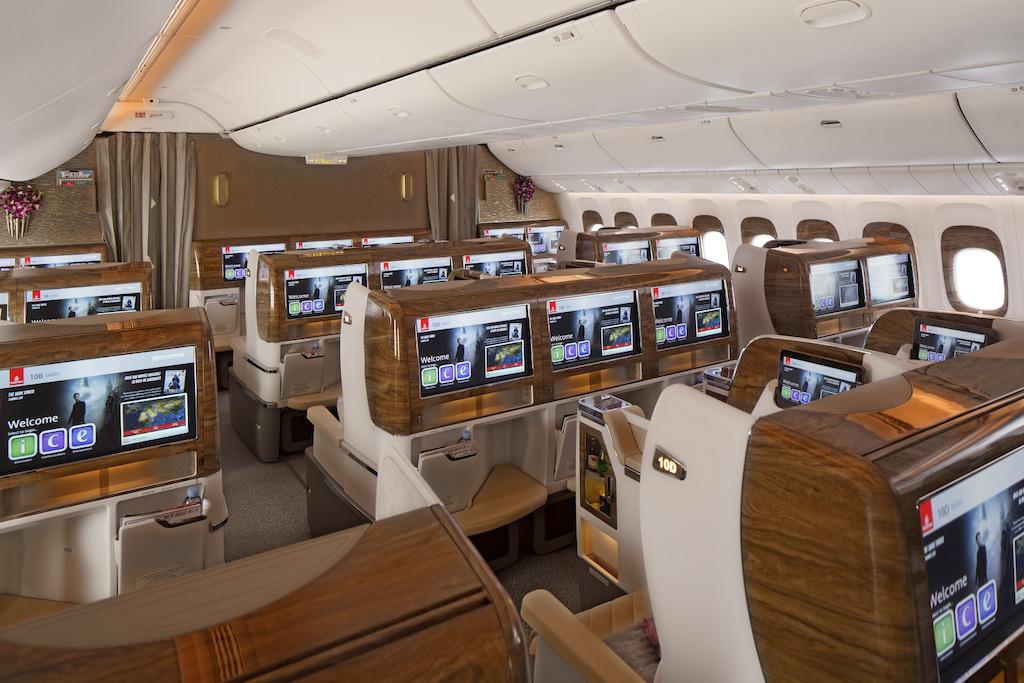 The new business class cabin
The Economy Class cabin now features a colour palette of soft greys and blues, with seats arranged in a 3-4-3 layout. The seats come with new leather headrests that have flexible side panels and can also be adjusted vertically for optimum support.
The first Emirates 777 aircraft with these new features will enter commercial service on 1 December, making its debut on flights to Geneva and Brussels.
To get news like this delivered straight to your inbox, subscribe to our newsletter: