As both a business owner and a points collector, I love being able to pay a business expense with a credit card to earn points. It's one of the quickest and easiest ways to stockpile points that I can later redeem for high-value rewards like flights (in business class, of course!).
The problem is, many billers don't accept card payments directly, and many card issuers don't award full points on certain transactions, like payments to the ATO, government bodies, insurance companies and telco firms.
That's where the payment service B2Bpay comes in. With B2Bpay, you can pay all expenses with a card and earn full reward points plus additional Qantas Points. It's also very easy to use and secure.
Here's an overview of how B2Bpay works.
What is B2Bpay?
B2Bpay is a secure online payment portal operated by the Sydney-based company Zenith Payments Pty Ltd.
You can pay all business expenses with a card via the portal. B2Bpay will charge your card and deposit funds to your biller/supplier by EFT or BPAY within 3 business days.
B2Bpay accepts Visa, Mastercard, American Express and Diners Club credit, debit and charge cards.
Since your card issuer treats the transaction as a purchase (not a cash advance), it earns full points, like other regular card purchases.
Thanks to B2Bpay's partnership with Qantas' loyalty program for SMEs, Qantas Business Rewards, your business also earns 1 Qantas Point for every $100 paid through B2Bpay, and up to 3 Qantas Points for every $1.50 paid to B2Bpay's network of over 1,000 Bonus Billers.
If you're not yet a Qantas Business Rewards member, as a B2Bpay customer you can join for free here, saving $89.50.
How to set up and use B2Bpay
B2Bpay is very easy to set up and use.
To sign up, simply go to B2Bpay's website  and click on the "Join today, it's free" button.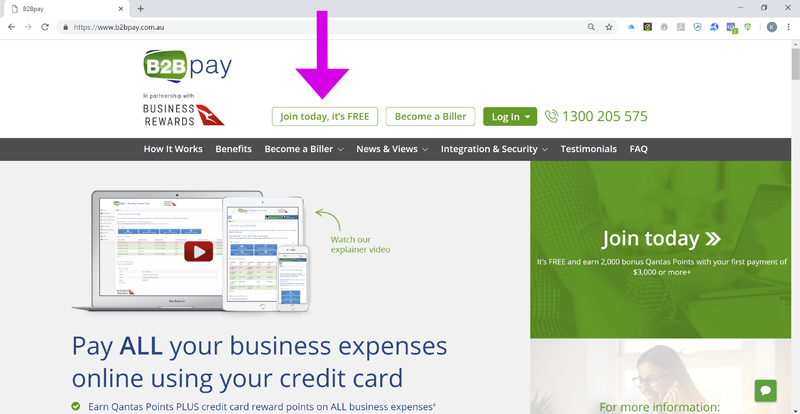 It only takes a minute to fill in your details and complete the sign-up process.
Once you're logged in, you can add the details of your cards and billers, and make a one-off payment, future payments or set up regular payments.
All the information you enter is saved securely in B2Bpay's PCI compliant system, so you won't need to input the same card or biller details the next time you want to make a payment.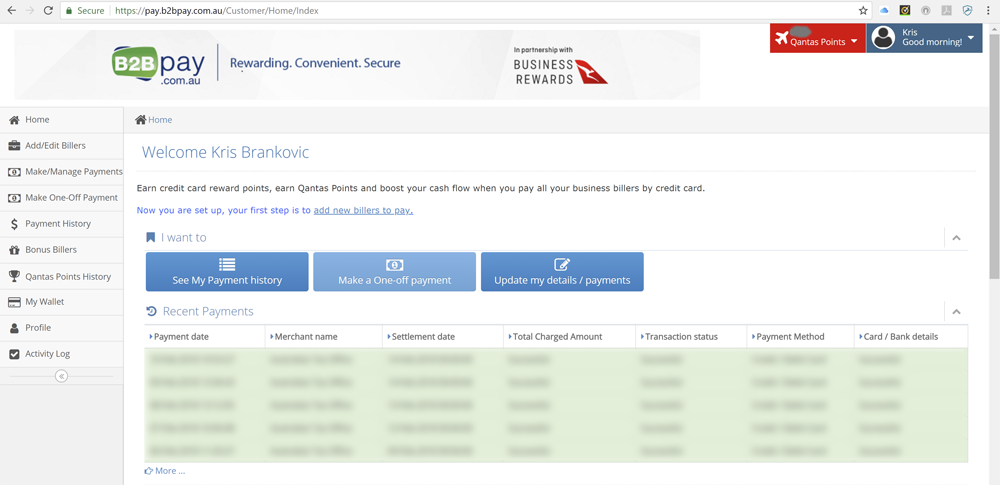 The user-friendly B2Bpay account homepage
The benefits
One of the main benefits is (obviously) raking in those sought-after card reward points and Qantas Points.
B2Bpay helps you earn points faster so you can redeem them for rewards like flights. Think about how many expenses you currently have that aren't earning points – and what you could do and where you could go with that extra boost to your points balance.
Other benefits of using B2Bpay include improved cash-flow when you pay by credit or charge card (since you have up to 55 days to pay off your card without incurring interest) and efficiency (since you can pay multiple suppliers through B2Bpay with just a few clicks).
The cost
There's no cost to join B2Bpay.
When you make a payment, B2Bpay charges a processing fee of 1.2% plus GST for a standard Visa or Mastercard, 1.55% plus GST for premium / corporate Visa or Mastercard, 2.2% plus GST for American Express and 2.4% plus GST for Diners Club.
This fee should be tax deductible (chat with your accountant if you're unclear) so make sure to factor that into your cost/benefit analysis.
Become a B2Bpay Biller to earn points when business customers pay you
You can also earn points when getting paid by your business customers.
Simply sign up to become a B2Bpay Biller and you'll be set up with an invoice payment page on B2Bpay's website through which your customers can pay you. Your business will earn 1 Qantas Point for every $20 of eligible payments made via this invoice page.
To find out more, check out our article about becoming a B2Bpay Biller here.
Summing up
If you're a business owner who likes to earn points on business expenses, B2Bpay solves two main problems: it lets you pay billers who don't accept cards directly, and it also allows you to earn full reward points on transactions that normally aren't eligible to do so.
That can add up to a lot of extra points, which in turn could help fund work trips, holidays and other rewards.
I've found the B2Bpay payment portal very easy to use, and my billers have always received funds within 3 business days, as promised.
If you're interested in trying out B2Bpay, visit them via the link below.
To visit B2Bpay's website, click here.
This article is sponsored by B2Bpay.
To get tips like this delivered straight to your inbox, subscribe to our newsletter: