Business owners who love earning Qantas Points and credit card reward points can already use the payment service B2Bpay to pay all of their business expenses with a card, even where the biller doesn't accept card payments directly (we've written a whole article about that here).
But did you know that you can also earn points when your business customers pay you via B2Bpay?
By becoming a B2Bpay Biller, you can accept card payments from business customers via your own branded payment page on B2Bpay's website and earn Qantas Points in the process.
It's a very easy way to boost your points balance, plus there are a range of other benefits for both you and your customers.
How it works
It's free and easy to sign-up to become a B2Bpay Biller here.
Once your branded payment page is set up on B2Bpay's website, simply include the link in the payment info section of your invoices to customers.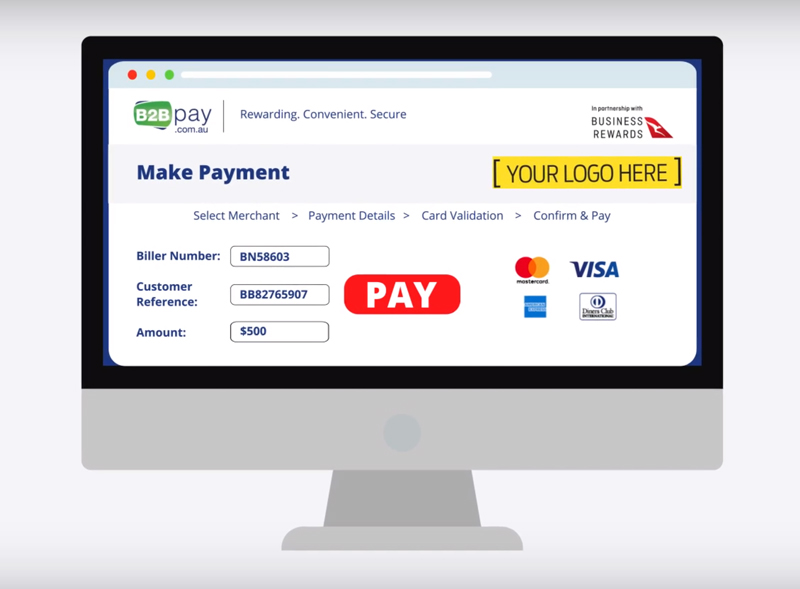 Your branded payment page on B2Bpay's website
Your customers can follow the link to pay you with any Visa, Mastercard, American Express and Diners Club credit, debit or charge card, at no cost to you.
Funds are transferred to you by EFT or BPAY within 3 business days.
Benefits for billers
Here are some of the benefits you'll enjoy:
accept card payments and get paid faster: customers tend to pay sooner by credit card as it's convenient, they have a line of credit and they may earn points. You can also reduce late payments and boost customer loyalty by becoming a B2Bpay Bonus Biller and offering Qantas Points for prompt payment (more on that below)
earn 1 Qantas Point for every $20 paid by Visa or Mastercard (no points are earned on American Express and Diners Club payments)
save time and money through reduced processing efforts and transaction costs. No training, merchant facilities or changes to your banking arrangements are required.
reduce failed payments with automatic re-try and SMS/email notifications
secure online system: card information is tokenised and never stored in full.
There's no cost to you unless you choose to absorb the payment processing fee that your customers will be charged (1.2-2.4% plus GST depending on the card they use).
Reward your customers with Bonus Qantas Points
By upgrading to become a B2Bpay Bonus Biller, you can reward customers with bonus Qantas Points for doing business with you.
This is on top of the usual Qantas Points and credit card reward points your customers earn by paying you via B2Bpay.
This can help you:
grow your business revenue: Qantas Points would be a popular reward for many of your existing and potential customers
encourage customers to spend more with you: Qantas Points give your customers a reason to consolidate spend with you and provide your business with a competitive edge
acquire and retain customers: By offering Qantas Points, you can attract new customers and create loyalty. Plus, B2Bpay will promote you on its website.
To find out more or sign-up, visit B2Bpay's website here.
This article is sponsored by B2Bpay.
To get tips like this delivered straight to your inbox, subscribe to our newsletter: