If you're a business owner who loves Qantas Points, don't miss the opportunity to get a huge 100,000 bonus Qantas Points with the American Express Qantas Business Rewards Card: one of Australia's top cards for businesses.
This deal ends on 29 January 2020. With it you could fly to destinations in Europe, North America, South America or Africa in economy return, or Asia in premium economy return or one-way in business class (more on that later).
The Amex Qantas Business Rewards Card is packed with valuable features including a very high points earn rate on spend, triple Qantas Points for flights, Qantas lounge passes, insurance covers and features to save cardholders time and money.
Here's an overview of the card benefits, with more details and a mobile-friendly application form available on Amex's website here.
1. Receive a high points earn rate on spend
You'll turbocharge your points balance by earning 1.25 Qantas Points per $1 spent on purchases – one of the highest Qantas Points earn rates in Australia.
For Qantas products and services you'll earn 2 Qantas Points per $1 spent, while with utilities, government bodies and non-Amex issued insurance, you'll earn 0.5 points per $1 spent.
Hundreds of thousands of merchants accept Amex in Australia, and that number is growing, so there's no shortage of places where you can rake in the points with this card.
The points will be credited to your business' Qantas Business Rewards (QBR) account. QBR is a program that rewards businesses with savings on flights and points on purchases. Membership is complimentary with your card.
From your QBR account, you can transfer points to any Qantas Frequent Flyer member including yourself, employees or family members – giving you a lot of flexibility with how you use your points.
2. Earn triple Qantas Points when you fly
You'll earn Qantas Points and Status Credits like any Qantas Frequent Flyer when you fly with Qantas. On top of that, you'll earn triple Qantas Points on eligible Qantas flights booked with your card, up to 4 million points per membership year.
Eligible flights are domestic or international flights with a QF flight number purchased in Australia and operated by Qantas, Emirates or American Airlines.
Triple points are earned when anyone travels on flights booked using your card.
3. Relax at a Qantas Club twice a year
Relax before your next flight in style, even if you're flying economy.
You'll receive two Qantas Club passes each year, which will be triggered when you pay for an eligible Qantas purchase with your card.
Eligible Qantas purchases are Qantas passenger airfares with a QF flight number purchased directly from Qantas Australia, and Qantas Frequent Flyer, Qantas Business Rewards or Qantas Club membership, joining or annual fees.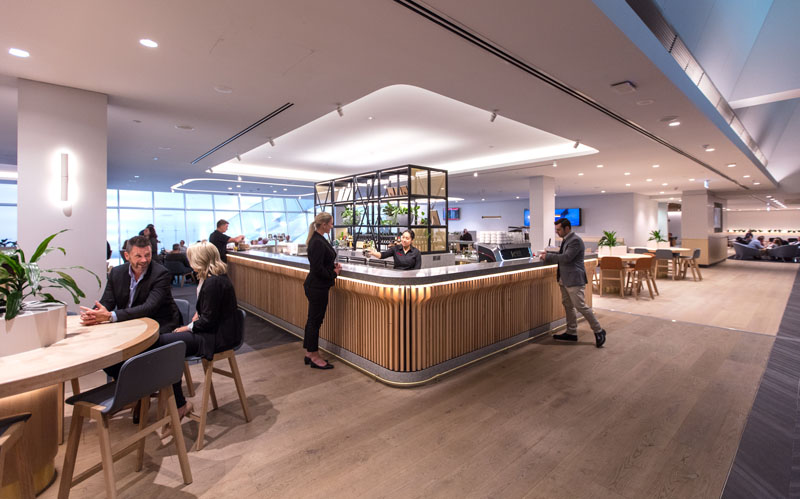 Relax in a Qantas Club twice a year
You can use the passes for yourself or a travel partner, or easily transfer them to someone else.
These passes are valued at over $50 each, giving you at least $100 of value here each year.
4. Travel securely with domestic and overseas travel insurance
You'll receive domestic and international travel insurance cover for you, your family and employees who hold additional cards when the card is used to pay for travel arrangements.
You'll be covered for:
inconvenience costs (flight delays and cancellations, and luggage delays)
medical expenses
damaged, destroyed, lost, or stolen baggage, money and documents
trip cancellation costs
transport accidents
personal liability.
If you're currently paying for travel insurance and this cover meets your needs, you can save money by relying on it.
5. Save time and money with other features
Your business will also benefit from these features:
up to 99 complimentary additional cards, which will help you earn more Qantas Points while easily keeping track of expenses
save up to 8% on the base fare of eligible Qantas flights
save up to 20% on Qantas Club membership fees
no pre-set spending limit when you pay your balance in full each month
Flexible Payment Option: you can opt to spread out payments for purchases (up to $35,000) over time. Enrollment is complimentary.
integration with MYOB, Xero and other accounting software.
Plus 100,000 bonus Qantas Points
Receive 100,000 bonus Qantas Points when you apply online by 29 January 2020, are approved and spend $3,000 on your new card in the first two months.
The bonus points, together with the points earned on meeting the minimum spend, could help you take off on holiday sooner. For example, you'll have enough points to fly:
from eastern Australia to Los Angeles, Santiago or Johannesburg with Qantas in economy return (83,800 Qantas Points plus taxes and fees)
from eastern Australia to Athens or Istanbul with Emirates in economy return (102,400 Qantas Points plus taxes and fees)
from Perth to London, Los Angeles, Santiago or Johannesburg with Qantas or Emirates in economy return (102,400 Qantas Points plus taxes and fees)
from Australia's east coast capitals to Hong Kong or Singapore with Qantas in premium economy return (102,600 Qantas Points plus taxes and fees)
one way in stylish business class from eastern Australia to Tokyo with Qantas or from Perth to Dubai with Emirates (up to 82,000 Qantas Points plus taxes and fees).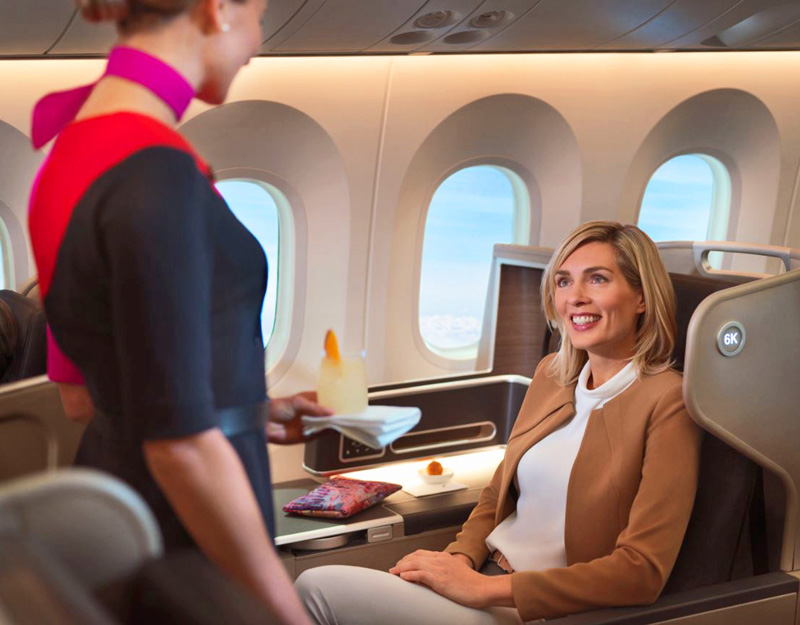 Use your points to enjoy Qantas business class
This offer is only available to new American Express Card Members. That means you must not have held a card issued directly by Amex Australia in the last 18 months. However you are still eligible if you've held an Amex card issued by a bank (i.e. Westpac, ANZ, CBA or NAB) or you're an additional card member on someone else's account.
The card annual fee is $450, which should be tax deductible if you use it for business purposes (chat with your accountant). The minimum annual business revenue to qualify is $75,000 and you need to hold a valid ABN that is registered for GST.
Don't miss out on this opportunity to add a top-quality card to your wallet along with a huge swag of bonus points.


Important: This article is not intended to suggest that you should apply for a credit product. You should seek independent, professional advice and consider your personal circumstances before deciding to apply for a credit product.
If you apply for a card via a link in this article, we may receive a commission from Amex. This income helps keep our site running, and we thank you for your support. Read more in our Credit Cards Disclosure.