Virgin Australia completed its transformation from a low-cost carrier to a full-service airline long ago, but I still encounter people whose perceptions of the airline are tainted by its 'no frills' past.
The fact is, Virgin Australia is competing directly with Qantas in the premium leisure and business travel markets, and doing so very well. Its fleet has grown to over 100 aircraft serving a wide range of domestic and select overseas destinations, and it has improved fit-outs and services to match its arch rival.
Until recently, I exclusively flew with Qantas only because I was in the endless cycle of chasing status. But when Virgin ran a promotion offering an amazing 30% off award bookings, I couldn't resist.
I booked a seat from Melbourne to Perth on an A330 so I could try the airline's award winning 'The Business' product. Since I've flown Melbourne-Perth in Qantas' A330 'Business Suites' many times, I thought this would make for a good comparison.
I loved the flight with Virgin Australia. Everything was at a very high standard – the lounge, service, seat, dining and entertainment – and some aspects were actually superior to what I've experienced with Qantas. I can see myself flying a lot more with Virgin Australia in the future.
Here's my review of the flight.
Flight details
Route: Melbourne to Perth
Flight number: VA685
Departure: 1.05 pm
Arrival: 2.20 pm
Flight length: 4 hours 15 mins
Seat: 2G (business class)
Cost: 24,800 Velocity Points (includes a 30% discount) plus $20 in taxes and fees.
At the airport
Virgin Australia operates from Terminal 3 at Melbourne Airport: a modern terminal with self-service check-in kiosks, automated bag drop facilities and crewed service pods.
The terminal is currently being upgraded to provide a Premium Entry for business class guests and platinum and gold frequent flyers, which will include dedicated check-in, bag drop and security screening features, and direct access to the Virgin Australia Lounge. This is expected to be completed in 2020/21.
I found the existing check-in process to be very simple and smooth. I was in the lounge only a few minutes after arriving at the airport (note that, until the redevelopment is completed, the lounge is located landside i.e. before security screening).
Unlike Qantas, which in major airports has separate business class and Qantas Club lounges, Virgin Australia operates one lounge for all eligible customers.
I really like the Melbourne lounge: it's modern and spacious with plenty of seats, and I appreciated the variety of zones for relaxing, dining and working.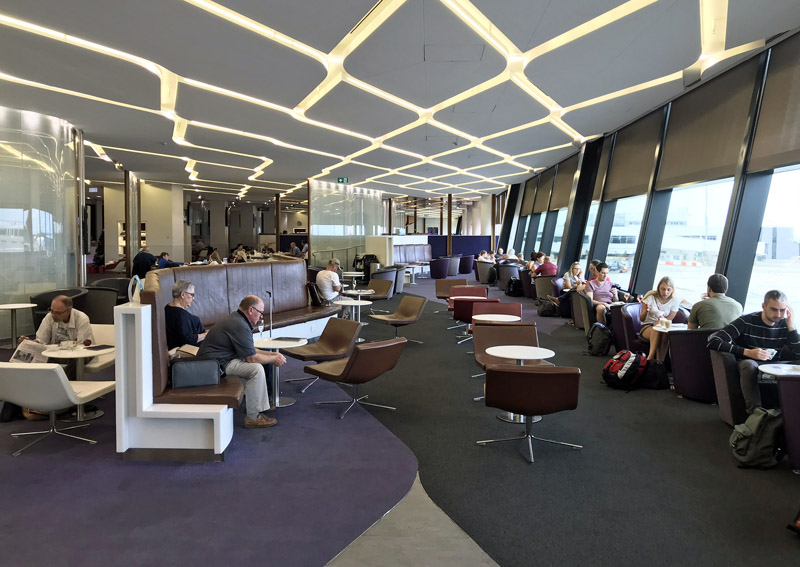 Virgin Australia Melbourne lounge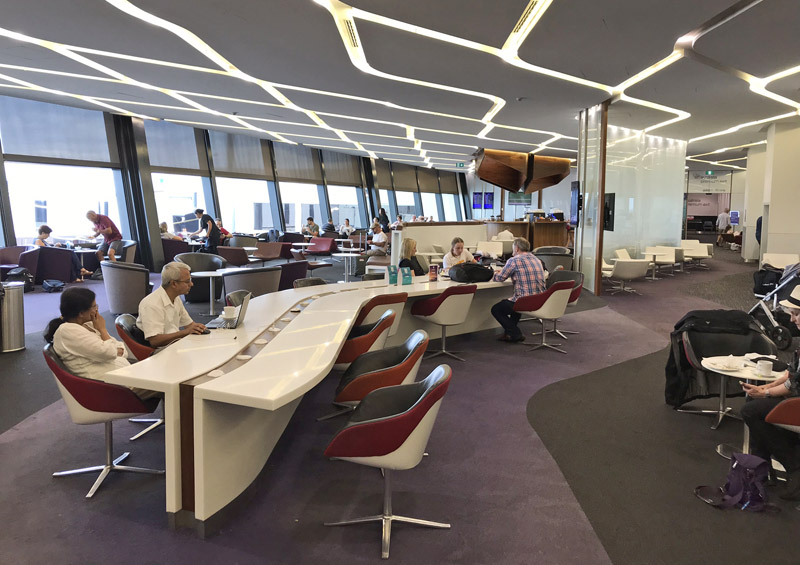 Virgin Australia Melbourne lounge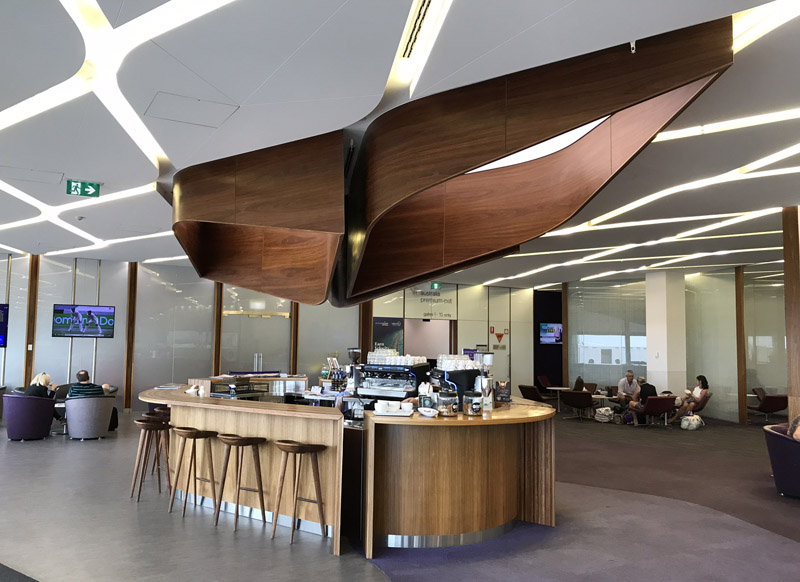 Virgin Australia Melbourne lounge
The lounge has a full service bar and a hot and cold buffet.
The lunch menu when I visited featured penne bolognaise, two soups, two salads (chilli lime chicken and sweet potato noodles), toasted sandwiches, fruit and snacks.
The cabin
The first thing you notice upon boarding a Virgin Australia A330 (and 777) is the stylish cabin fitout, which features lots of dark and purple tones and mood lighting. It looks great!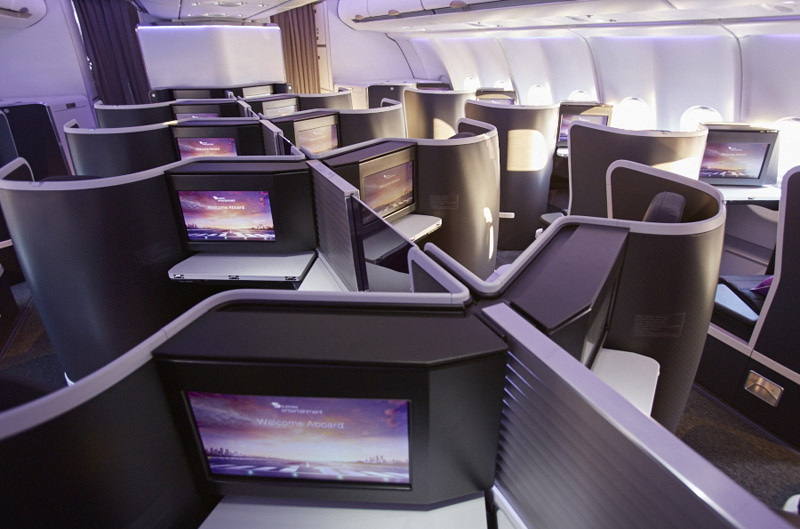 Virgin Australia A330 business class cabin
In business class there are 20 seats spread across five rows in a 1-2-1 layout, ensuring every passenger has direct aisle access.
I really like the 'reverse herringbone' configuration where the seats are angled so that window seats face the window slightly while the centre seats are turned towards each other, which is great for couples (otherwise, there's an adjustable privacy barrier).
There are three lavatories in the cabin: one at the front and two at the back, though on my flight one of the back ones was also made available to economy passengers.
The seat
The business class seat is very comfortable, with 21 inches of width (more if you lower the adjustable arm rest), loads of leg room and a full recline into bed mode.
Each passenger has access to a shelf space, a reading light, USB and power ports, an iPad holder and storage compartments. A height-adjustable table pops out from under the entertainment screen.
Virgin Australia A330 business class seat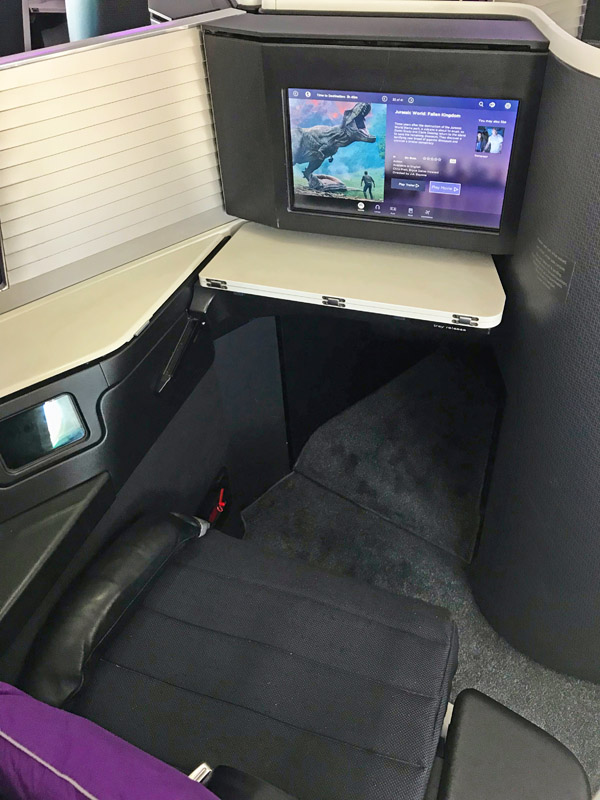 Virgin Australia A330 business class seat
When I boarded, the crew member working on my side of the cabin came over to introduce himself and asked if I'd flown in the business seat before. When I replied that I hadn't, he offered to explain all the features, which I appreciated.
The service
The service was fantastic.
Upon boarding, we were warmly greeted by the crew, who introduced themselves. We were then offered a welcome drink of water, juice or sparkling wine (you don't get bubbles on Qantas domestic!), followed by a warm towel (with one also offered at the end of the flight – also something never seen on a Qantas domestic flight).
Later, we were also given a blanket and a bottle of water for the journey.
Throughout the flight, the crew were very friendly and attentive – not too much, but just enough.
My wine glass was never empty and when I called to ask for something, the response was almost instant.
Overall, the service was truly top-notch.
Dining 
A crew member came around to take drink and food orders shortly after we took off.
Passengers could choose a full three-course meal, an express two-course light lunch or snacks. I went with the full meal, the menu for which was as follows.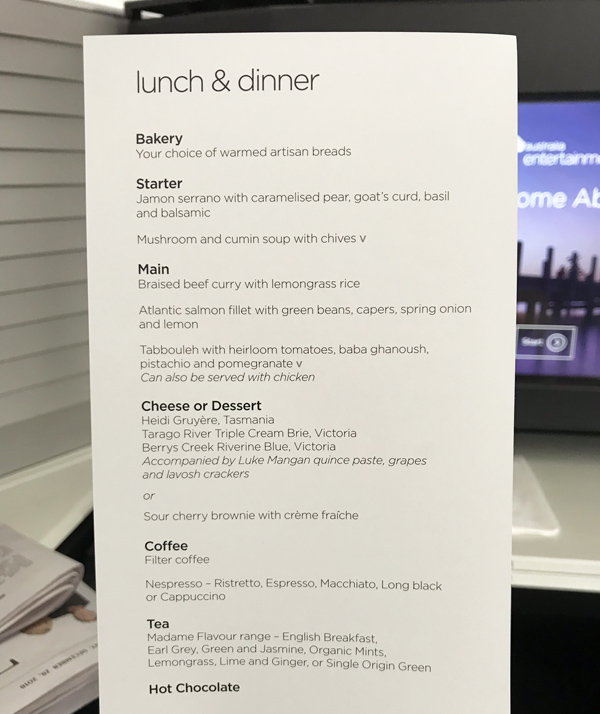 Here was the drinks menu.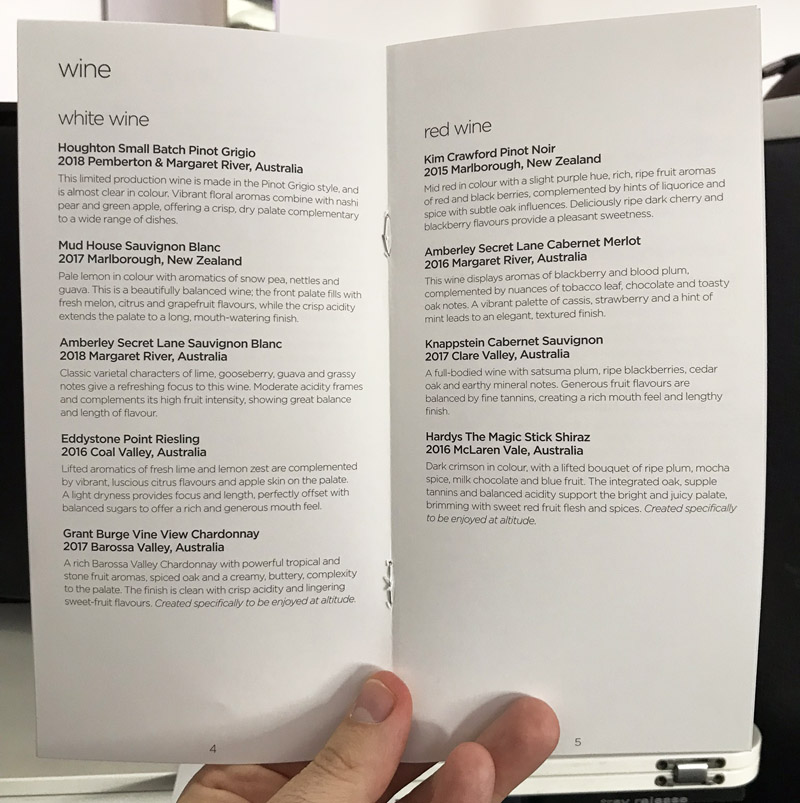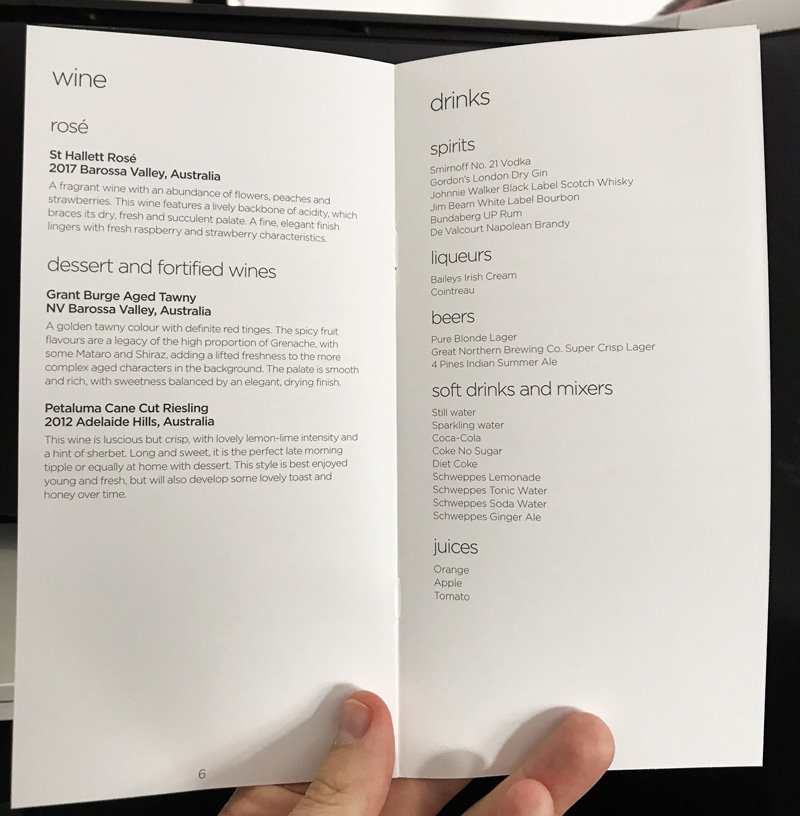 My wine came out quickly, along with some nuts and olives.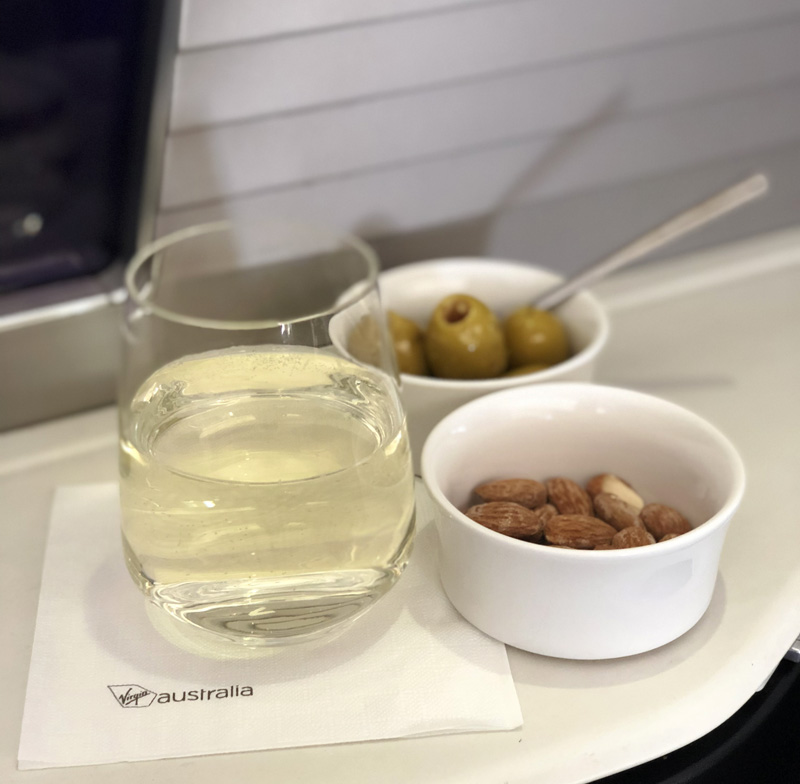 Wine with olives and nuts
For the starter, I chose the jamon with caramelised pear and goat's curd, which was delicious.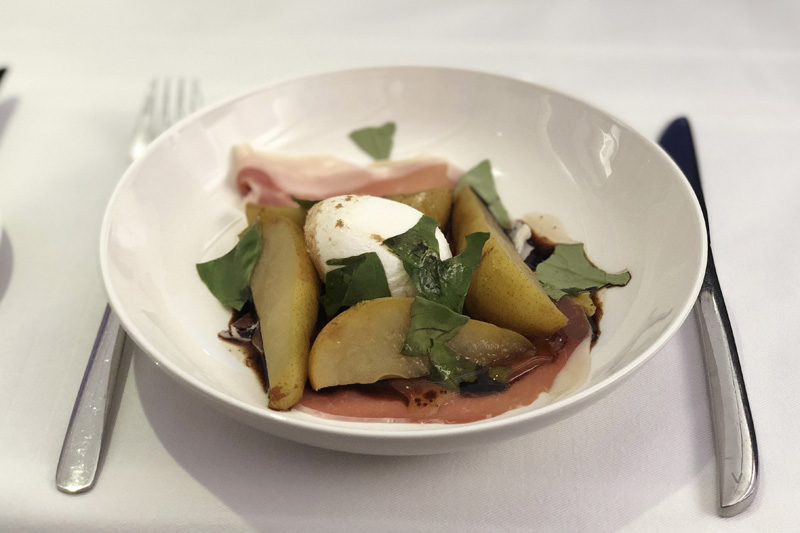 Starter
Next came the main, which was an excellent salmon dish.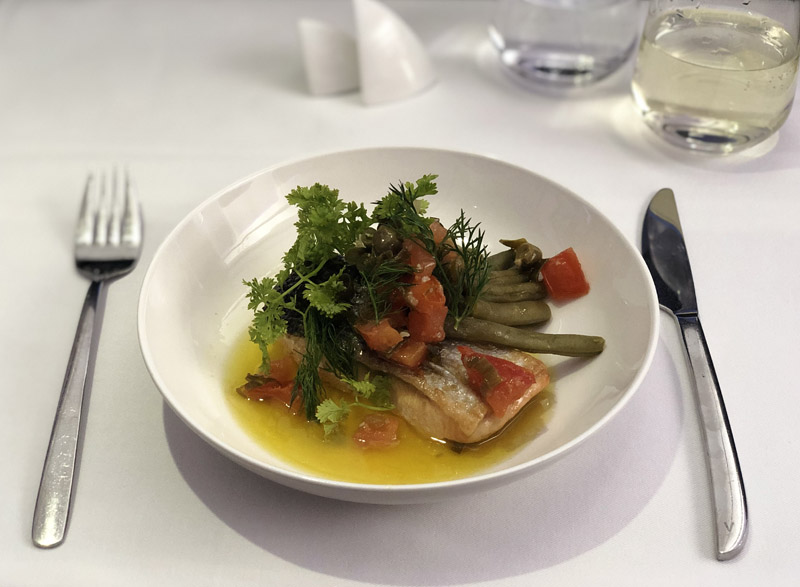 Main dish
Finally, I passed on the dessert, but thoroughly enjoyed the cheese plate, which I paired with a dessert wine (followed by whisky!).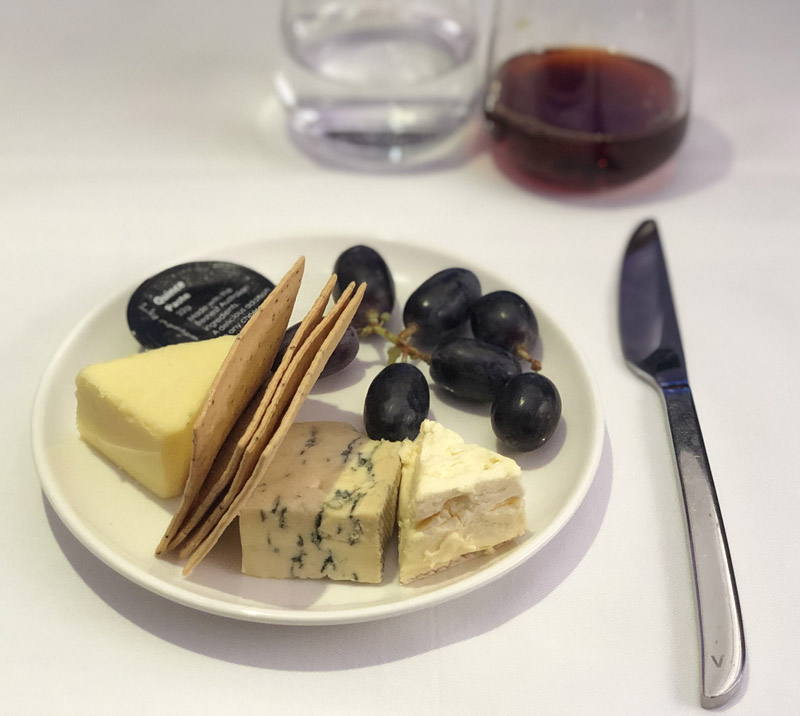 Cheese to finish
Overall, this was a better meal than any I've had on a Qantas domestic flight – a very pleasant surprise indeed!
The entertainment 
A 16-inch high-definition screen provided access to a wide range of films, TV shows, music and games.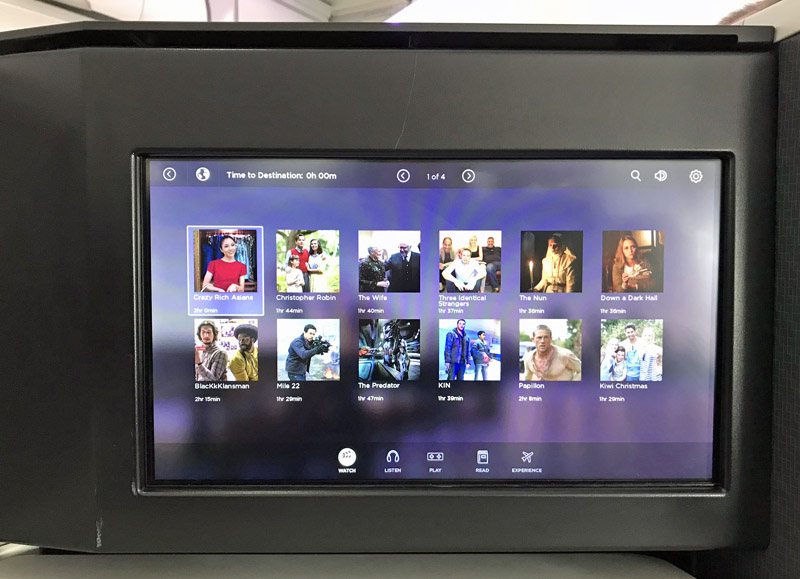 The entertainment system was easy to use and controlled by touch or via a remote control in the seat.
Noise-cancelling headphones were also provided.
Summing up
After many years of flying Qantas A330 domestic business class between Melbourne and Perth, I couldn't help but constantly compare the experience. And to be honest, everything was either equal or superior on this Virgin Australia flight.
I thought the lounge, seats and service were on par with what I'd experienced with Qantas, while the meal was better with Virgin Australia, and I really appreciated the little things like offering sparkling wine as a welcome drink and the hot towels.
I'm not willing to make the call that Virgin Australia is superior based on just one experience, but it certainly exceeded my expectations, and I truly can't wait to try it again.
To get reviews like this delivered straight to your inbox, subscribe to our newsletter: