Qantas has announced it will reopen a number of its domestic and regional lounges from tomorrow following the easing of travel and venue capacity restrictions.
The airline closed its lounge network on 23 March as the COVID-19 crisis escalated and government restrictions forced the shut down of most domestic and international flying.
With the relaxing of state-based restrictions and an increase in domestic capacity, Qantas is able to begin a phased reopening of lounges which support the current domestic network, starting with 11 of its 35 Australian domestic lounges.
As part of the Qantas Group's 'Fly Well' program, a number of measures will be put in place across the lounge network to promote the health and wellbeing of passengers and staff, including:
capping the number of guests to comply with state-specific restrictions on indoor gatherings
a hosted All-Day Snacking Station replacing 'self serve' buffets and drink stations
disposable coffee cups
additional cleaning protocols
sanitising stations
Customers will be able to choose from a selection of bespoke dishes from staff offering a personalised tray around service, or select individual treats from serviced Snacking Stations.  They can also order coffee, fresh squeezed juice, beer and wine from the barperson and barista.
The individually plated menu items will change daily and will include a variety of dishes from roast field mushrooms, kale and cheese tarts with tomato relish; bacon and egg rolls; bacon, chili and parmesan frittatas; to blackberry cheesecakes and carrot and pecan cakes with cream cheese frosting. Melbourne's Spice Bar and Perth's Pizza bar will also be in operation.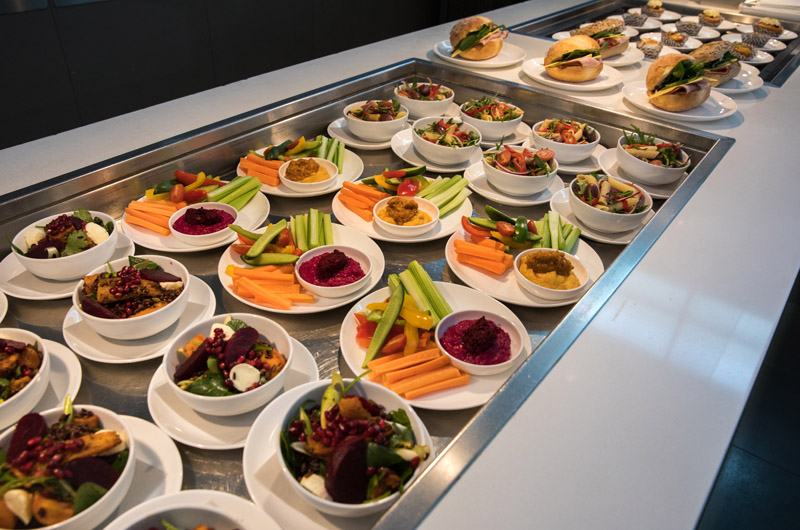 All-day snacking station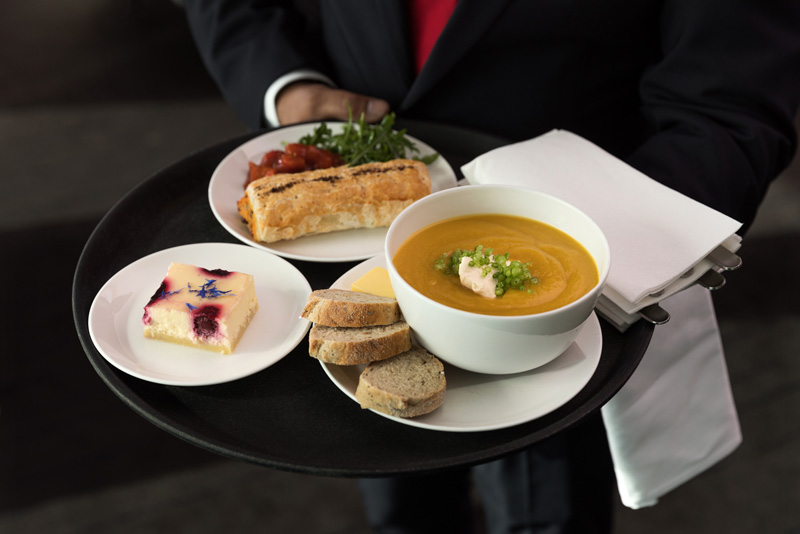 Tray service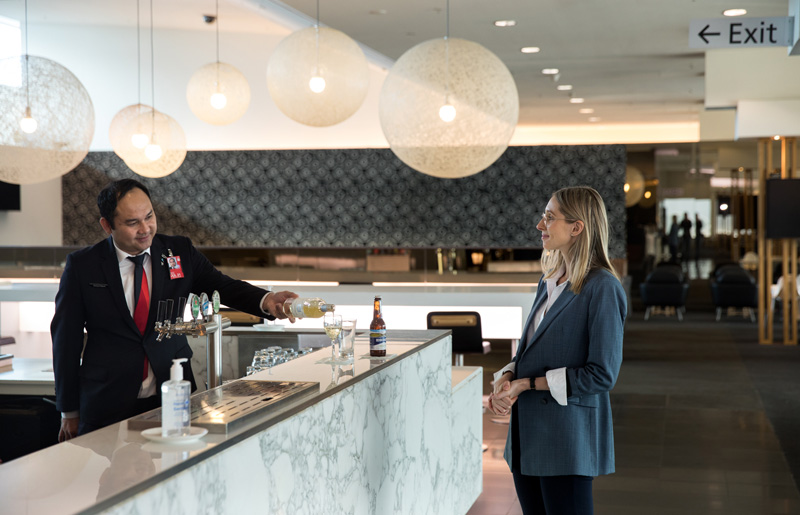 Bar service
Lounge access eligibility conditions apply, however there's some new temporary measures in place:
If a Qantas Club lounge is closed and a Business lounge is open in that same airport, you'll be able to access the Business lounge if capacity limits haven't been met.
If you'd like to bring a guest into the lounge, you both must be travelling on the same Qantas flight.
Due to capacity restrictions, you may not be able to enter the lounge if you:
have a complimentary lounge invitation,
are a guest of an eligible lounge member and you aren't travelling on the same flight as the member, or
are a guest of an eligible lounge member and you aren't travelling.
Lounges opening from 1 July include:
Capital city lounges: Sydney Domestic Business Lounge, Perth Domestic Business Lounge, Adelaide Qantas Club, Canberra Business Lounge
Regional lounges: Alice Springs, Kalgoorlie, Tamworth, Coffs Harbour, Broome, Karratha, Launceston.
Queensland and Victoria lounges are scheduled for progressive reopening from July 10 as current gathering restrictions are eased.
All Qantas Lounges at international airports both in Australia and overseas remain closed.
Qantas has automatically extended Qantas Club membership for six months for those eligible paid Qantas Club members with a membership anniversary between 23 March 2020 and February 2024. Qantas Frequent Flyer also extended member tier status for 12 months.
You can stay up date with lounge changes on Qantas' site here.
To get news like this delivered straight to your inbox, subscribe to our newsletter: