Qantas has announced a range of initiatives from its loyalty program designed to give members more value as travel resumes.
First up, Qantas is making it easier to use points on domestic and Trans-Tasman flights (when those flights resume). For the rest of 2020, Classic Flight Reward seat availability will be increased by up to 50 per cent to the most popular destinations in Australia and New Zealand including Cairns, Sunshine Coast, Sydney, Queenstown and Auckland.
To help regular flyers maintain their travel benefits, in addition to the 12-month Status Extension announced in March 2020, Silver, Gold, Platinum and Platinum One members with a status end date between March 2021 – February 2022 will automatically receive 50 per cent of the Status Credits they need annually to keep their tier.
Members most impacted by the travel restrictions, ie. those with a status end date between March – August 2021 will also be eligible for additional monthly Status Credits until September 2020. The number of monthly Status Credits you receive depends on your status at the time the support is awarded: 5 for Silver, 15 for Gold, 50 for Platinum, and 150 for Platinum One. Members who have a March – June 2021 status end date will receive their Status Credit Support (backdated to April 2020 where applicable) by 22 July 2020. For members who have a status end date of July and August 2021, you will receive a confirmation email in August and/or September.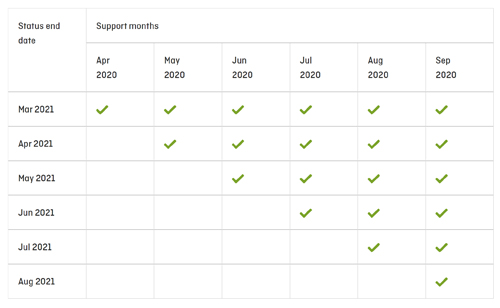 Loyalty Bonuses for members (ie. the bonus 50 status credits received for every 500 Status Credits earned) will now also count towards reaching or retaining Platinum One until 31 December 2021.
Other initiatives include:
Better value on accommodation: The number of points required for Points Plus Pay Qantas Hotels bookings (but not classic reward bookings) will decrease by 20 per cent effective immediately. Members will also receive 5,000 points back when they book a minimum of 3 nights before 31 August 2020 for stays before 31 March 2021. There's also 

up to 125 bonus Status Credits

 up for grabs across selected Qantas Hotel Luxury Offers. Simply book before 31 August for stays before 31 March 2021.
Greater flexibility: As previously announced, to enable members to plan their holidays with more confidence, bookings made using points on Qantas Group flights will have any change or cancellation fees waived until 31 October 2020.
More Points Planes: Qantas Frequent Flyer will launch more Points Planes – exclusive flights for frequent flyer redemptions – to meet the pent-up travel demand of members and boost Australian tourism. Timings and destinations of the flights will be released over the coming months.
Improved digital experience: Qantas Frequent Flyers will soon have a new way to plan their holidays with points. 'Dream Planner', live from 28 July 2020, uses real time data and notifications to keep members informed on reward seat availability and special offers to their preferred destinations.
Qantas Loyalty CEO, Olivia Wirth said: "We've been listening to our Frequent Flyers closely over the last few months about how they feel about travel, where they want to go and how they want to use their points," Ms Wirth said.
"What emerged was that despite what's going on around the world, the notion of the dream trip is well and truly alive, they're just looking a little closer to home.
"Qantas Frequent Flyers are some of the country's biggest advocates for travel and this has been reflected in the number of bookings we're seeing as travel restrictions ease.
"That's why we're continuing to invest in making our members' travel dreams a reality with more choice, better value and greater flexibility."
More information is available on Qantas' website.
To get news like this delivered straight to your inbox, subscribe to our newsletter: