As travel restrictions start to ease across the country, Qantas and Jetstar will increase their domestic and regional flying for June and July.
The additional services will see capacity increase from 5 per cent of pre-Coronavirus levels to 15 per cent by the end of June. This equates to more than 300 extra return flights per week.
Additional flights will likely operate during July depending on travel demand and further relaxation of state borders, with the ability to increase to up to 40 per cent of the Group's pre-crisis domestic capacity by the end of July.
Details of the additional flights include:
More services on capital city routes particularly Melbourne-Sydney and a number of routes to-and-from Canberra.
Increased intra-state flights for Western Australia, Queensland, New South Wales and South Australia. Broome, Cairns and Rockhampton to see a significant boost in weekly flights.
Flights will resume on eight routes not currently being operated. These are Adelaide-Melbourne, Melbourne-Ballina Byron Bay, Sydney-Moree, Melbourne-Newcastle, Brisbane-Cairns, Brisbane-Townsville, Brisbane-Hervey Bay, and Brisbane-Whitsunday Coast (Proseprine).
Qantas to commence flights from Sydney to Byron Bay (Ballina), after the route launch was postponed due to the Coronavirus.
A state by state breakdown of the Group's domestic and regional schedule can be viewed here.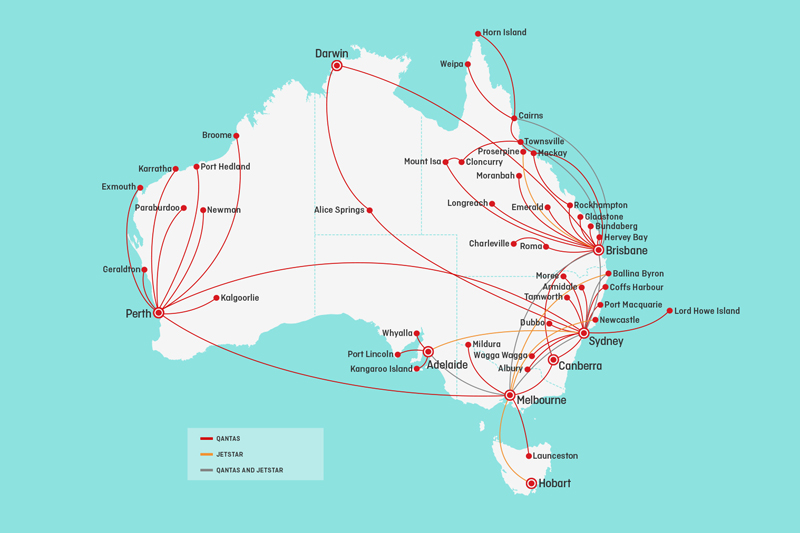 Qantas Group June 2020 Network Map
As part of the Group's 'Fly Well' program, Qantas and Jetstar will have a range of measures in place from 12 June 2020 to ensure a safe environment at airports and onboard aircraft and to give customers extra peace of mind. This includes contactless check-in, enhanced cleaning, and masks and sanitising wipes provided to all customers.
As a result of the additional flying, both airlines will be standing up more employees to operate and support these services. However, given the Group network remains significantly below pre-Coronavirus levels, the majority of Qantas Group employees will remain stood down.
To provide customers with greater flexibility and confidence when they book, all Qantas and Jetstar domestic customers can change the date of their flight once, without paying a change fee. Bookings need to be made before 30 June 2020, for travel between 12 June and 31 October 2020. Customers will have to cover any fare increase (if relevant) for the new booking.
Qantas Frequent Flyers using points to book a reward seat on any Qantas or Jetstar flight can change the date or cancel their booking, free of charge until 31 October 2020. Classic Reward seats are available to book across Australia, including during school holiday periods.
For more information, visit the Qantas and Jetstar websites.
To get news like this delivered straight to your inbox, subscribe to our newsletter: