Qantas Points lovers, don't miss the huge offer of 100,000 bonus Qantas Points and 50 Status Credits with Amex's highly rewarding mid-tier card, the Qantas American Express Premium Card. The last day to apply for this offer is this Wednesday 4 Nov 2020 (new Card Members only).
Click here to read more and apply on Amex's website.
The Qantas Premium Card is a great choice if you're looking for a strong Qantas Points earn rate on spend as well as complimentary travel benefits like Qantas lounge passes and travel insurance cover.
With an annual fee of $249 and a minimum income requirement of $40,000, this card is also very accessible, especially compared to Amex's top-tier Qantas Ultimate Card (which has a $450 annual fee and $65,000 minimum income).
Here's an overview of the card benefits you can enjoy.
1. Receive a high points earn rate on spend
You'll be rewarded on everyday purchases by earning 1 Qantas Point per $1 spent: a very strong earn rate.
You'll receive 2 Qantas Points per $1 spent on selected Qantas products and services in Australia, and 0.5 Qantas Points per $1 spent with government bodies.
Hundreds of thousands of merchants accept Amex in Australia, and that number is growing, so there's no shortage of places where you can earn points with this card.
There's also no cap on how many points you can earn.
2. Enjoy two Qantas Lounge passes each year
Relax before your next flight in style, even if you're flying economy.
Each year, you'll receive two Qantas lounge invitations valid for both domestic Qantas Clubs and Qantas International Lounges in Australia and overseas (once international travel resumes).
These invitations will be activated in your Qantas Frequent Flyer account after your first card spend on selected Qantas products and services, such as flights booked directly with Qantas.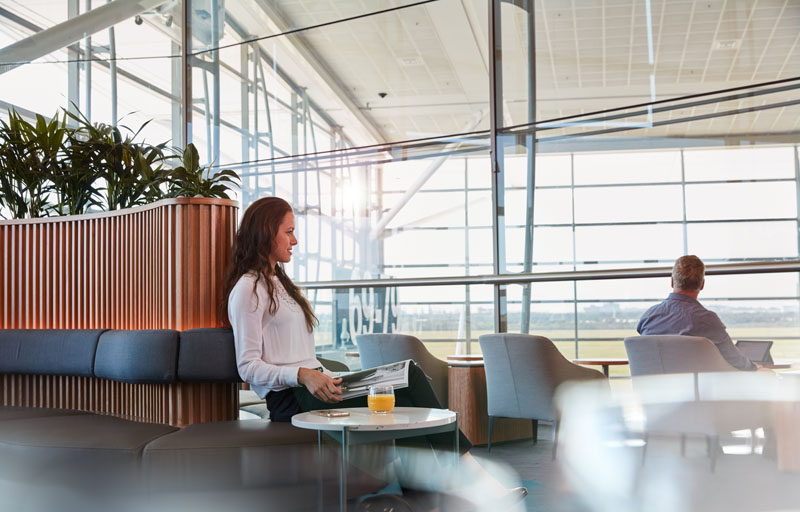 Relax in a Qantas lounge before your flight
You can use one of the lounge invites to bring in a guest, or transfer one or both invites to another Qantas Frequent Flyer member.
3. Travel securely with domestic and overseas travel insurance
You receive complimentary travel insurance cover when you pay for a domestic or international return flight with your card or use Qantas Points to book.
This cover extends to your domestic partner and dependent children up to the age of 22 when they are travelling with you.
You'll get:
Medical Emergency Expenses Cover up to $2,500,000
Transport Accident Cover up to $200,000
Travel Cancellation Cover up to $7,500
up to $5,000 to cover loss or damage to baggage, money or documents
Travel Inconvenience Cover up to $200 if your flight departure is delayed
If you're currently paying for travel insurance and this cover meets your needs, you can save money by relying on it.
4. Enjoy a range of other benefits
This card comes with many other perks, including:
up to 4 free additional cards for family members or friends – an easy way to earn points faster
complimentary premium membership to Qantas Wine (worth $99) – get free delivery Australia-wide and earn 3 points per $1 spent
up to 44 days interest free on purchases (the interest rate thereafter is 20.74%)
'buy now, pay later' with American Express Plan It™ Instalments: pay off your card balance in equal monthly instalments with 0% interest and a fixed monthly fee
a complimentary year of Calm Premium membership – the award-winning sleep, meditation and relaxation app, valued at $79.99. Plus, get 50% off the following year if you choose to continue. Ends 31 December 2020
Refund protection: Amex will credit your account if you're refused a refund on an unused eligible item within 90 days of purchase
Purchase protection: you'll be covered for a repair or refund of an eligible item if it is accidentally broken or stolen within 90 days of purchase
use your card with Apple Pay, Google Pay or Samsung Pay
Amex Offers: save money with regular discount offers with top brands
American Express Experiences: access sought-after events like music, theatre and film, including via pre-sale tickets, and enjoy exclusive lounges at selected events.
Plus 100,000 bonus Qantas Points and 50 Status Credits
Receive 100,000 bonus Qantas Points and 50 Status Credits when you apply online  by 4 November 2020, are approved and spend $3,000 on your new card within the first 3 months.
These bonus points, together with the points earned on initial spend, are enough to fly domestically with Qantas up to 12 times in economy or 5 times in business class, depending on distance (plus taxes and fees).
Once overseas travel resumes, you'll also have enough points to fly:
from anywhere in Australia to Los Angeles, Santiago or Johannesburg with Qantas in economy return (costing up to 102,400 Qantas Points plus taxes and fees)
in business class one-way from eastern Australia to Tokyo with Qantas or from Perth to Dubai with Emirates (costing up to 94,900 Qantas Points plus taxes and fees).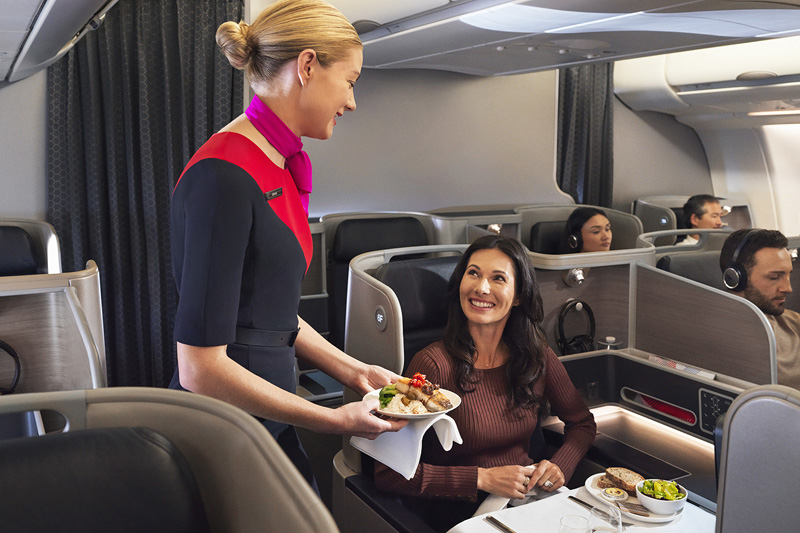 Use your points to experience Qantas business class
This offer is only available to new American Express Card Members. That means you must not have held a card issued directly by American Express Australia in the last 18 months. However, you are still eligible for this offer if you've held an Amex card issued by a bank (i.e. Westpac, ANZ, CBA or NAB) or if you're an Additional Card Member on someone else's account.
The minimum income for this card is $40,000 per year and the annual fee is $249.
This very generous offer is almost gone, so don't miss out.


Important: This article is not intended to suggest that you should apply for a card. You should seek independent, professional advice and consider your personal circumstances before deciding to apply for a card.
If you apply for a card via a link in this article, we may receive a commission from Amex. This income helps keep our site running, and we thank you for your support.
Read more in our Cards Disclosure.