HSBC is offering a generous 60,000 bonus Qantas Points with the HSBC Platinum Qantas Credit Card, which is one of Australia's best Visa cards for modest spenders who love earning Qantas Points.
This is one of the biggest bonuses you'll ever see for a sub-$200 annual fee card. On top of that, cardholders enjoy a range of valuable perks that largely offset the $199 annual fee.
If you're looking for a high-quality Visa card to add to your wallet, this is one of my favourites on the market.
Here are the main reasons I love this card, with more details and a mobile-friendly application form, here.
1. Receive a high points earning rate on your spending
The HSBC Platinum Qantas Credit Card is one of the few Visas or Mastercards in Australia that earns 1 Qantas Point per dollar on everyday spending.
You'll earn 1 Qantas Point per dollar on eligible purchases in Australia and overseas, capped at $2,500 each statement period (which is roughly a month). Above this cap, you'll earn a decent 0.5 Qantas Points per dollar up to a maximum of 7,500 points per statement period.
Eligible purchases are all purchases except interest free and other promotions, balance transfers, business expenses, cash advances, fees and charges, disputed transactions, BPAY® and government fees or charges.
If you're not a massive spender (which is most people), then you're unlikely to exceed the $2,500 monthly cap (or at least not by much). That means you can be satisfied you're getting a fantastic points earning rate on your spending.
As a bonus, you'll receive an extra 1 Qantas Point per dollar on selected Qantas products and services, such as flights (these bonus points are not subject to capping).
2. Enjoy complimentary domestic and overseas travel insurance
You'll receive 4 months of insurance cover for overseas travel, provided at least 90% of your return travel ticket has been charged to your card.
This cover extends to your spouse and dependants so long as they are travelling with you and at least 90% of their overseas return travel tickets were paid for on the card.
I really like the cover provided by the insurance policy. It includes cover for:
unlimited hospital and medical expenses
luggage and travel documents (up to $25,000 for an individual or $40,000 for a family)
travel cancellation, delay and disruption costs
rental vehicle excess up to $3,000
legal liability up to $2.5 million
transit accident insurance.
You'll also receive complimentary domestic travel insurance when you pay for your and your family's return tickets with your card. It includes cover for trip delay and cancellation costs, luggage delay and loss, and rental vehicle excess.
3. Save money with free membership to Frequent Values™ by Entertainment Publications
Many people love saving money with the popular "Entertainment Book" and with the HSBC Platinum Qantas Credit Card you'll get a free digital membership that similarly entitles you to over 4,500 offers at restaurants, supermarkets, department stores, cinemas, family attractions, hotels and more.
Membership is worth $89, and you can easily save hundreds of dollars each year with perks like:
20% off your total bill at over 1,900 restaurants (up to $25)
up to 50% off the rack rate or 10% off the best promotional rate at leading hotels, motels and resorts
savings at leading national attractions, local activities, popular takeaway outlets and more.
4. Enjoy a range of other valuable card perks
Here's a rundown of other valuable card perks you'll receive:
free supplementary cards for family or friends over 16 years of age
an optional 0% balance transfer from non-HSBC cards for 12 months
free Qantas Frequent Flyer membership if you're not already a member (saving you $89.50)
Purchase Protection Insurance: 90 days of worldwide cover against loss, theft or accidental damage of personal goods purchased with your card
Extended Warranty Insurance: up to one year on top of the manufacturer's Australian warranty for personal goods purchased with your card
Guaranteed Pricing Scheme: compensation when you buy a personal good at a physical store and it's then advertised at a store nearby for cheaper
Visa Premium Benefits: your connection to exclusive experiences, from backstage passes to tickets to gallery openings
home&Away Privilege Program: use your HSBC credit card to get discounts and exclusive offers at over 27,000 merchants in Australia and overseas.
Phew!
How to qualify for the 60,000 Qantas Points and apply
60,000 Qantas Points goes a long way. For example, it's enough to fly from Sydney to Bangkok in economy return (56,000 points) or one way in style in business class (60,000 points).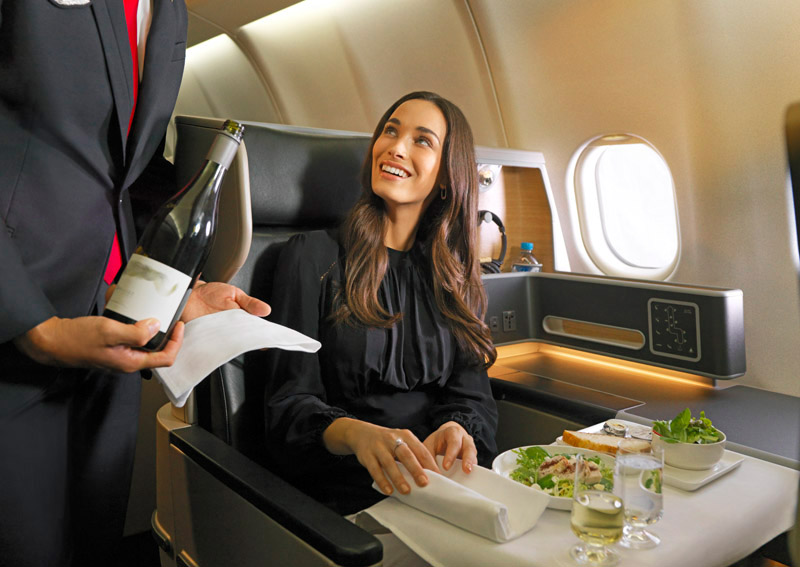 Use your points to enjoy Qantas business class
The minimum spend to receive the 60,000 bonus Qantas Points is $3,000 on eligible purchases within 3 months of account opening, which should be fairly easy to achieve.
Existing HSBC customers transferring from another HSBC credit card or customers who have held a HSBC Platinum Qantas Credit Card within the last 18 months or HSBC Premier World MasterCard or HSBC Staff are ineligible for this offer.
The minimum income is $40,000 p.a. – which makes this card very accessible – and the minimum credit limit is $6,000.
The annual fee is $199, which makes this card excellent value when you consider all the perks. That's why I rate it as one of the best Qantas Points-earning cards in Australia.
The 60,000-point bonus is the biggest we ever see for a mid-range card like this one, so if you're interested, don't delay – you could be booking a 2018 holiday with your points in no time!
You should seek independent, professional advice and consider your personal circumstances before making a decision to apply for a credit product. We are not a credit services provider and we are not suggesting that you apply for this credit product. 
If you decide to apply for this card via the above link, we'll receive a small commission from HSBC. This income helps keep the blog running, and we thank you for your support.