Flying with Emirates is easily one of the best and most popular uses of Qantas Points – or at least it was until the pandemic struck! Emirates is very popular thanks to its huge global network, which can take you almost anywhere in the world, as well as the fun and stylish experiences it provides at the pointy end, like first class showers and cocktail bars.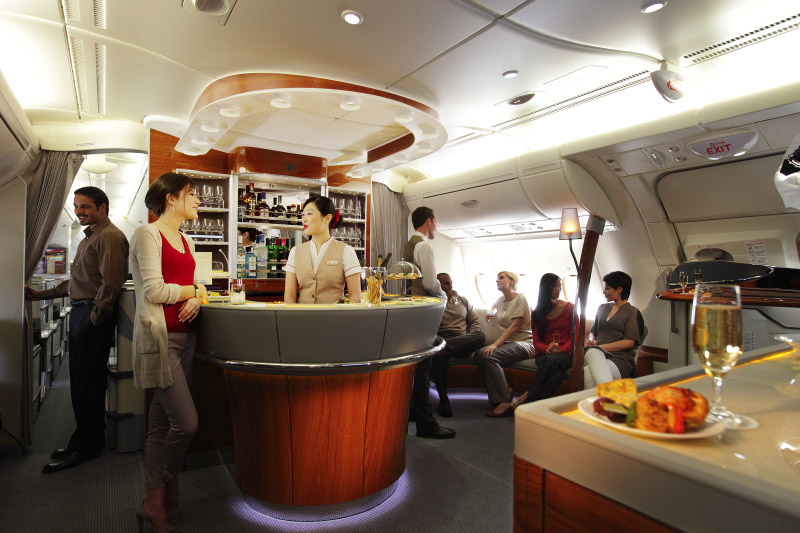 Emirates A380 business and first class bar
One major downside of booking Emirates award seats, though, has been the exorbitant fees it levies on bookings made both through its own frequent flyer program and via partners like Qantas – especially in business and first class. On long-haul routes like Australia-Europe, a return trip in business or first class used to require paying more than $1,000 in addition to the points component, largely due to a high "carrier charge" imposed by Emirates.
Most airlines impose carrier charges these days, however Qantas and Emirates have historically been among the worst culprits. Qantas reduced its fees last year as part of sweeping changes to the Qantas Frequent Flyer program. The good news is that Emirates appears to now have finally done the same.
Emirates isn't publicising this change, but eagle-eyed points hackers have spotted it. For example, the carrier charge for a business or first class flight from Sydney to Dubai has suddenly gone from $371 to $227 – a saving of $144. In economy, it's dropped from $148 to $76 – a saving of almost 50%.
A one way trip from Paris to Perth in first class used to incur 569 euros in taxes and fees (according to one of my past bookings) but now it's 337 euros: a saving of 232 euros or around A$386.
On some other routes outside Australia, the difference is even larger.
Since Emirates isn't actively promoting this 'good news' for travellers, it could mean the change is temporary – perhaps designed to boost bookings during the current downturn. But it really should be made permanent. The old fees were often outrageous. Now they are merely 'high'.
Update 3 June 2020: Qantas will increase the points cost of Emirates award seats from 1 September 2020. Read more here.
To get tips like this delivered straight to your inbox, subscribe to our newsletter: