St George Bank is again offering up to a huge 90,000 bonus Qantas or Amplify Points with its highly regarded Amplify Visa cards, but with lower minimum spend than we saw earlier in the year.
You can get 50,000 bonus Qantas or Amplify Points with the low-fee St George Amplify Platinum card when you spend $2,000 on your new card within 90 days of card approval. This card costs just $99 a year and comes with handy perks, and it's a great choice if you're looking for a low-fee frequent flyer card.
You can also get a massive 90,000 bonus Qantas or Amplify Points with the St George Amplify Signature card when you spend $4,000 on your new card within 90 days of card approval. This card has an annual fee of $279 and comes with lots of high-end benefits.
These offers are currently scheduled to end on 26 September 2018.
I think either of these cards is a quality choice for maximising points earned on everyday spend, and therefore getting closer to that next holiday!
Here are some of the benefits you'll enjoy with the St George Amplify Platinum and Signature cards.
Enjoy a range of valuable perks with both cards
With both cards you receive these benefits:
high points earning rates on spend (uncapped):

0.5 Qantas Points or 1 Amplify Point per dollar on the Platinum card
0.75 Qantas Points or 1.5 Amplify Points per dollar on the Signature card (with an added 10% birthday bonus – see below)

complimentary overseas travel insurance for you, your spouse and dependent children when you spend at least $A500 per person on your card for travel costs prior to departure (e.g. flights or accommodation). You'll get cover for: medical expenses; lost or damaged personal property; and transport costs. This can save you a lot of money when you travel.
up to 12 months' extended warranty on purchases, on top of the manufacturer's warranty
one free supplementary card for a person 16 years or older, which can help you earn points more quickly.
The Signature card also offers these great perks:
a 10% Birthday Bonus: on your birthday each year, receive a 10% bonus on all points you earned on spending over the previous 12 months (excluding any bonus points) – that gives you an effective points earn rate of 0.825 frequent flyer points per dollar, uncapped, which is among the best in Australia
airport lounge passes: relax before your next flight in style with two Qantas Lounge passes (valid at both domestic Qantas Clubs and Qantas International Business Lounges) or two Priority Pass lounge entries, available each year. Simply register your details here to receive the passes. I'd value this benefit at $100 at least.
access to the Visa Luxury Hotels Program, which offers automatic room upgrades, late checkouts, complimentary breakfasts and more great perks at participating hotels
up to 4 months' purchase insurance cover on purchases made with your card, protecting you against theft, loss or damage.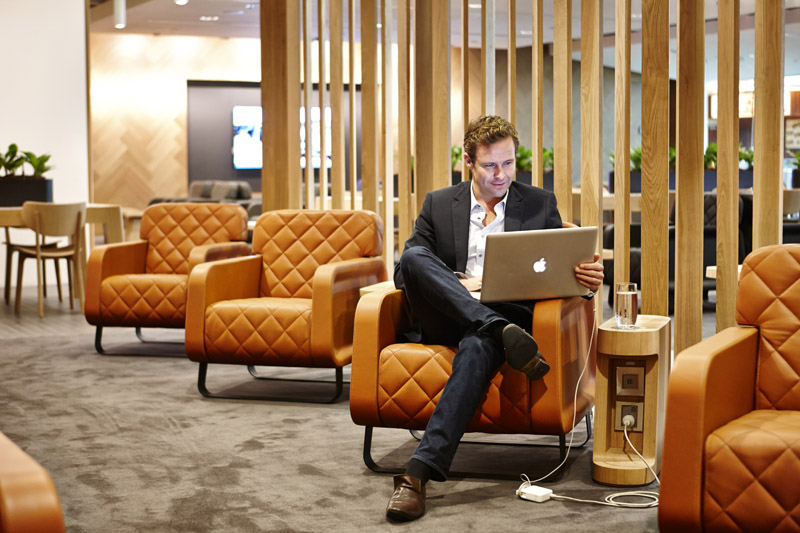 Relax in a lounge before you fly
If you can use the two lounge passes each year, I think the Signature card is a fantastic deal and that would be my pick of the two, but both cards are top-quality.
Earn either Qantas Points or Amplify Points
With both cards, you choose whether to earn Qantas Points or Amplify Points.
Qantas Points are the most popular airline currency in Australia and the obvious choice if you're a loyal Qantas Frequent Flyer.
Amplify Points are more flexible and can be transferred to Virgin Australia, Singapore Airlines and Malaysia Airlines, with the transfer ratio being 2:1.
Because of this transfer ratio, the Amplify Points sign-up bonus converts to 25,000 usable airline points with the Platinum card or 45,000 with the Signature card. That's half the Qantas Points bonus, so my choice would be to opt into earning Qantas Points initially (you can change later if you wish).
50,000 Qantas Points is almost enough to take you from Sydney to Bangkok in economy return (56,000 points plus taxes and fees) or one way in stylish business class (60,000 points plus taxes and fees).
90,000 points gets you even further, for example from Melbourne to Los Angeles or Dubai in economy return (90,000 points plus taxes and fees) or, with a few more points, one way in business class (96,000 points plus taxes and fees).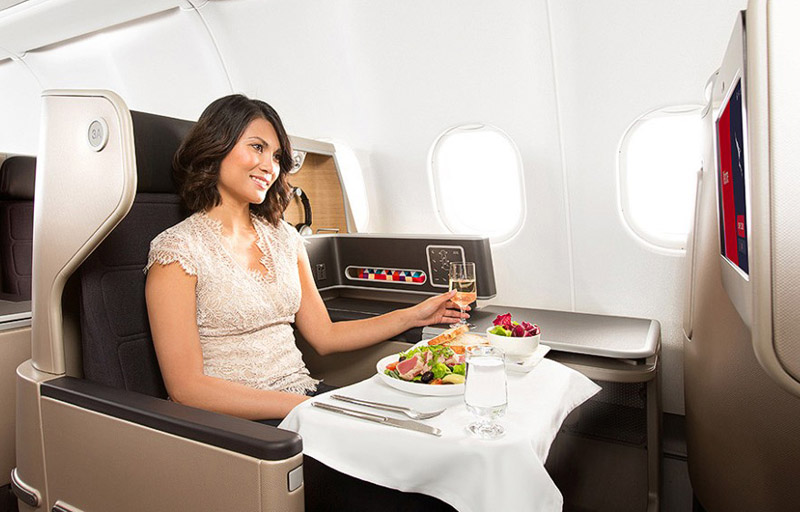 Use your points to fly Qantas business class
How to qualify for the bonus points and apply 
Here are some of the key terms you need to know:
The low-fee Platinum card has a minimum income of $35,000.
St George doesn't publish the minimum income required for the high-end Signature card but the minimum credit limit you need to be able to qualify for is $15,000 (so you'll need a good income).
Existing St. George / BankSA / Bank of Melbourne customers who currently hold an Amplify Platinum or Amplify Signature card, or who have held one in the last 12 months, are not eligible for this offer. Switches, upgrades, or customers accessing employee benefits are also ineligible.
Eligible purchases for earning points and meeting the minimum spend do not include BPAY, fees, cash, cash equivalent transactions, refunds and balance transfers debited from the card account.
This promotion may be varied or withdrawn at any time and is not available in conjunction with any other promotion.
Don't miss out on these excellent opportunities to add a high-quality card to your wallet!
To read more and apply on any device (including mobile):
Please note that we are not a credit services provider and we are not suggesting that you should apply for a credit product. You should seek independent advice and consider your personal circumstances before making a decision to apply for a credit product.