Air New Zealand has unveiled a series of initiatives to improve the customer experience over the next two years, following a strategic review of its business.
Upgraded seats
The airline will begin fitting an enhanced version of its existing Business Premier seat to its widebody fleet towards the end of the 2019 calendar year and the rollout is expected to be completed by December 2020.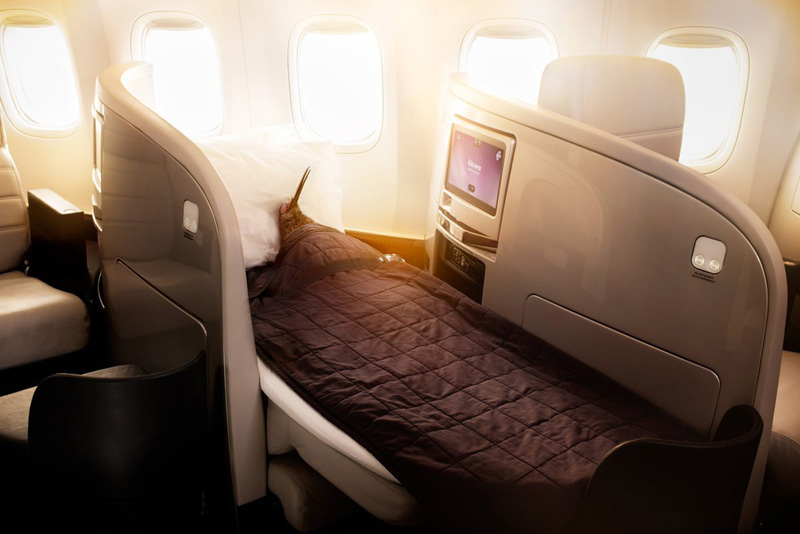 AirNZ's current Business Premier seat
We don't have many details about the upgraded seat, but Chief Executive Officer Christopher Luxon says: "We have undertaken considerable customer research and testing over the past 12 months to come up with enhancements to the existing award-winning seat as well as a new food, beverage and service offering that reflects the essence of who we are as a nation. We are confident our Business Premier customers will love their Air New Zealand experience more than ever."
A new, more spacious Economy cabin product is expected to be in service on long haul aircraft by mid calendar 2020 as well.
"Air New Zealand's customers are at the core of our business success and we are acutely aware that in a world of rapidly changing expectations we need to be surprising and delighting them more than ever, whether it be at home here in New Zealand or in the international markets where we operate," Mr Luxon says.
Route changes
Air New Zealand is optimising its route network and planning for network growth of 3% to 5%, on average, over the next three years, revised from 5% to 7% to reflect a slower demand growth environment.
Changes include:
the launch of new direct services between Auckland and Seoul from late November 2019
increased frequency on Auckland-Taipei services from November 2019 and Auckland-Chicago services from December 2019
amending the timing of the Auckland-Hong Kong service to free up one aircraft from late October 2019.
Free wifi
The airline has also announced that free Wi-Fi will be offered on all enabled international aircraft from today. Wi-Fi is fitted on most of its Boeing 777 jets, which operate long-haul routes and some flights to Australia, as well as new Airbus A321 neo jets. The airline's Boeing 787s don't yet have Wi-Fi enabled.
To get news like this delivered straight to your inbox, subscribe to our newsletter: